After taking a macaron-making class with Amrita of The Sweet Art, I knew that macaron cupcakes were in my future.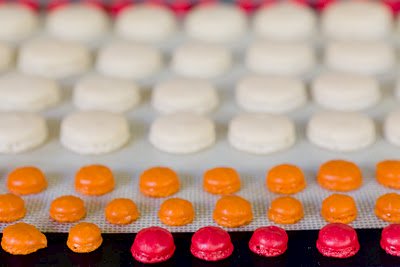 This photo gives you a sense of the size difference between
mini macarons and standard-sized macarons.
Macarons are cute to begin with, but mini macarons are baby panda cute. (I initially wrote this with the statement that baby pandas are the ultimate level of cute. But, my editor wisely pointed out that while baby pandas themselves are high on the cute scale, baby pandas wearing mini macaron hats would be the pinnacle of cuteness.) I decided that for my interpretation of macaron cupcakes, I would top cupcakes with mini macarons.
But, which cupcake flavor should I make?
I wanted a cupcake that would match the light meringue texture of a macaron – angel food cupcakes were the cupcakes for the job. Whether a taster picked the macarons off of the top of their cupcake and ate them separately or ate the macarons and angel food cupcake in one bite, the flavors and textures worked so well together that macaron neophytes might think that macarons were always served with angel food cake.
How to Make Macaron Cupcakes
To make macaron cupcakes, first you'll need to make mini macarons. I describe the process for macaron making in detail in my post on pumpkin pie spice macarons. Follow those directions, but make the macarons smaller. You can see the size difference in the photos above and below.
Right before piping, divide the macaron batter into separate bowls and add gel food coloring (not liquid colors, as they can mess with the recipe's wet/dry balance) to each bowl a little bit at a time until you create your desired colors. As you can see, I baked red and orange macarons, but you can have as many different colors as you'd like.
Bake the mini macarons for the same amount of time that you would bake the normal-sized ones. You'll find that they are extra crispy when they are fresh out of the oven. However, after you add the filling and set them on top of your frosting, they moisten up considerably. If the mini macarons started at the perfect macaron texture, they would be soggy by the time you ate them.
Bake angel food cupcakes according to the directions in my angel food cupcake post.
For my macaron cupcakes, I wanted to use the same fillings that I used in my pumpkin pie spice macarons (caramel and chocolate ganache). I frosted the cupcakes with the caramel icing and some sprinkled smoked sea salt and filled the macarons with the ganache. Follow my lead, or come up with whatever combination suits your taste!