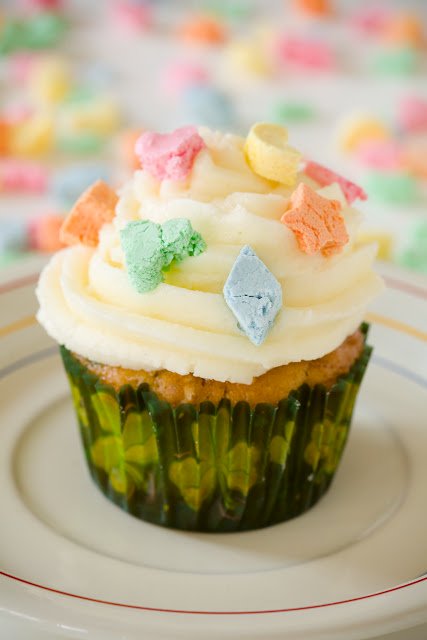 Lucky Charms cupcakes feature a triple dose of luck: a Lucky Charms crust, Lucky Charms mixed into the cupcake batter, and Lucky Charms marshmallows on the frosting.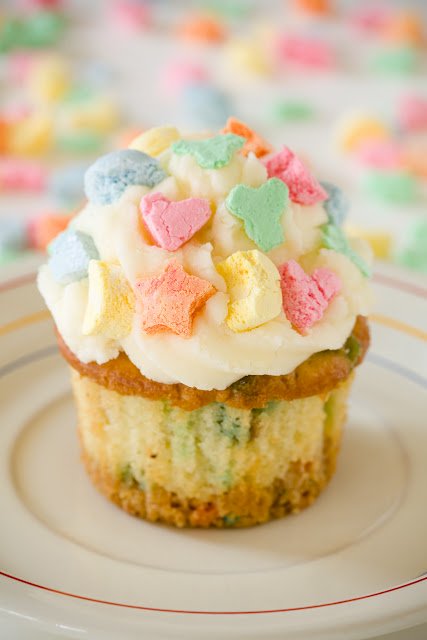 The pure sugar of the Lucky Charms cereal balances with a not-so-sweet cupcake to create a combination that is magically delicious and enjoyable for kids, adults, and leprechauns alike.
About the Lucky Charms Cupcakes' Ingredients
About the Lucky Charms:
One glance at the photo will probably reveal that I made my Lucky Charms cupcakes with homemade Lucky Charms.  However, Lucky Charms cupcakes can just as easily be made with store-bought Lucky Charms.
About the Corn Syrup:
Both the cake and the frosting are made using homemade corn syrup. Homemade corn syrup is NOT the same thing as store-bought corn syrup.  Instead, it is a sugar syrup that has been flavored with corn.  The corn flavor imparts a cereal taste to the cupcake and gives the frosting the aftertaste of sweetened cereal bits that have been left over at the bottom of a bowl of milk.
If you plan on making these Lucky Charms cupcakes, I highly recommend that you take the time to make homemade corn syrup.  If that's not possible, you can still make the Lucky Charms crust (recipe below), but instead of using this cupcake recipe, use a vanilla cupcake recipe (with 1 cup of Lucky Charms mixed into it), and a vanilla frosting.
Lucky Charms Cupcake Recipe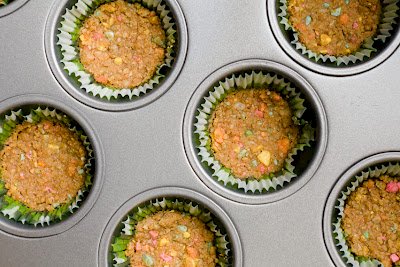 If you've tried this recipe, please RATE THE RECIPE and leave a comment below!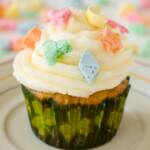 Lucky Charms Cupcakes for St. Patrick's Day
Ingredients
For the crust
2

cups

crushed Lucky Charms

I used my mini food processor to crush them.

1/4

cup

unsalted butter

melted
For the cake
1/4

cup

homemade corn syrup

1/4

cup

sugar

3/4

cup

+ 2 tablespoons cake flour

not self-rising

3/4

teaspoon

baking powder

1/4

teaspoon

baking soda

1/4

teaspoon

salt

2

tablespoons

unsalted butter

room temperature

1

large egg

room temperature

3

tablespoons

full-fat sour cream

2

tablespoons

canola oil or vegetable oil

1/3

cup

whole milk

1

cup

Lucky Charms
For the corn syrup buttercream frosting (double all frosting ingredients if you like really big frosting swirls):
1/2

stick unsalted butter

room temperature

2

cups

powdered sugar

1/4

cup

+ 2 tablespoons homemade corn syrup

Lucky Charms marshmallows for topping the cupcakes
Instructions
Lucky Charms crust directions
Preheat oven to 350 F.

In a small bowl, mix together crushed Lucky Charms and melted butter.

Divide mixture evenly between ten cupcake liners. Pack it firmly into the bottoms of the liners.

Bake for 10 minutes.
Lucky Charms cupcake directions
In a medium-sized mixing bowl or bowl of a stand mixer, mix together corn syrup, sugar, cake flour, baking powder, baking soda, and salt.

Add butter and mix on medium-low speed for three minutes. Because there is so little butter, you'll end up with a very fine crumb texture.

In a small mixing bowl, whisk together egg, sour cream, and oil until smooth.

Add the egg mixture to the flour mixture and beat on medium speed until just combined.

Slowly add milk and mix on low speed until just combined. The batter will be liquidy. (Don't worry, you didn't do anything wrong. It's supposed to be that way.)

Fold in Lucky Charms.

Spoon cupcake batter over pre-baked crusts. The batter should come all the way to the top of the liners.

Bake for 14 minutes and then test to see if they are done. They are done when a toothpick comes out without wet batter stuck to it. If they are not done, test again in two minutes. If they are still not done, test again in another two minutes.

When the cupcakes are done, remove them immediately from the tins and leave them on a cooling rack (or just on your counter if you don't own a cooling rack) to cool.
Corn syrup buttercream frosting directions
Mix butter on high speed for three minutes until light and fluffy.

Slowly mix in powdered sugar.

Mix in corn syrup until just combined.

Pipe onto cooled cupcakes.

Top with Lucky Charms marshmallows.
Toadstools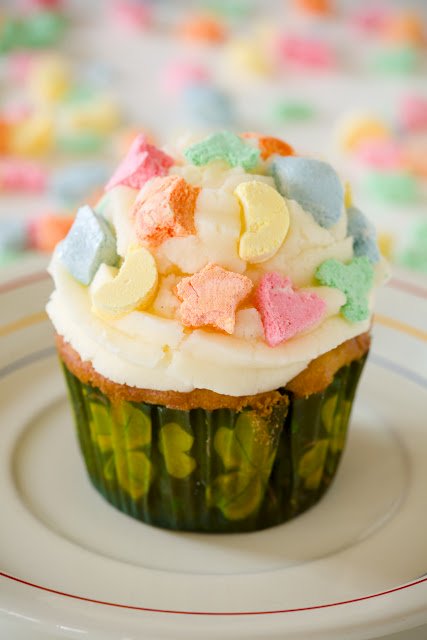 I thought that these cupcakes looked like little toadstools for leprechauns.  However, there has been an important debate taking place on the Cupcake Project Facebook page about whether or not leprechauns are small enough to sit on toadstools. 
Head over to the Facebook page to weigh in
.