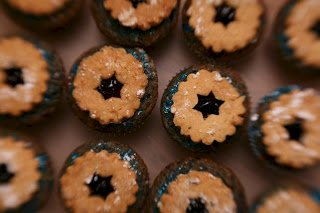 While traveling in Idaho, I came across a cooking store that sold linzer tart cookie cutters. I had no idea that this product even existed. As soon as I saw the Jewish star one, I knew it was going to make an appearance in my Chanukah cupcakes.
A bit of education, compliments of Joy of Baking:
Linzertorte is "one of Austria's most famous desserts. Believed to have originated from the City of Linz, written recipes began to appear in the early 1700s. Traditionally this torte consisted of a crust made with flour, ground nuts (traditionally almonds), sugar, egg yolks, spices and lemon zest that was filled with preserves (traditionally black currant) and then topped with a lattice crust. "
Linzer tarts are the cookie form of Linzertortes. Linzer cupcakes are the cupcake version of linzer tarts, a mere two degrees of separation from the real thing.
Despite the fact that I did not read Joy of Baking prior to baking my Linzer cupcakes, I randomly selected black current jam as the cupcake topping. I was shocked and excited to find that that is the traditional one used. I picked it simply because it wasn't red. I thought if Chanukah cupcakes had red jam they would look too Christmasy.
Rant
It really bothers me when colors get taken over.
For example,
Pink = Breast Cancer (Pink used to mean girly and feminine. Now it means save our boobs. I'm all for saving boobs, but I don't want to push a campaign every time I wear the color.)
Red = Christmas (I wear lots of red. I happen to look good in the color, some redheads don't. Whenever I wear it around the holidays, I feel like I'm in the Christmas spirit. Holiday cheer is great, but I don't always want to walk around promoting a holiday I don't celebrate just by wearing a color I like.)
Green = Irish (I have red hair and I wear green. I must be Irish, right. Not.)
Rainbow = GLB (I love rainbows and I love gay people, but why can't I wear a rainbow without it meaning something other than my awe of the amazing natural phenomenon?)
/End Rant
My initial Chanukah cupcake idea was to make a jelly doughnut cupcake as seen at Coconut and Lime. These are like traditional Chanukah sufganiot (doughnuts) but in cupcake form. They are really a perfect Chanukah cupcake. However, I couldn't quite work in the linzer thing and I had to use my new cookie cutter.
Then, I saw these linzer cupcakes at Culinary Concoctions by Peabody and decided to put the jam on top of the cupcake rather than in it to create a linzer effect.
The Cake
For the cake, I used the same recipe as my strawberry cupcakes except I used blackberries instead of strawberries. Despite the "black" in the title, the batter for these cupcakes looked play-doh purple and when they were done baking they were a nice shade of blue. Blue is not all that appetizing, however as it turns out, it is a color that has been taken over by Chanukah. Perfect.
BTW, it would be so easy to adapt these for Christmas by using a Christmas cookie cutter and sticking with strawberry cupcakes and strawberry jam. The cake is adapted from ABC News.
The Linzer Tarts are from allrecipes
Linzer Cupcakes: Blue is for Chanukah
Linzer tarts are the cookie form of Linzertortes. Linzer cupcakes are the cupcake version of linzer tarts, a mere two degrees of separation from the real thing.
Ingredients
Cake Ingredients
2 1/2

cups

cake flour

1

teaspoon

baking soda

1/4

teaspoon

salt

1/2

cup

unsalted butter

1 1/2

cups

sugar

2

large eggs

1/3

cup

buttermilk

1/4

cup

canola oil

1

teaspoon

pure vanilla extract

1

cup

blackberries
Linzer Tart Ingredients*
1 1/4

cups

unsalted butter

softened

2/3

cup

white sugar

2

cups

sifted all-purpose flour

1 3/4

cups

ground almonds

1/8

teaspoon

ground cinnamon

5

tablespoons

raspberry jam

1/3

cup

confectioners' sugar for decoration
Instructions
Cake Instructions
Preheat oven to 350 degrees. Line two standard cupcake pans with 24 paper cupcake liners. Set aside. In a medium bowl, sift together the cake flour, baking soda and salt. Set aside.

In a large bowl, cream butter and sugar with an electric mixer. Add eggs. Mix until smooth and creamy. Add buttermilk, oil and vanilla. Mix until combined. Add flour mixture to butter mixture. Mix until just combined. Stir in berries. Place batter into each cupcake cup filling each half full. [Warning: These cupcake will rise a lot. Don't fill more than halfway or they will overflow.] Bake cupcakes for approx. 18-20 minutes. Let cool.
Linzer Tart Instructions
Cream the butter and sugar together until the mixture is light and fluffy. Beat in the flour, 1/2 cup at a time, the almonds and cinnamon, and continue beating until the mixture becomes a slightly stiff dough.

Shape the dough into a ball, wrap it in wax paper or plastic wrap and refrigerate it for about one hour.

Preheat oven to 325 degrees F (165 degrees C).

On a lightly floured surface, roll the 1/2 of the dough into a sheet 1/8 inch thick. With a 2 1/2 inch cookie cutter, cut as many circles from the sheet as you can. Knead the leftover scraps of dough into a ball and roll it out again into a 1/8 inch sheet. Cut out more circles. You should now have about 12 circles.

Arrange them on an ungreased baking sheet leaving about and inch of space between them.

Repeat the rolling and cutting process with the other half of the dough, but before placing the second batch on the baking sheet, cut out the center of each circle with a 1/2 inch cookie cutter. Bake both batches for 10 - 15 minutes or until light brown. Cool on cake rake for 20 minutes.

Spread tops of the solid circles with a thin coating of jam, lay a cutout cookie on top of each, pressing the two together so they make a sandwich. Spoon a dab of jam into the opening of each tart and sprinkle the tops with confectioners' sugar before serving.

NOTE: Keep dough as cold as possible for easier handling. You may have to chill it after rolling it out so that it will be easier to cut.
Notes
*This makes far more tarts than you will need for the cupcakes. I'd cut it in half or plan on having lots of extra cookies to serve with your cupcakes. I am including the directions directly from the site so you know how to make the tarts if you choose to do so. I only made the top half (with the hole) and then placed it on the jam on my cupcake.
The Frosting
There was no frosting. I just spread some black current jam on top of the cupcake along with some blue and white edible glitter. Be sure to put the glitter down first. That way it won't get on the jam and mess up your peek-through jam window.
Nutrition
Nutrition Facts
Linzer Cupcakes: Blue is for Chanukah
Amount Per Serving
Calories 737
Calories from Fat 369
% Daily Value*
Fat 41g63%
Cholesterol 99mg33%
Sodium 164mg7%
Potassium 98mg3%
Carbohydrates 85g28%
Protein 10g20%
Vitamin A 905IU18%
Vitamin C 3.2mg4%
Calcium 66mg7%
Iron 2.1mg12%
* Percent Daily Values are based on a 2000 calorie diet.