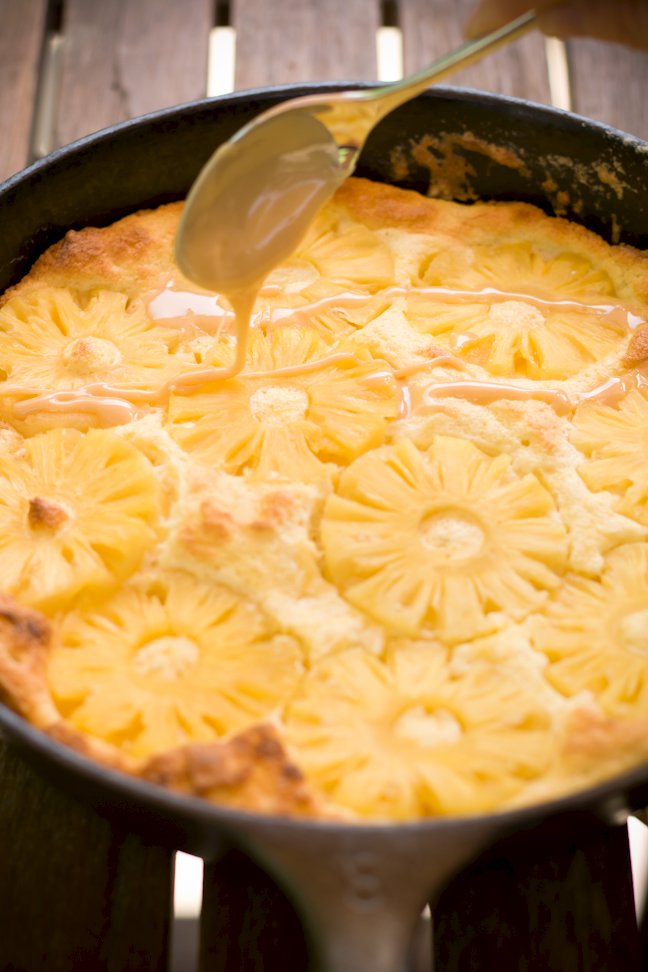 I've never made a soufflé before.  Soufflés sounded like scary, fancy French food – something that Julia Child
would have futzed over for months trying to perfect.  I learned, however, that a soufflé (which means "puff up" in French) is just a cake with separated eggs. The beaten egg whites are used to give the cake lift – not so frightening.   My soufflé is even less imposing since it's made in a cast iron skillet.  Breakfast in a skillet is like a man in a cowboy hat. It doesn't matter how handsome the dish actually is; sticking it in the skillet gives it instant appeal.
Each bite of this lime, pineapple, and mascarpone soufflé is like eating warm lime clouds, pineapple sunshine, and a soft dulche de leche breeze.  I see more soufflés in my future.
Lime, Pineapple, and Marscarpone Breakfast Soufflé with Dulce de Leche Recipe
I created this lime, pineapple, and mascarpone soufflé recipe by modifying the lemon ricotta soufflé pancake with berries recipe on Honest Cooking.  Here is my adapted recipe:
If you've tried this recipe, please RATE THE RECIPE and leave a comment below!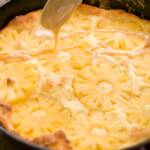 Lime, Pineapple, and Mascarpone Breakfast Soufflé with Dulce de Leche
Ingredients
3/4

C

all-purpose flour

1/3

C

sugar

1/2

tsp

salt

4

large eggs

separated

4

tbsp

unsalted butter

2 melted and 2 room temperature

2/3

C

mascarpone

1/4

C

lime juice

zest of 1 lime

1/2

tsp

vanilla

15

oz

can pineapple rings

Dulce de leche to taste

See my post on making dulce de leche in a crock pot.
Instructions
Preheat the oven to 375 F with a 10-inch cast iron skillet inside.

In a small bowl, mix flour, sugar and salt.

In medium-sized bowl, mix egg yolks, mascarpone, 2 tablespoons melted butter, lime juice, zest and vanilla.

Add the dry ingredients to the wet mixture and combine well.

In another small bowl, whip egg whites until stiff peaks form.

Add a small dollop of the egg whites and mix in to lighten the batter.

Add the remaining egg whites and fold in with a spatula until combined.

Remove the skillet from the oven and melt two tablespoons of butter in it.

Spread batter evenly in pan.

Top with pineapple rings.

Return the skillet to the oven. Bake for 20 to 25 minutes or until the soufflé is puffed and lightly browned on top.

Drizzle with dulce de leche and serve warm.
Recipe Notes
To prepare in advance the night before serving this dish: Mix everything together except the egg whites. Keep the unwhipped egg whites and the batter in separate covered bowls in your refrigerator. In the morning, simply preheat your skillet, whip and fold in the egg whites, and you are ready to go.
Coming Soon
When I served my soufflé to my friends, I tried to explain that it was part of lime week.  They all looked at me like I was a bit crazy.  "What?" I asked.  "Other people don't have theme weeks in their homes?"  I've got more lime recipes coming this week – including, of course, cupcakes!