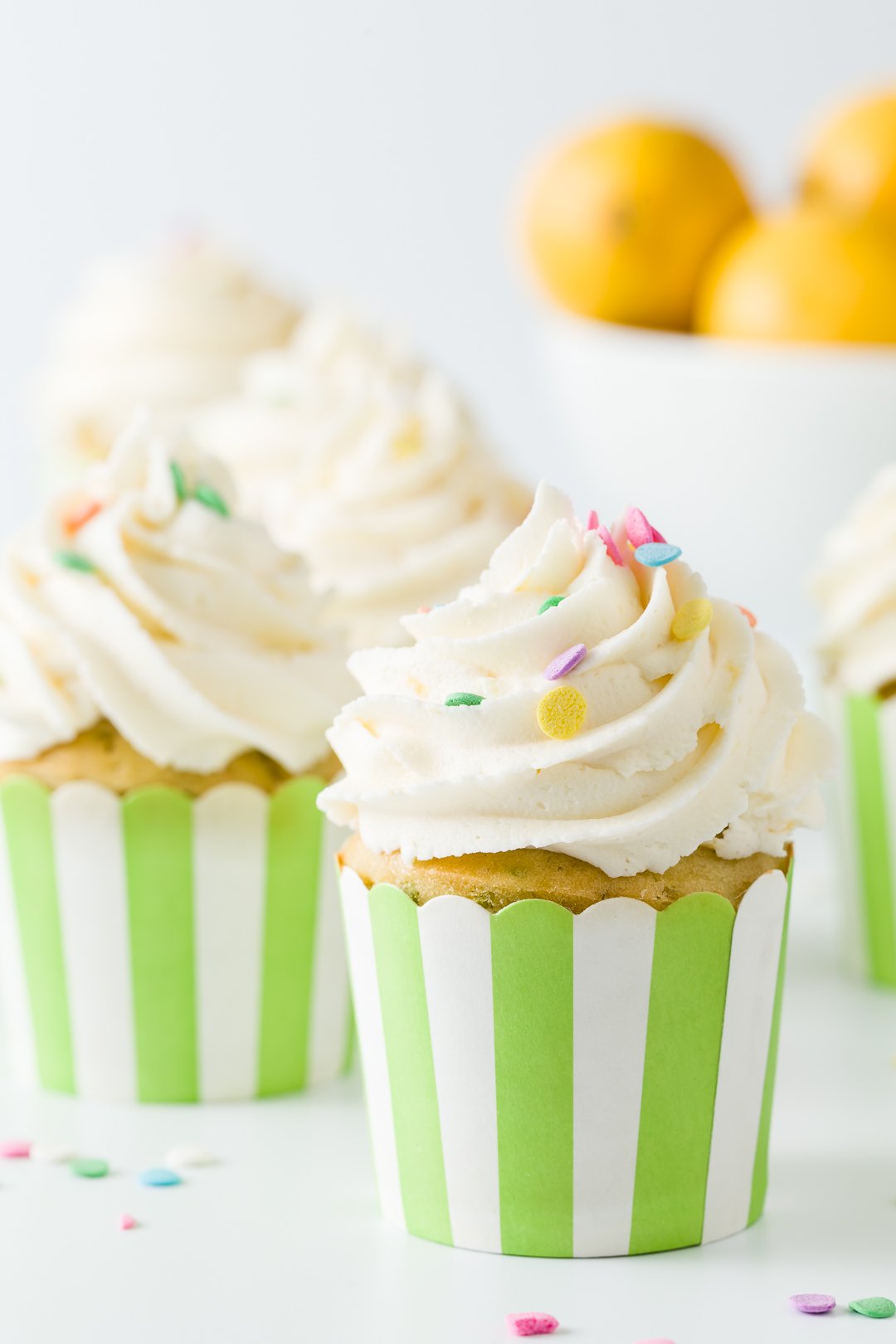 I didn't go halfway with any of the flavors in these lemon ginger power cupcakes. The cupcakes contain both lemon juice and lemon zest and both fresh ginger and ground ginger – and the frosting has lemon and ginger, too! These springtime cupcakes practically "spring" forth with flavor.
There is, however, one ingredient in the cupcakes that you can't taste…
These cupcakes have greens in them – power greens! Mann's sponsored this post and I baked their Power Blend into the cupcakes. Weird? Not really. Green smoothies have become commonplace and the same principle applies here: if you throw greens into your smoothies or desserts, you can hardly taste them and you get the health benefits of their presence.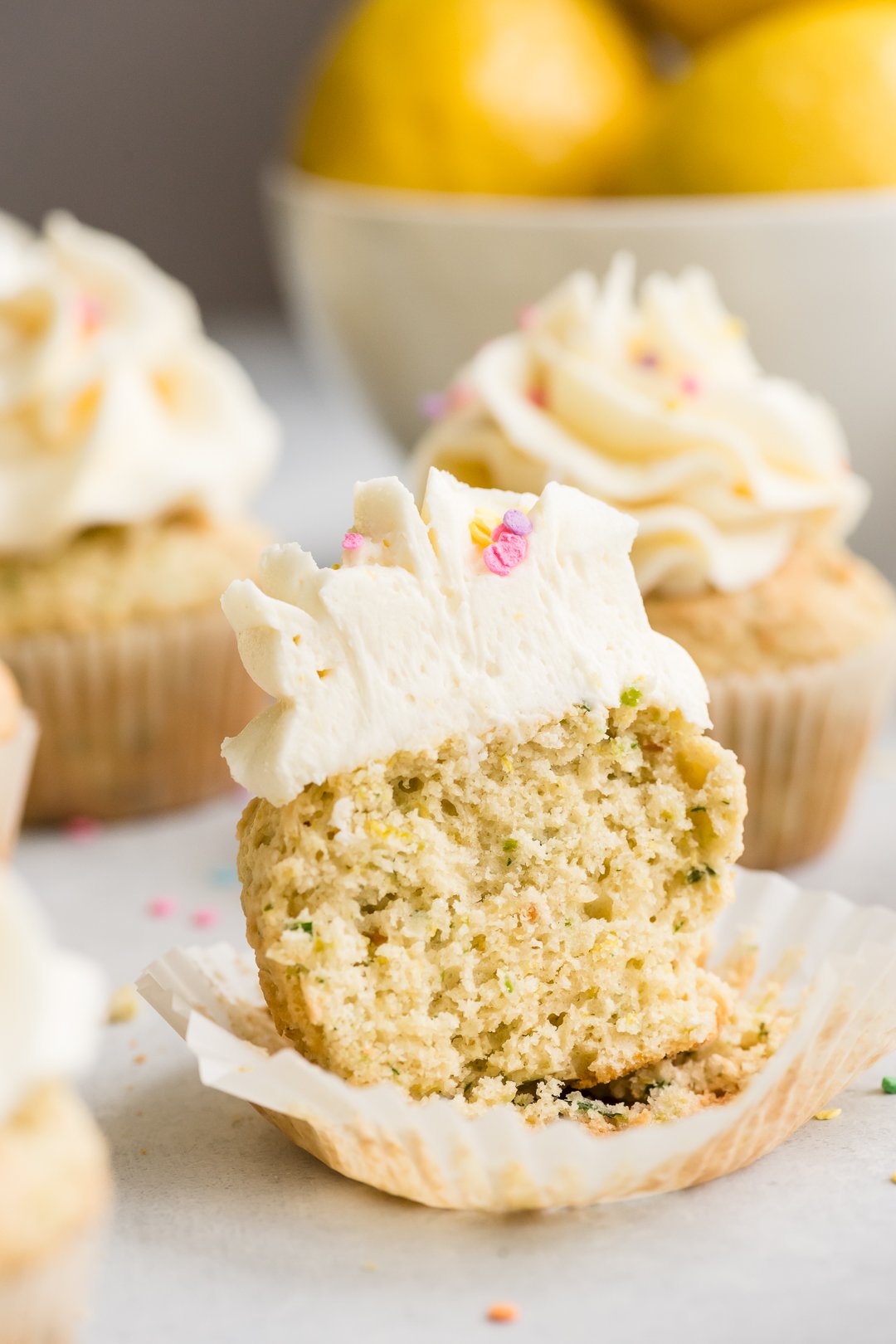 In the image above, you can see the green specks from the Power Blend, but the taste is all lemon and ginger! I brought these to my friend's house for a Super Bowl party and she's been begging me for the recipe (here you go, Michelle!).
Mann's Power Blend is a mix of heart-healthy vegetables including broccoli, kale, carrots, Brussels sprouts, kohlrabi, and cabbage. When I'm not using the blend in cupcakes, I've used packages of it in stir fries and salads. I've even used some as greens on top of a sandwich.
All month long, Mann's is working with the American Heart Association to promote Heart Disease Awareness through their Go Red for Women Campaign.
From Mann's, I learned that:
Broccoli has a high content of vitamin C, and it can make you less susceptible to both non-fatal and fatal heart diseases.
Kale is an excellent source of magnesium. According to a Harvard study, magnesium can lower risk of sudden health failure in women.
Carrots are rich in carotenoids, which are powerful antioxidants that can combat free radicals that cause heart disease.
Brussels sprouts are a good source of protein, iron, potassium, folate, and fiber, which can all reduce your risk of heart disease and cancer.
I know that you came here for your daily dose of dessert and now I'm pushing broccoli on you. But, that is what I love so much about this campaign. Mann's isn't spreading the message of giving up on sweets (I wouldn't listen and I doubt you would, either). Instead, they are encouraging playful ideas like getting a few extra greens along with your cupcakes!
The American Heart Association's campaign also has a heavy fitness component. See this video and sing along like I did:
Many people ask me how I stay thin and bake and write about desserts. Well, I work out (not this week, because I've been a little under the weather, but most weeks). I've been learning aerial silks.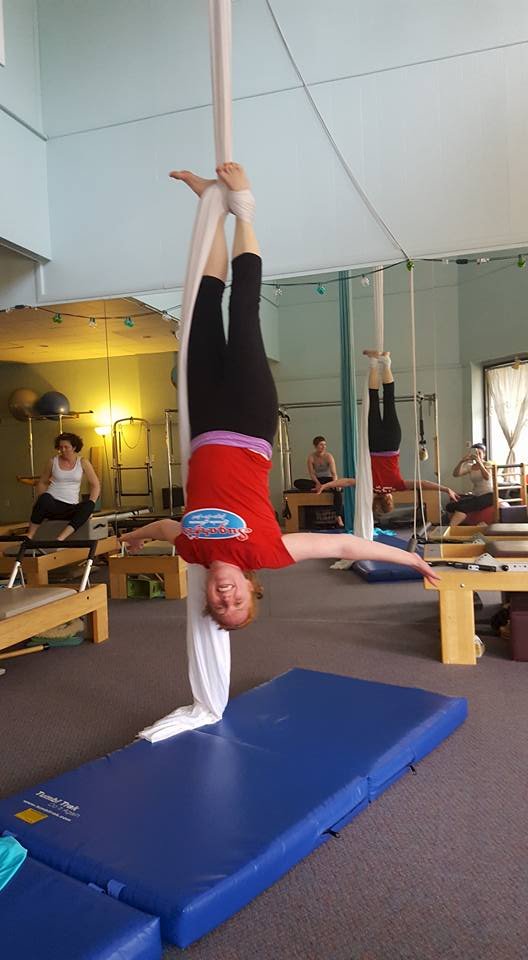 I say eat the cupcakes (in moderation) and find whatever form of fitness brings you fun – and, I'm proud to work with a brand that agrees!
Lemon Ginger Power Cupcakes
These cupcakes contain both lemon juice and lemon zest and both fresh ginger and ground ginger - and the frosting has lemon and ginger, too!
Ingredients
Cupcake Ingredients
1 3/4

cups

all-purpose flour

3/4

teaspoon

baking soda

1

teaspoon

baking powder

1/2

teaspoon

salt

1

tablespoon

ground ginger

1/2

cup

sugar

1/2

cup

unsalted butter

room temperature

2

large eggs

1/4

cup

lemon juice

1

tablespoon

minced fresh ginger

1

tablespoon

lemon zest

1

cup

minced Mann's Power Blend

about 4 ounces
Frosting Ingredients
1/2

cup

unsalted butter

room temperature

1 1/2

cups

powdered sugar

1/2

teaspoon

lemon zest

1/4

teaspoon

salt

1/2

teaspoon

ground ginger
Instructions
Cupcake Directions
Preheat oven to 350 F.

In a medium-sized mixing bowl, whisk together flour, baking soda, baking powder, salt, and ground ginger.

Mix in sugar and butter until fully combined.

Mix in eggs one at a time.

Mix in lemon juice.

Fold in fresh ginger, lemon zest, and Power Blend.

Fill cupcake liners 3/4 full.

Bake for 20 minutes or until a toothpick inserted into the center of a cupcake comes out clean.
Frosting Directions
In the bowl of a stand mixer, beat butter until light and fluffy.

Mix in powdered sugar a little bit at a time and continue to mix on high speed for about three minutes until the frosting is airy, scraping down the side of the bowl as needed.

Mix in lemon zest, salt, and ground ginger until fully combined.

Spread or pipe onto cooled cupcakes.
Video
Notes
Power Blend can be found in Missouri at Dierbergs Markets, Schnucks, and Wal-Mart.
If you can't find Mann's Power Blend near you, ask your produce manager. In a pinch, you can use any blend of greens such as Kale and Kohlrabi.
Double the frosting recipe if you like large swirls.
Nutrition
Nutrition Facts
Lemon Ginger Power Cupcakes
Amount Per Serving
Calories 372
Calories from Fat 171
% Daily Value*
Fat 19g29%
Cholesterol 81mg27%
Sodium 275mg11%
Potassium 123mg4%
Carbohydrates 46g15%
Protein 3g6%
Vitamin A 680IU14%
Vitamin C 10.7mg13%
Calcium 35mg4%
Iron 1.4mg8%
* Percent Daily Values are based on a 2000 calorie diet.