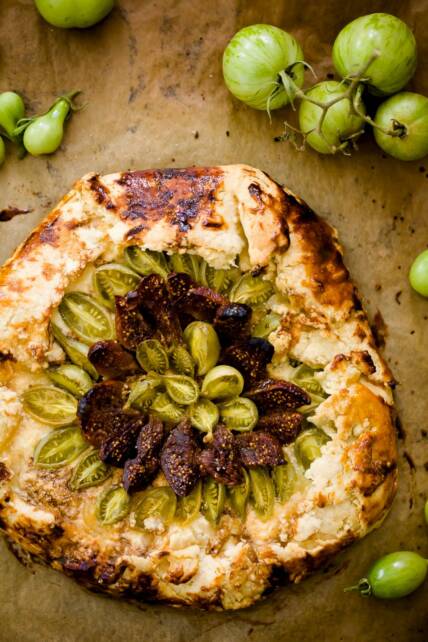 This was the best year ever for our tomato plants.  They grew like crazy and all summer long I could head outside and pick fresh ones to pop in my mouth like candy.  With the coming of the first frost (boo!), we knew that time was up for our tomato plants and we collected all of the green tomatoes we could save.
Jonathan planned (still plans) to make fried green tomatoes with them, because that's what you make with green tomatoes, right?
Wrong.  Cooked green tomatoes have a bright, sour, and somewhat acidic sort of flavor (resembling artichokes) and can be used in all sorts of ways.  I came across a post on Brit + Co for 19 Green Tomato recipes that aren't (all) fried.  I was drawn to a recipe from Corner Cottage Bakery for a green tomato galette.  The galette (a rustic, free-form pie) truly showcased the green tomatoes instead of hiding them in breading.  I knew that I had to try my own version of this dish.
My green tomato and fig galette is made with a pie crust, ricotta cheese, green tomatoes, figs, and a honey and balsamic drizzle.  The figs and honey balance the tartness of the tomatoes with a little bit of sweetness.  Our family of three devoured a galette for dinner, but I think this dish would shine as an appetizer if cut into 6 or 8 small slices.
If you don't have access to green tomatoes, this dish would also be lovely with regular ripe tomatoes.
If you've tried this recipe, please RATE THE RECIPE and leave a comment below!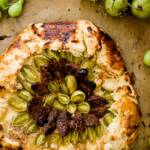 Green Tomato and Fig Galette
Servings
6
-8 servings as an appetizer, or 3-4 servings as a main dish
Ingredients
Unbaked pie crust for one 9" pie

I used my current favorite pie crust recipe.

1

cup

ricotta cheese

about 18 green cherry or grape tomatoes

sliced in half (If you can't find these, any tomatoes will do.)

about 12 dried figs

sliced thinly (about 3 slices per fig)

sea salt

to taste,

balsamic vinegar

to taste

honey

to taste

1

egg yolk
Instructions
Preheat oven to 450 F.

Roll out pie dough to a roughly 9" circle.

Leaving a 1 inch border, spread ricotta cheese all over the dough.

Artfully arrange tomatoes and figs over the ricotta cheese. Have fun with this!

Fold the edge of the dough all around the circle so that it covers just the very beginning of your fillings.

Sprinkle the whole thing with a little salt and drizzle liberally with balsamic and honey.

Brush the pie dough with the egg yolk to give it a little color and shine.

Transfer to a parchment-lined cookie sheet.

Bake 15 minutes.

Reduce heat to 350 F.

Bake 40 minutes or until galette crust is golden.

Serve warm.