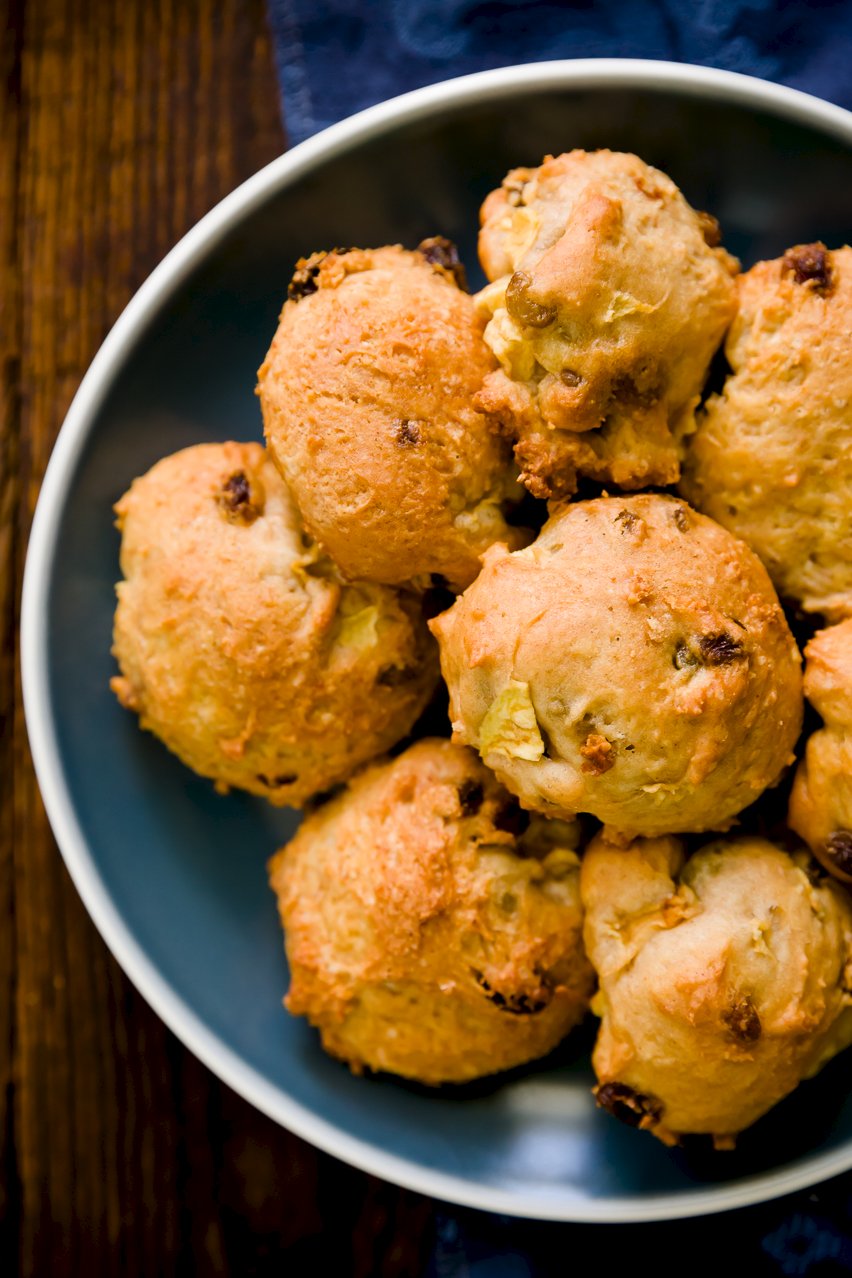 Beginning at age 5 or so, if you asked me what my favorite food was, I would respond with noodle pudding (kugel). Today, I still give the same answer. It's actually shocking that I've never shared my mom's recipe on Cupcake Project. Kugel comes in many forms, but my mom makes it as a casserole of egg noodles, cottage cheese, cinnamon, apples, golden raisins, and whatever other dried or fresh fruit she chooses to add to it on any given day. Kugel is typically served as a sweet side dish, but I eat mine as a main course, often cold, although I enjoy it hot as well.
These kugel cookies have the flavors of my mom's kugel (cottage cheese, golden raisins, apples, and cinnamon) in a soft, gnarly, golden Chanukah cookie. They are a comfort food transformation that anyone who grew up on holiday kugel will appreciate and enjoy.
I got the inspiration for these kugel cookies from this little cookie book put out by Gourmet Magazine. What I love about this cookbook is that it places cookie recipes in time. Each recipe is the best cookie recipe that Gourmet Magazine produced every year from 1941 to 2009. This would be a great gift for grandma to take her on a trip down memory lane using cookies. (View on Amazon)
I was drawn to the cottage cheese cookie recipe from 1962. This quote from The Gourmet Cookie Book about the cottage cheese cookies gives you a sense of how each cookie in the book is described:
This is not just the best cookie Gourmet published this year: it is the only one. Since the beginning of the decade, Americans were jetting to faraway places much more frequently than they ever had before. This was reflected in the pages of the magazine, which spent more time covering European destinations and less time on nostalgic articles about the past. But although the magazine gave cookies short shrift, when it did come up with a recipe, it was a winner. Cottage cheese in cookies might sound strange, but it is much like ricotta, lending a subtle tang that mellows a sugar cookie into something nuanced and very lovely.
It's hard to believe that the magazine just published one cookie recipe that year and it was cottage cheese cookies – it's a surprising choice.
My kugel cookies are my adaption of Gourmet's cottage cheese cookies. Enjoy!
Kugel Cookies
These kugel cookies have the flavors of my mom's kugel in a soft, gnarly, golden Chanukah cookie.
Ingredients
1/4

cup

unsalted butter

room temperature

1/2

cup

cottage cheese

3/4

cup

sugar

1

teaspoon

vanilla

1

large egg

2

cups

all-purpose flour

1

teaspoon

cinnamon

1/2

teaspoon

baking soda

1/2

teaspoon

salt

3/4

cup

golden raisins

1

cup

peeled and roughly chopped apples
Instructions
Preheat oven to 375 F.

In a medium-sized mixing bowl, beat butter and cottage cheese until combined.

Mix in sugar and vanilla,

Mix in egg.

In a separate bowl, whisk together flour, cinnamon, baking soda, and salt.

Mix dry ingredients into butter mixture a little bit at a time until just combined.

Stir in raisins and apples.

Place scoops of cookie dough (each about two tablespoons) onto cookie sheets about two inches apart from each other.

Bake for 12 minutes or until golden brown.

Place cookies on cooling rack to cool.
Nutrition
Nutrition Facts
Kugel Cookies
Amount Per Serving
Calories 123
Calories from Fat 18
% Daily Value*
Fat 2g3%
Cholesterol 15mg5%
Sodium 109mg5%
Potassium 69mg2%
Carbohydrates 22g7%
Protein 2g4%
Vitamin A 95IU2%
Vitamin C 0.5mg1%
Calcium 12mg1%
Iron 0.7mg4%
* Percent Daily Values are based on a 2000 calorie diet.