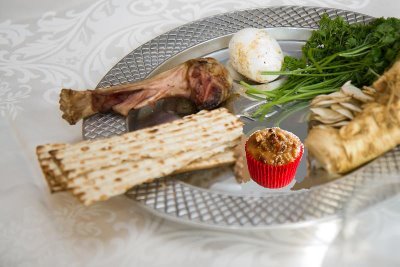 Kosher for Passover cupcake Photo disclaimer: The Kosher for Passover cupcake featured in the photo above was taken by the esteemed St. Louis food photographer J. Pollack Photography. However, the photshopping of the cupcake onto the Seder plate was done by me and he does NOT approve of such photo mutilation.
Charoses cupcakes will surely be the "wow" dessert on any Passover table. They are lemon-flavored Kosher for Passover cupcakes with baked-in charoses and topped with brown sugar charoses frosting!
Last year, I featured Kosher for Passover chocolate cupcakes. I got many comments from people complaining that they couldn't eat the cupcakes after a traditional Passover Seder because the cupcakes were dairy.
These charoses cupcakes can be served two ways. Without the frosting, these cupcakes qualify for a Kosher for Passover fleishig meal (no dairy); don't worry, even without the frosting, they are still better than macaroons. With the frosting, you could serve the cupcakes with a dairy meal.
Charoses Cupcake Recipe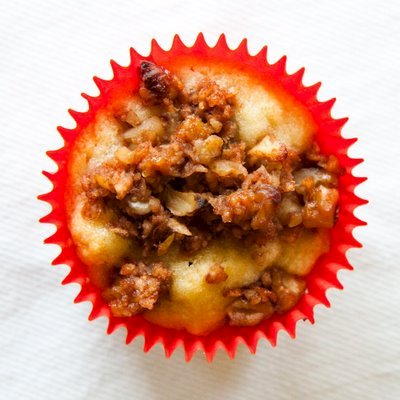 I found the recipe that I used for the charoses cupcakes from Key Ingredient. I modified it slightly to make it a cupcake. I'm listing the recipe with my modifications below.
If you've tried this recipe, please RATE THE RECIPE and leave a comment below!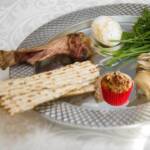 Kosher for Passover Cupcakes – Charoses Cupcakes
Ingredients
5

eggs

separated

1 1/4

C

sugar

3/4

C

safflower oil

Juice of 2 lemons

4 to 5 T

Grated zest of 2 lemons

1 1/4

C

matzo cake meal

not matzo meal

About 2 C charoses

Use my charoses recipe if you don't have your own go-to one.
Instructions
Mix egg yolks and sugar on high speed until light and fluffy.

In a separate bowl, combine oil, lemon juice and zest.

Add matzo cake meal to yolk and sugar mixture alternately oil mixture.

Beat egg whites until stiff but not dry.

Using rubber spatula, fold 1/4 of the beaten egg whites into egg yolk mixture until well blended.

Fold in remaining beaten egg whites.

Fill cupcake liners about halfway with batter.

Put a spoonful or more, of charoses on top of the batter on each cupcakes.

Bake at 350 F for 30 minutes or until a toothpick comes out clean.
Recipe Notes
Top with Charoses Frosting. See recipe at the bottom of this post.
Charoses Frosting Recipe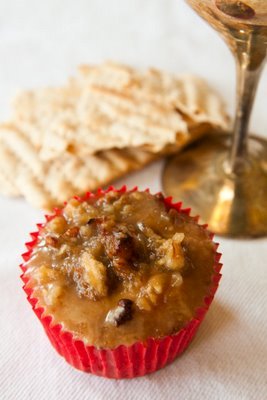 For my charoses frosting I used a basic penuche frosting (brown sugar frosting) and just added charoses to it. It's a bit gooey (kind of like the frosting on a German chocolate cake) – only even yummier (if you love charoses)! In fact, I just ate an apple and totally enjoyed dipping it in all the leftover frosting. I'm typing with sticky fingers now.
I got the penuche frosting recipe from Southern Food on About.Com. I used this same frosting minus the charoses on my Gluten-free quinoa cupcakes. The recipe made twice as much frosting as I needed. Unless you want extra frosting around for snacking, you could definitely cut this recipe in half.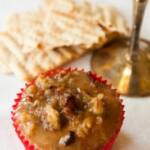 Charoses Frosting for Kosher for Passover Cupcakes – Charoses Cupcakes
Ingredients
1/2

C

butter

1

C

brown sugar

packed

1/4

C

milk

2

C

sifted confectioners' sugar

I only used about 1 1/2 C

2/3

C

charoses

Use my charoses recipe if you don't have your own go-to one.
Instructions
In a saucepan, melt 1/2 cup butter.

Add the brown sugar.

Bring to a boil and lower heat to medium low and continue to boil for 2 minutes, stirring constantly.

Add the milk and bring to a boil, stirring constantly.

Cool to lukewarm. Gradually add sifted confectioners' sugar. (I would highly recommend sifting this confectioners' sugar. It's such a pain to sift, but it ensures that the frosting will be extra smooth.)

Beat until thick enough to spread.

Mix in charoses.

Pour over cupcakes.
Recipe Notes
This recipe made twice as much frosting as needed for the cupcake recipe in this post.
Speaking of Passover
Don't expect many new posts over Passover. I'll likely be passing over the blog during that time, but, you never know.