"Beads!! Beads!!" the Mardi Gras parade-goers chant.  Forget that!  I say, "Pie!!  Pie!!"  I'm talking about the ultimate Mardi Gras dessert – King Cake Pecan Pie.
King cake is the classic Mardi Gras dessert.  It's a bread-like cake that tastes like a nutty cinnamon roll.  King cake is famous for its vibrant decoration in the Mardi Gras colors of gold, green, and purple as well as the tiny baby hidden in the pie (whoever gets the piece with the baby has to host the Mardi Gras party next year).  For my Mardi Gras dessert, I used king cake as the crust for a pecan pie, creating a pie that is bready, gooey, sweet, sticky, irresistible, and just plain fun.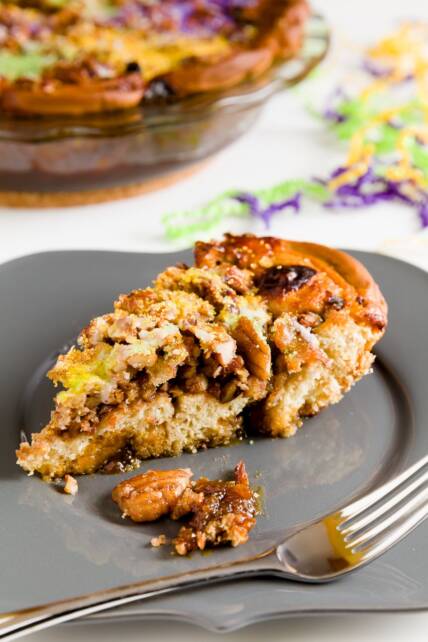 Per tradition, I hid a baby inside.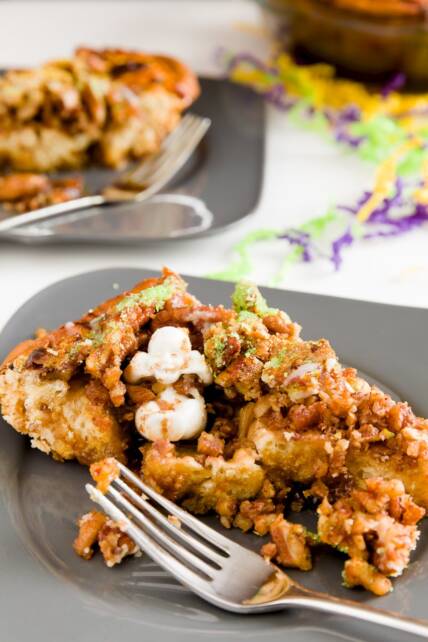 King cakes typically contain plastic babies that are hidden after the bake (they would melt if you baked them).  While it's simple to reach under a cake and hide something inside, pies don't work the same way.  So, I purchased an oven-safe porcelain baby from Acadia Baby on Etsy.  The baby is kind of creepy, like like a cross between a Buddha and Casper the Friendly Ghost, but it totally rocks for Mardi Gras fun.  It even comes with a chain so the winner can proudly wear it as a necklace (after cleaning).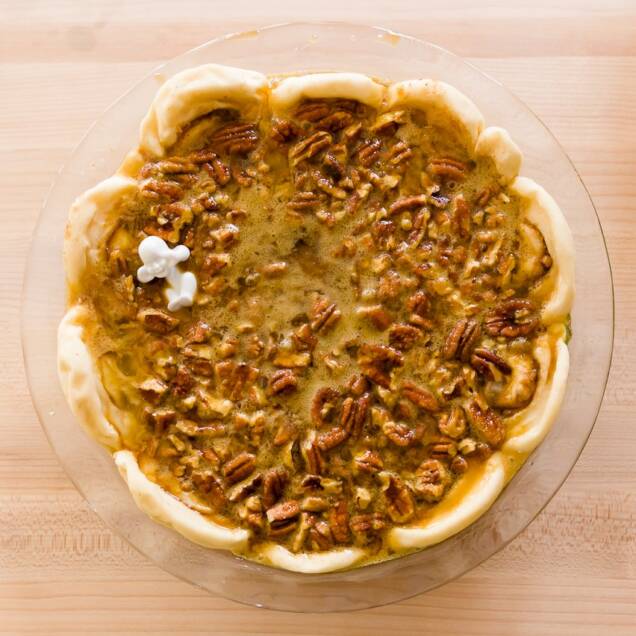 Jonathan and I had tremendous fun making jokes about the baby arriving in the mail and baking the baby.  We are easily amused.
The baby was trivial to hide.  I just dropped it into the unbaked pie (as shown above) and then pushed it under all of the pecans.  If you still want something in the pie for your guests to find and don't want to buy a baby, you could adopt the tradition of using a bean instead of a baby.
King Cake Pecan Pie Recipe
To create the King Cake Pecan pie, I adapted a king cake recipe from AllRecipes and Pioneer Woman's pecan pie recipe to fit my new pie format.
If you can't find either of these, corn syrup would also be tasty.
If you've tried this recipe, please RATE THE RECIPE and leave a comment below!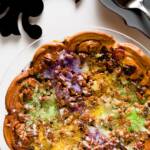 King Cake Pecan Pie
Ingredients
King Cake Ingredients
2

tablespoons

unsalted butter

melted

1/2

cup

milk

1/4

ounce

active dry yeast

1/3

cup

warm water

1/4

cup

sugar

1

egg

3/4

teaspoon

salt

1/4

teaspoon

ground nutmeg

2 3/4

cups

all-purpose flour
King Cake Filling Ingredients
1/2

cup

brown sugar

1/2

tablespoon

cinnamon

1/3

cup

chopped pecans

1/4

cup

all-purpose flour

1/4

cup

golden raisins

2 1/2

tablespoons

melted butter
Pecan Pie Filling Ingredients
1 1/4

cups

chopped pecans

1

cup

sugar

3

tablespoons

brown sugar

1/2

teaspoon

salt

1

cup

cane sugar syrup

This can be substituted equally for corn syrup.

3/4

teaspoon

vanilla

1/3

cup

unsalted butter

melted

3

eggs

beaten
Glaze Ingredients
1/4

cup

powdered sugar

3/4

teaspoon

water

gold

yellow, green, and purple sanding sugar
Instructions
Mix melted butter and milk together in a small bowl.

In a separate bowl, dissolve the yeast in the warm water with one tablespoon of the sugar and let stand for ten minutes. It should become a little bubbly and creamy.

Add the milk mixture to the yeast mixture.

Whisk in the egg.

Mix in the remaining sugar, salt, and nutmeg.

Mix in the flour a little bit at a time - stop when the dough comes completely together. You may not need to use all of the flour.

Turn the dough out onto a lightly floured surface and knead for about eight minutes until it is smooth and elastic.

Place dough in a covered, lightly-oiled bowl and set in a warm place to rise for two hours or until doubled in size.
Filling Instructions
In a medium-sized bowl, mix brown sugar, cinnamon, pecans, flour, and raisins.

Pour melted butter over the mixture and stir until combined and crumbly.
King Cake Assembly Instructions
Divide dough into two equal pieces. Put half of the dough back in the refrigerator. Roll the other half out to an approximately 8 inch by 9 inch rectangle. You shouldn't need to flour the work surface, but check to make sure the dough isn't sticking as you roll. If it does, you can add a touch of flour.

Spread half of the filling over the dough rectangle.

Roll the dough tightly up and around the filling, rolling on the shorter side of the dough, to create a tube with a spiral of filling inside.

Using a sharp knife, cut off 1/2 inch slices and place them along the bottom and up the sides of a 9 inch deep dish pie pan. Leave a 1/4 inch gap between the slices (they will grow together during the second rise) and don't place them at the very top of the pie pan walls (again, leave room for growth).

Repeat with the second half of the dough and filling, covering the pie pan until it is full. You will not need to use all of the dough. Any extra can be baked on a cookie sheet as a special treat just for you!

Place the pie pan filling with dough spirals in a warm place to rise for an hour or until doubled in size.
Pecan Pie Filling Instructions
Preheat oven to 375 F.

Pour pecans over unbaked king cake (Don't worry, they will ultimately float to the top.).

Mix all other filling ingredients in a medium-sized mixing bowl.

Pour filling over pecans.

If using a porcelain baby, hide it in the pie.

Bake for 15 minutes.

Lower heat to 350 F and cover the king cake crust with foil or a pie guard to keep it from burning.

Bake for 30 minutes.

Cover the entire pie with foil to keep the pecans from burning.

Bake for 20 minutes.

If the center of the pie is no longer jiggly and a toothpick inserted in the middle of the pie comes out dry, remove the pie from the oven. If not, test again in another 15 minutes.

Cool for at least three hours. If you cut the pie too soon, the center will be liquidy.
Decorating Instructions
Mix glaze ingredients together in a small bowl.

Drizzle over pie.

Sprinkle with gold (yellow), green, and purple sanding sugar.

Slice (being careful not to break the hidden baby) and enjoy!