I made pumpkin steamers that are perfect for the fall, specifically Halloween. These are fun to drink – reminiscent of pumpkin pie – and enjoyable for adults and kids alike after a hard day of working and/or playing.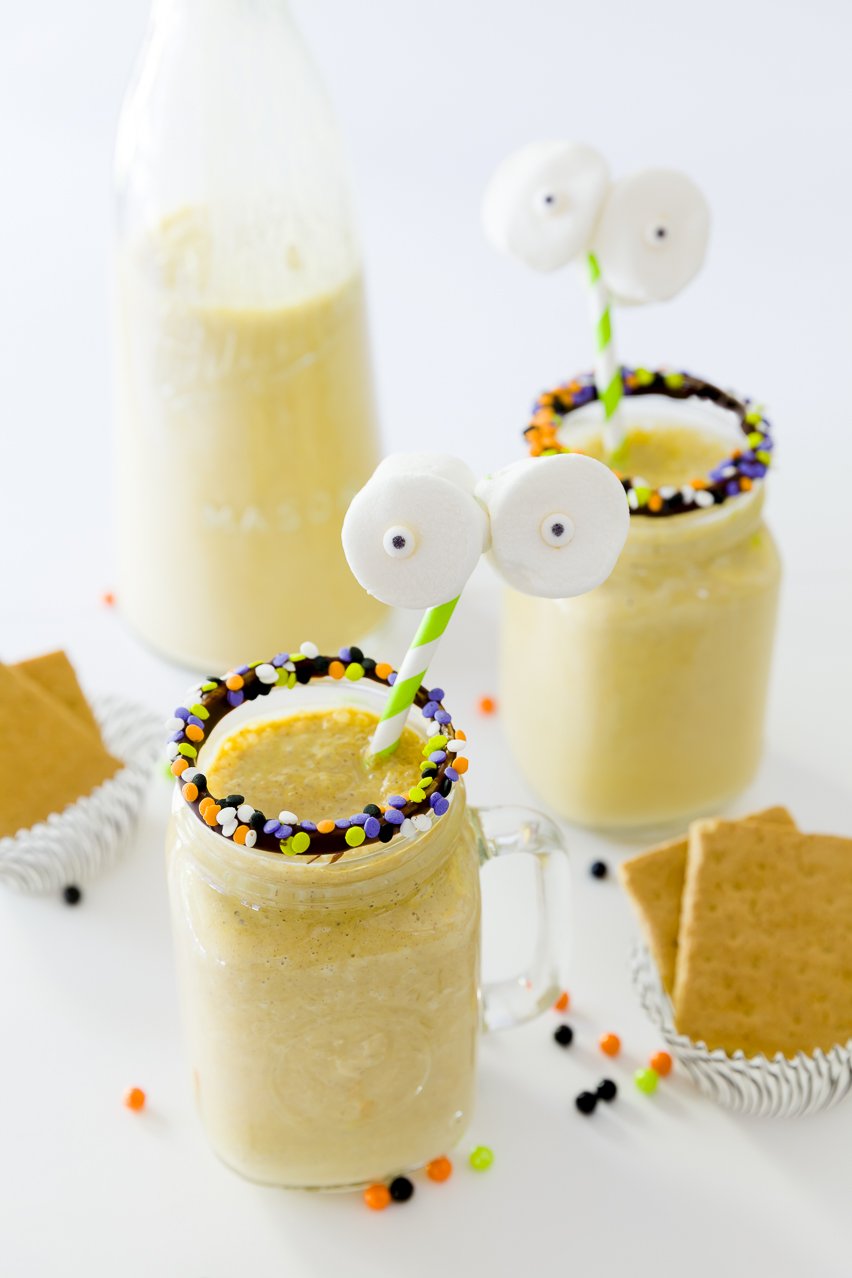 What are Pumpkin Steamers?
A steamer is a hot milk-based drink that contains little to no caffeine. Pumpkin steamers are a hot beverage made with steamed milk, pumpkin puree, pumpkin pie spice, and sweetened condensed milk. Pumpkin steamers are thick and frothy and taste like you are drinking pumpkin pie. I'll take my pumpkin pie in any form that I can get (my favorite may still be my pumpkin pie frosting!). The way I see it, hot apple cider is for September and early October days, pumpkin steamers are for the rest of October through Thanksgiving, and then it's hot chocolate for the rest of the winter. It's fun to keep switching it up!
Inspiration for Pumpkin Steamers
My son Myles went to a preschool that follows the Project Construct model of education (it's similar to Reggio Emilia). Rather than having a set curriculum, the kids explore topics they are interested in and the teachers act as guides in their experimentation and discovery. When Myles's class was interested in measurement and the physical properties of objects, teachers encouraged learning about concepts like height, weight, buoyancy, and temperature by leaving things around the room. In their school's educational model, these objects are called provocations; provocations are objects that are meant to entice the children to experiment – rulers, tape measures, scales, and tubs filled with water are some examples.
This drink was the result of marshmallows, graham crackers, Halloween sprinkles, straws, and candy eyeballs as provocations left for me!
If you can't find the eyeball candy near you, you can buy it online. (View on Amazon)
The monster eye marshmallows are not required, but they totally make me smile – and kids love 'em, too! I got the idea from an adorable Better Homes and Gardens drink with meringue eye balls (marshmallows are much easier). And, the chocolate rim can be left off if you truly want a caffeine-free option.
Kid-Friendly Pumpkin Steamers
The monster eye marshmallows are not required, but they totally make me smile and kids love 'em! I got the idea from an adorable Better Homes and Gardens drink with meringue eye balls (marshmallows are much easier).
Ingredients
Chocolate Sprinkle Rim Ingredients
small bowl of chocolate chips

melted

a couple handfuls of sprinkles
Marshmallow Eye Ingredients
4

marshmallows

two per mug

4

eyeball candies

two per mug

a few drops of something sticky

sweet and edible - honey, agave nectar, molasses, or anything like that will do

2

straws

one per mug
Pumpkin Steamer Ingredients
3

cups

pumpkin puree

6

cups

milk

I prefer to splurge on whole milk to make a more decadent drink, but any will do.

1/2

cup

sweetened condensed milk

2

tablespoons

pumpkin pie spice
Instructions
Chocolate Sprinkle Rim Instructions
Chill mugs in the freezer for a few minutes until they feel really cold.

Spread melted chocolate on a small plate or in a drink rimmer.

Pour some sprinkles onto another small plate.

Press rim of a chilled mug into chocolate, raise and let drip for a few seconds, then immediately dip into sprinkles to cover. If the mug isn't chilled first, the chocolate may start to drip down the sides of the mug.

Repeat for each mug.
Marshmallow Eye Instructions
Place a tiny dab of sticky, sweet stuff on the back of a candy eyeball. Then, stick eyeball in the center of a marshmallow. Repeat for each marshmallow.

Squish two marshmallow eyes together a little bit with your hands. Weave a straw into the bottom of one of the marshmallows, out, and then into the bottom of the second marshmallow. Give it a little shake to ensure that it holds (not that marshmallows falling into your drink is the worst fate).
Pumpkin Steamer Instructions
Blend all ingredients.

Transfer to a pot on medium heat and heat until the whole thing is a temperature you like.

Pour carefully into prepared mugs.
Notes
Serve with graham crackers for even more of a pumpkin pie experience.
Nutrition
Nutrition Facts
Kid-Friendly Pumpkin Steamers
Amount Per Serving
Calories 441
Calories from Fat 144
% Daily Value*
Fat 16g25%
Cholesterol 50mg17%
Sodium 222mg9%
Potassium 1023mg29%
Carbohydrates 61g20%
Protein 17g34%
Vitamin A 29292IU586%
Vitamin C 9mg11%
Calcium 590mg59%
Iron 3mg17%
* Percent Daily Values are based on a 2000 calorie diet.