The more you know, the more the details matter. Earlier this year, I got into apples. Before, an apple was an apple. Now, I pay great attention to the type of apple I am eating. I even stick apple
PLU
stickers on the border of my office whiteboard to track what kinds I have already tried. Who knew that I don't like Red Delicious with the skin on (it's too thick) or that Pink Ladies were the perfect level of tartness for me?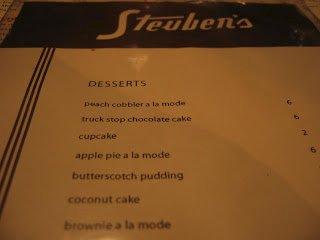 Obviously, my cupcake obsession has far outweighed that of my interest in apples – you don't see an apple project, do you? (Hmmm, ideas for the future.) Therefore, you can imagine my horror when I saw this menu item during a recent trip to Colorado: "cupcake." Just cupcake? What would the flavor of the cake be? How about the frosting? Was there a ganache?
Had I become the wine snoot that I so often mock – just of the cupcake variety – quoting blogs from where recipes arrived, the way vineyards and vintages are spouted off? Shouldn't the notion that a cupcake had made the menu please me? I asked the server what kind it was. I remember him mentioning a vanilla. Was the frosting also vanilla? It didn't much matter what he had said, the fact that the menu had disrespected my dear cupcake by not adding so much as one descriptive word had turned me off.
It wasn't just a cobbler… it was a peach cobbler.
It wasn't just pie… it was apple pie.
It wasn't just pudding… it was

butterscotch

pudding.
It wasn't just cake… it was a coconut cake or a chocolate cake.
I didn't place the order.