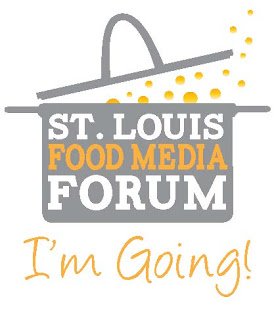 I've now lived in St. Louis as long as I lived in my hometown of Huntington, New York.  I still have some New York edge in me and you'll occasionally catch me saying "draw" where the rest of the country would say "drawer," but I've come to proudly consider myself a Midwesterner.  If you looked at where food blog conferences are held, you would think that quality food exists and remarkable food writing happens only on the coasts.  This couldn't be further from the truth and it's time that we Midwesterners held more of our own conferences!
Together with Kimberly Henricks-Friedhoff of Rhubarb and Honey, Stacy Anderson of Every Little Thing, Laura Beaver of Food Snob STL, Stephanie Tolle of Iron Stef, and FEAST Magazine (one of two thriving food magazines in our town), I'd like to invite you to St. Louis on July 28 and 29 for a weekend of learning (far from the distractions of a beach) at the Food Media Forum.  I encourage you to come if you live in the Midwest (you won't find many other opportunities like this that don't require a plane flight), but I also encourage you to come from wherever you live for an intimate weekend with Midwestern hospitality.

Who Should Attend the Food Media Forum?

If any of these statements are true for you, you should join us:
– I have a blog that includes recipes or restaurant reviews.
– I am a freelance writer and sometimes or always write about food.
– I take photos of food and share them on my blog, on another online site, or in print.
– I work for a media outlet and sometimes or often write about or take photos of food.
– I am an author or aspire to be an author who writes about food.
– I work in a PR or marketing firm that occasionally or often promotes food products or restaurants.
– I love food and want to learn how to make a career out of my passion.
What Will We Learn at the Food Media Forum?
The entire first day of the Food Media Forum is devoted to food writing.  Dianne Jacob, author of Will Write for Food, will be speaking on food writing techniques, engaging your reader, recipe writing, and getting cookbooks published.  (I can't wait to learn from Dianne!)  The first half of day two will be devoted to food photography. Jonathan (who takes all of the photos for this blog) will be speaking along with three other incredibly talented food photographers.  The rest of the day will be devoted to ethics in food writing, marketing and branding, and search engine optimization.  Check out the Food Media Forum website for the full speaker list and agenda.
How to Sign Up
You can buy your conference ticket through the Food Media Forum website.  We tried our best to keep ticket prices low – the whole weekend of learning with breakfast, lunch, and snacks included is just $100!  We also have hotel information on the site if you are coming in from out of town.
If you are going, please let me know – especially if we've never met.  I'll be excited to meet you!