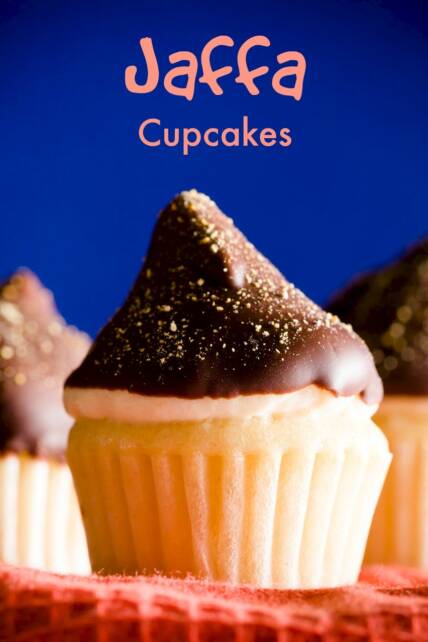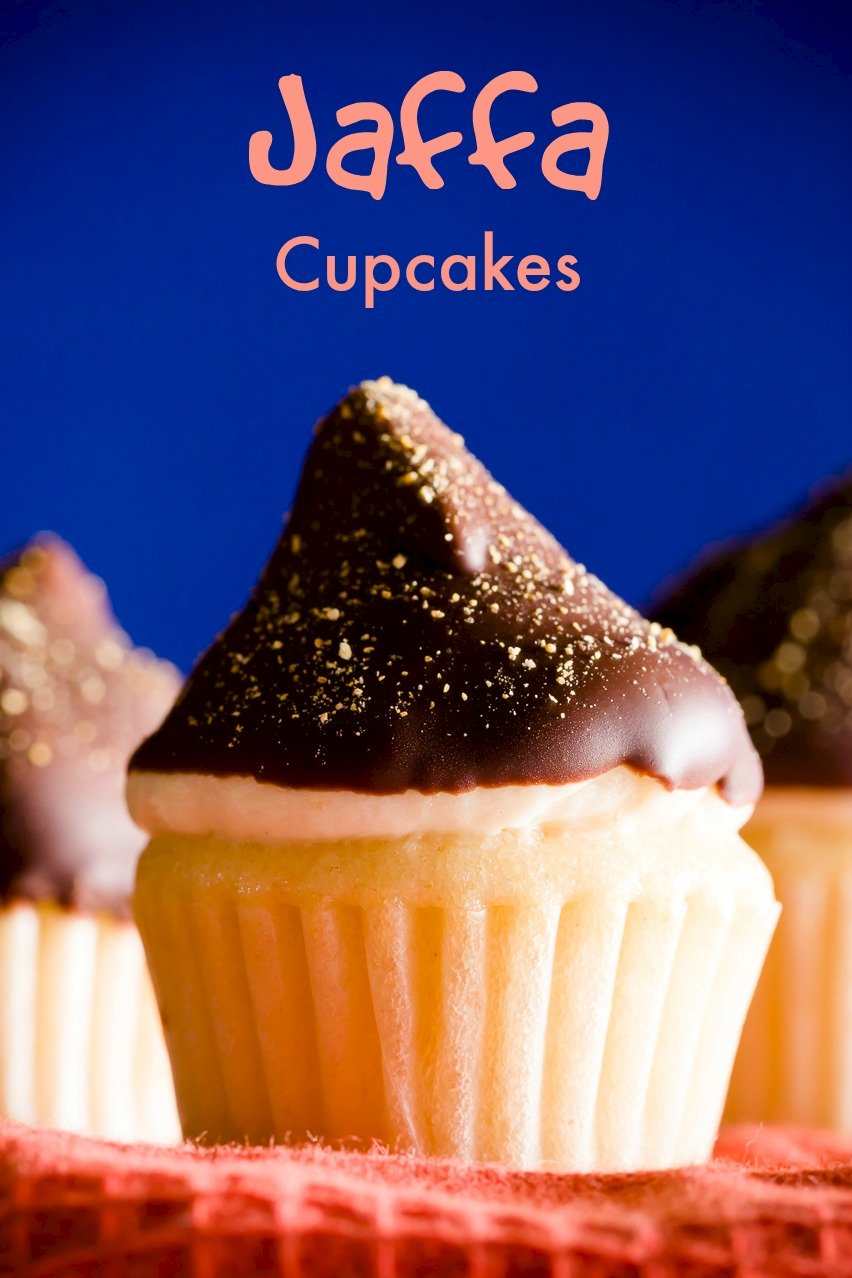 If you are not from the United Kingdom, you may not have encountered Jaffa Cakes.  Jaffa cakes are more like a cookie than what Americans would consider a cake.
I decided to start a new tradition on Cupcake Project of periodically baking recipes inspired by the blogs of Cupcake Project commenters.  So, if you leave a thoughtful comment on any of my posts and have a blog, I might surprise you one day by reading your entire blog and baking something based on one of your recipes.
I first discovered Jaffa cakes when reading through Mummy Made.It.  Lisa (the author of Mommy Made.It) made a Jaffa cake by baking up an orange cake with chocolate frosting.  Her version looks simple, wonderful, and FAR healthier than mine (her chocolate frosting contains avocado)!
I became fascinated with Jaffa Cakes when I discovered their… ummm… unique marketing campaign.  I'm pasting an image of their Twitter page here in case it has changed by the time you read this post.

The creature you see there is a tarsier monkey – an incredibly adorable monkey that, when portrayed peeking down from the corner of a page with arms extended, comes off as very creepy.  I don't even know what to make of their TV spot –  nor do I want to admit how many times Jonathan and I have watched it.
In my version of Jaffa cakes, Jaffa cupcakes, I start with mini vanilla cupcakes (slightly more dense than my Ultimate Vanilla Cupcakes), top them with an orange jam frosting, dip the whole thing in semi-sweet chocolate, and dust with a little orange zest.  There's nothing crazy about the flavor combination.  It's simple and it works!
If you've tried this recipe, please RATE THE RECIPE and leave a comment below!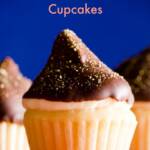 Jaffa Cupcakes
Servings
24
mini cupcakes
Ingredients
Cupcake Ingredients
3/4

cup

all-purpose flour

1/2

cup

granulated sugar

3/4

teaspoon

baking powder

1/4

teaspoon

baking soda

1/4

teaspoon

salt

1/4

cup

unsalted butter

room temperature

1

large egg

room temperature

2

tablespoons

full-fat sour cream

1/2

tablespoon

pure

not imitation vanilla extract

1/3

cup

whole milk
Orange Jam Buttercream Frosting Ingredients
1

cup

unsalted butter

room temperature

3

cups

powdered sugar

1/4

cup

+ 2 tablespoons orange jam
Chocolate Topping Ingredients
2

cups

semi-sweet chocolate chips

3

tablespoons

vegetable oil

very fine zest of one orange
Instructions
Cupcake Instructions
Preheat oven to 350 F.

In a medium-sized mixing bowl or bowl of a stand mixer, mix together flour, sugar, baking powder, baking soda, and salt.

Add butter and mix on medium-low speed for three minutes.

In a small mixing bowl, whisk together egg, sour cream, and vanilla extract until smooth.

Add the egg mixture to the flour mixture and beat on medium speed until just combined.

Slowly add milk and mix on low speed until just combined.

Fill mini cupcake liners 3/4 full.

Bake for 12 minutes and then test to see if they are done. They are done when a toothpick comes out without wet batter stuck to it. If they are not done, test again in two minutes. If they are still not done, test again in another two minutes.

When the cupcakes are done, remove them immediately from the tins and leave them on a cooling rack (or just on your counter if you don't own a cooling rack) to cool.
Orange Jam Buttercream Frosting Instructions
Beat butter on high speed in a medium-sized mixing bowl for three minutes.

Add powdered sugar a little bit at a time.

Add jam.

Pipe a swirl onto cooled cupcakes using a large round tip. I used Wilton tip number 1A, but if you don't have a tip, you can just cut the end off of a sandwich bag.

Place the cupcakes in the freezer for 20 minutes or until the frosting is frozen solid.
Chocolate Topping Instructions
Place chocolate chips and oil into a tall microwave-safe cup (I used a two cup Pyrex measuring cup).

Microwave for twenty seconds at a time (stirring in between) until all of the chocolate is melted.

Take the frosted cupcakes out of the freezer. One by one, grab the cupcakes by their wrappers, turn them upside-down, and dunk them into the cup of melted chocolate - making sure that all of the frosting gets covered. (If you listen carefully, you may be able to hear them squealing, "Wheeee!") Let the cupcakes hover over the cup of chocolate until all of the excess chocolate drips off.

Sprinkle with orange zest while the chocolate is still wet.

Refrigerate until ready to eat.