Update:  This contest is now closed.  The winners are: commenter 1 (Erika), commenter 122 (Mandra), and commenter 104 (Kittie).  Thanks to everyone who entered!
Let's talk business for a few minutes.  Cupcake Project has a couple of new features designed to make your life easier.  First, I'll share them with you, and then I'll tell you about a sweet MOO card giveaway (MOO cards are business cards, but you'll love them even if you don't have a business – I'll explain why later).
I've teamed up with ZipList to add a new feature to Cupcake Project that allows you to save recipes and create shopping lists (both on Ziplist's site and also using their free mobile app).  To save Cupcake Project recipes, just click the new "Save Recipe" button found at the top of each post.  ZipList will ask you to sign up for their site the first time you click the button.  Signing up will not only allow you to save my recipes, but you'll also be able to save recipes from all of their partner sites, including MarthaStewart.com, Bakers Royale, and Joy of Baking – and they'll all be saved in one place.
I had to share a screen shot of ZipList's shopping list feature because I think it's particularly good. The list above is for my butternut squash mac and cheese cupcakes.  Notice that the shopping list displays everything you need to buy and separates out pantry staples that it guesses you may already have. 
Once you sign up, you can easily access your recipe box and shopping list from either the recipe box on the top right-hand side of this blog, ZipList.com, or by using ZipList's free mobile apps.
I hope that you use ZipList and love it!  Let me know what you think!
Pinterest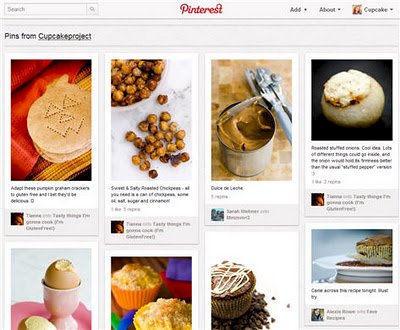 Some of you have already been pinning photos from Cupcake Project.  Love it!
I know that many of you are already using or have become completely addicted to Pinterest – a website that allows you to bookmark photos from across the web, organize, and share them.  If you are not yet using Pinterest, have a peek at my pin boards to get an idea of how it can be used.
I've now made it easier for you to pin photos from Cupcake Project by placing a pin button at the top of each post.
MOO Card Giveaway
I've purchased my business cards from MOO.com for years.  Whenever I hand someone a MOO card, they comment on the cards and ask where I got them (unless they already are using MOO themselves).  What makes MOO cards stand out (aside from their high quality paper and options like rounded corners) is that you can put a different photo on every card.  This is super fun for my cupcake cards and an important selling tool for Jonathan's photography business (his cards act as a mini portfolio).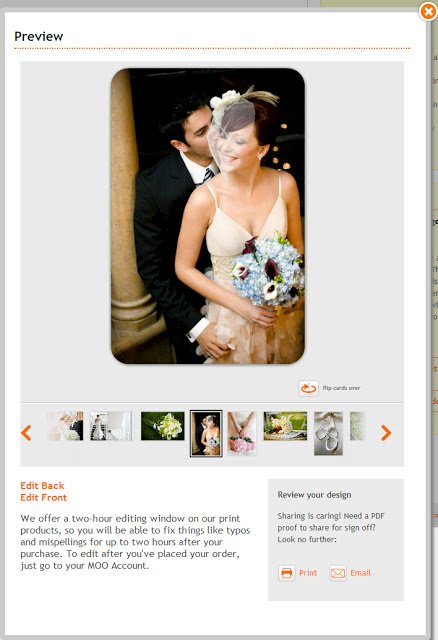 Here's a screenshot of the editing process for Jonathan's new business cards. 
You can see the many different photos he plans to use on his cards.
I know that some of you may think that you don't need business cards.  Even if you don't have a "business", having MOO cards can come in handy.  I always hand out Cupcake Project cards to new friends that I meet just so we can stay in touch.
There are also a million creative uses for MOO cards.  For example, you can use MOO cards to make a personalized game of memory for kids.  Pick photos that are relevant to the child, print two of each card design and have fun playing!
MOO is giving away three sets of 100 business cards to Cupcake Project readers.  Full disclosure:  MOO also gave me some free cards in exchange for running this giveaway. Normally I wouldn't work with a company that didn't have a direct baking tie-in, but I've been using and loving MOO cards for so long that I was excited for the chance to share them with you.
To encourage you to try out the new Cupcake Project features, I'm giving you three ways to enter (one involves saving recipes through ZipList and one involves Pinterest). You only have to do one to enter, but you have the option of entering all three times.
Entry 1: Leave a comment on this post telling me why you want the cards.  How would you use them? Don't forget to leave a way to contact you.
Entry 2: Find a recipe you love on Cupcake Project and use the "Save Recipe" button to save it.  Leave a comment on this post letting me know which recipe you saved.  Don't forget to leave a way to contact you if you win.
Entry 3: Pin something from a Cupcake Project post using the Pin button.  It can be a photo from this post (telling people about the MOO card giveaway), or any photo you love from Cupcake Project.  Then, come back to this post and leave a comment telling me what you pinned and your Pinterest username.
Fine Print
The contest will run through 11:59 PM CST on Friday, Jan. 27.
I will randomly draw three winners on Saturday, Jan. 28.  I will contact the winners and post their names on this post.  If I do not hear back from a winner within one week of contacting them, I reserve the right to draw a new winner. 
Cards with rounded corners are not included in the giveaway, but the winners may pay an upgrade fee if they would prefer that style.
International readers are welcomed to enter.  MOO is happy to ship the cards anywhere in the world!
Good luck!
One Final Thing Because I Can't Help Myself