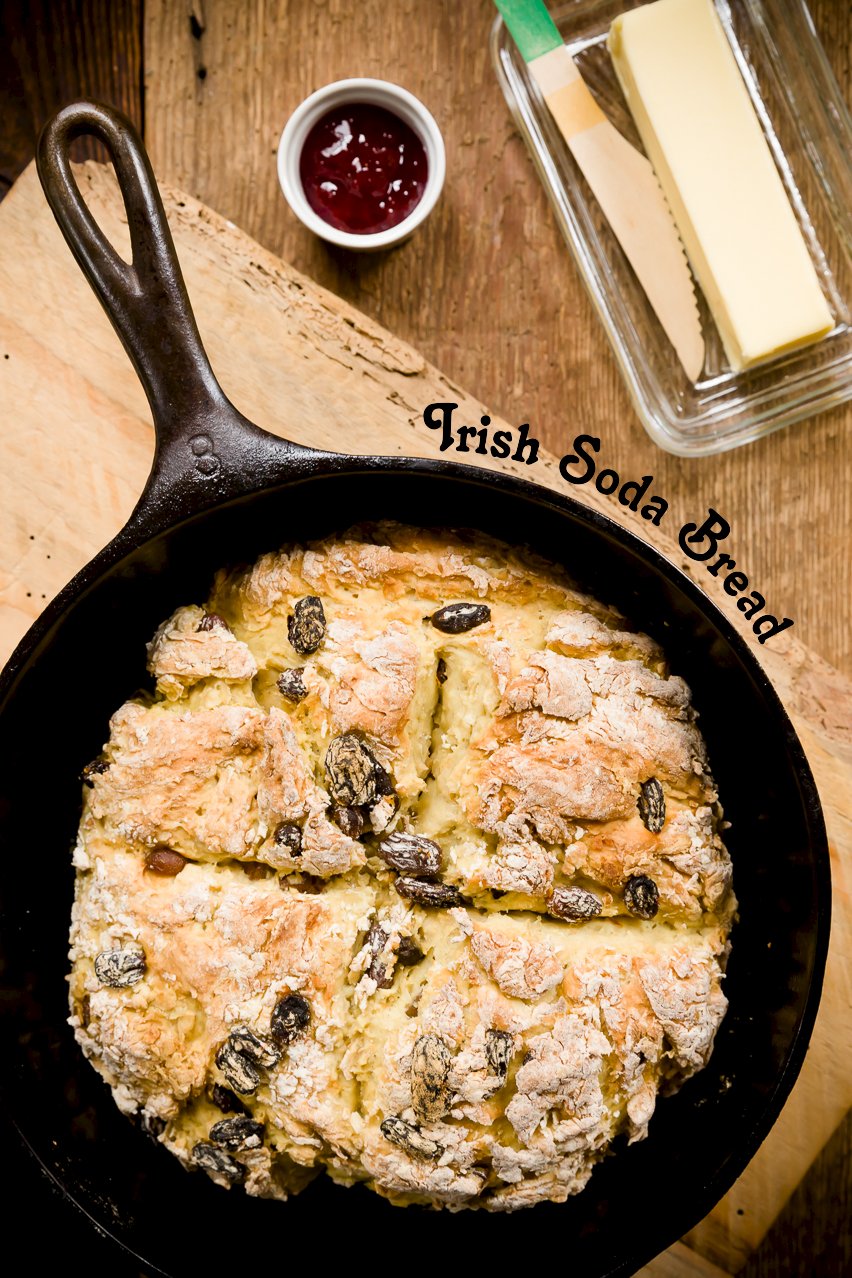 Dump a bunch of ingredients in a bowl (under 5 minutes of your time), give a little mix, transfer into a skillet, bake for 40 minutes, and you've got an unforgettable sweet, hearty, rustic Irish soda bread. This Irish soda bread is being added to my short list of show-stopper recipes that I can throw together super fast when entertaining.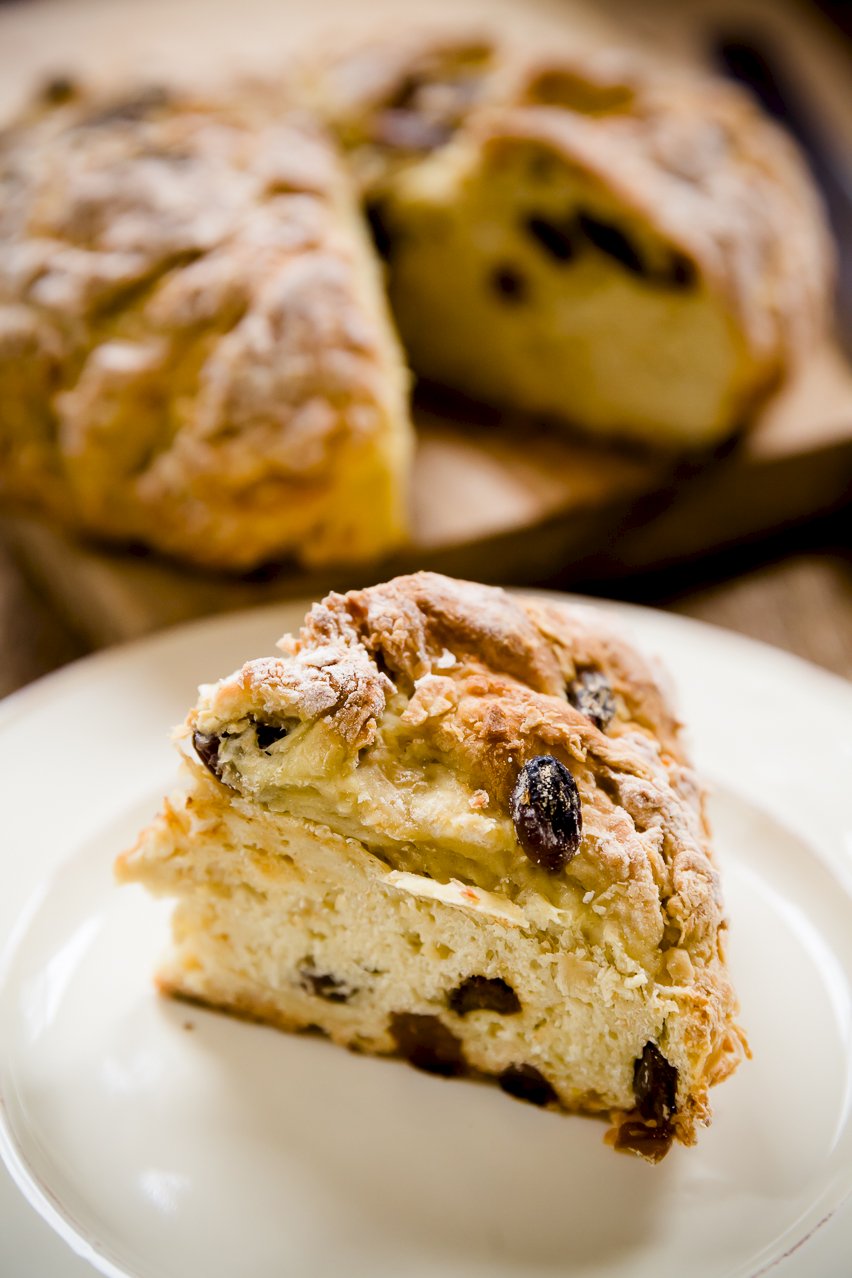 Most surprising about this Irish soda bread recipe are the ingredients that are missing and the unusual addition:
This Irish soda bread has no butter or oil. You won't miss it – the bread is rich from buttermilk.

It has no added sugar and yet it's sweet.
The sweetness comes from… wait for it… PARSNIPS!
Parsnips are carrots' underrated cousins. Did you know that parsnips were actually used as a sweetener in Europe prior to the arrival of cane sugar? Although we don't see them often in American cooking outside the occasional soup or stew, parsnips are far more common in Irish cooking.
I was given a copy of Irish Country Cooking, a lovely anthology of Irish recipes, and I was inspired to use parsnips after a seeing recipe there for parsnip cake (essentially a carrot cake made with parsnips instead of carrots). (View on Amazon)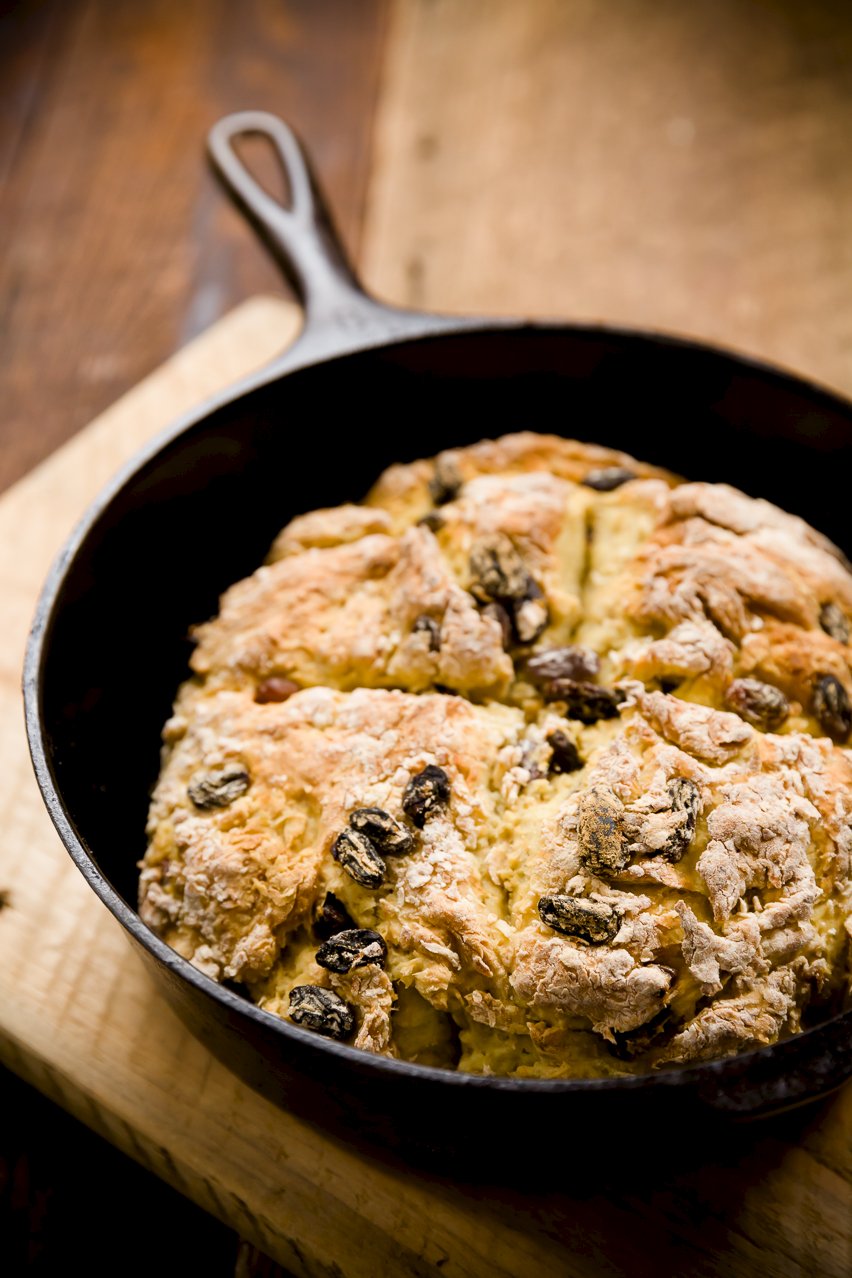 I found a recipe for a parsnip soda bread on Waitrose. That soda bread is a savory soda bread with both white and whole wheat flours, cheddar cheese, and assorted seeds. My sweeter variation uses only all-purpose flour, has no cheese and seeds, and instead uses raisins. The recipe has so much potential. Down the road, I'll be experimenting with adding nuts, cheeses and fruits, using different types of flours, and trying carrots and maybe even sweet potato instead of the parsnip.
Although I baked my bread in a skillet, you could also use a cookie sheet. (View on Amazon)
Irish Soda Bread
Dump a bunch of ingredients in a bowl, give a little mix, transfer into a skillet, bake, and you've got an unforgettable sweet, hearty, rustic Irish soda bread.
Cook Time
1
hour
20
minutes
Total Time
1
hour
30
minutes
Ingredients
4

cups

all-purpose flour

2

teaspoons

baking soda

2

cups

peeled and finely food processed parsnip

loosely packed (about 1 large parsnip / 175 grams)

1

teaspoon

salt

1 3/4

cups

buttermilk

1

cup

raisins
Instructions
Preheat oven to 400 F.

Mix flour, baking soda, parsnip, and salt in a large mixing bowl.

Mix in buttermilk.

Mix in raisins.

Use your hands to gently knead the mixture together to form a dough. It's a rustic bread, so don't expect a smooth elastic dough like you might have seen with other types of bread.

Place dough into a lightly greased deep 8" skillet or shape into a round loaf on a lightly greased cookie sheet,

Cut a cross into the loaf, going about halfway into the dough. This is not just decorative; it helps the bread bake evenly.

Bake for 60 minutes. Cover and bake for another 20 minutes or until a skewer inserted into the middle of the loaf comes out dry. When you flip the loaf out to cool, it should sound hollow when you tap the bottom.
Nutrition
Nutrition Facts
Irish Soda Bread
Amount Per Serving
Calories 225
Calories from Fat 9
% Daily Value*
Fat 1g2%
Cholesterol 3mg1%
Sodium 419mg17%
Potassium 274mg8%
Carbohydrates 46g15%
Protein 5g10%
Vitamin A 60IU1%
Vitamin C 4.5mg5%
Calcium 58mg6%
Iron 2.4mg13%
* Percent Daily Values are based on a 2000 calorie diet.
(Psst… See that cute knife in the top photo? You can get knives like that from my friend Brooke at Sucre Shop!)