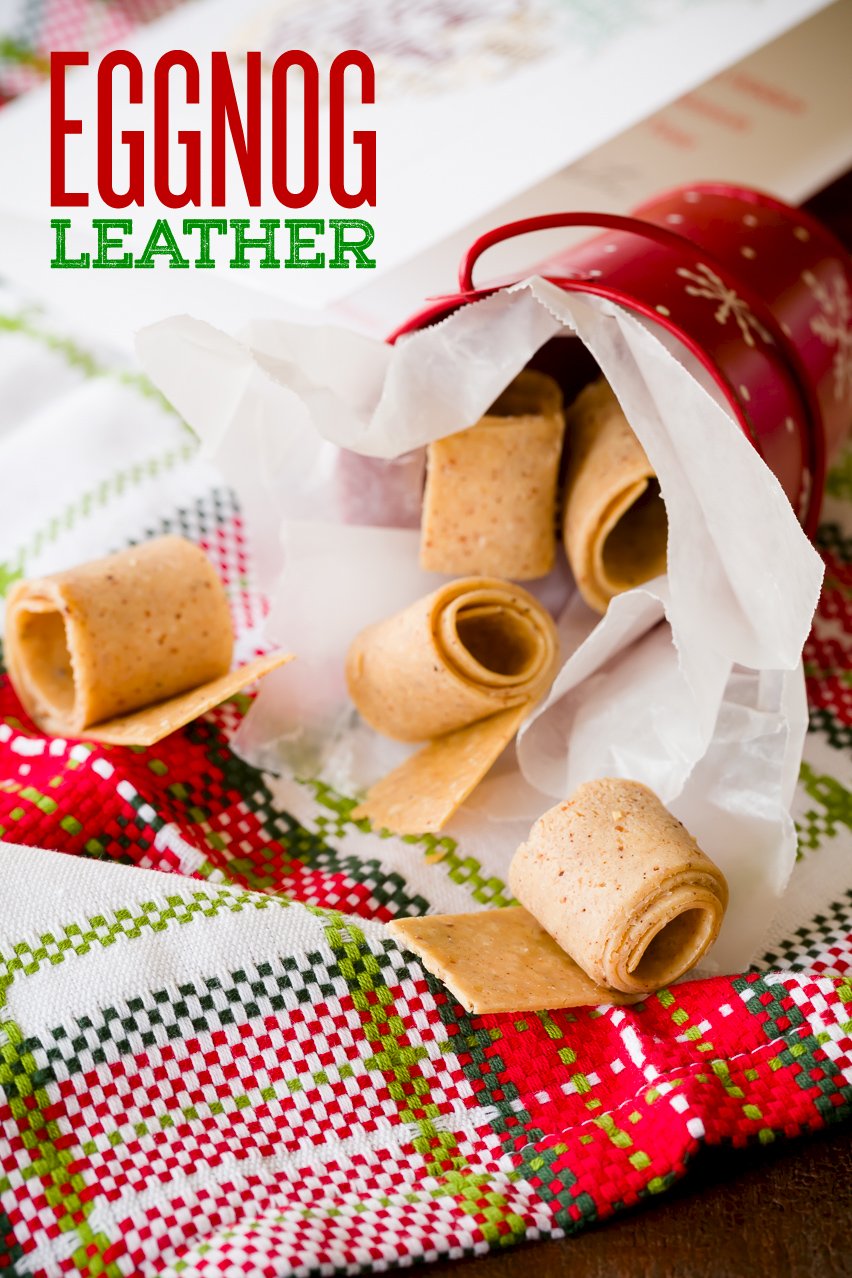 Experience fruit leather like you've never tasted before – without the fruit!! This leather is eggnog flavored – it tastes just like the drink, but in a cheery, chewy, portable form. Mega-fun!
Pampered Chef sponsored this post and challenged me to come up with a giftable treat. Eggnog leather perfectly fits the bill – it makes a truly unique holiday gift – or you can keep it all for yourself to snack on throughout the season.
How To Make Eggnog Leather
A dehydrator is the easiest way to make eggnog leather, but it can also be dried in the oven. I've tested and re-tested both ways and have the scoop.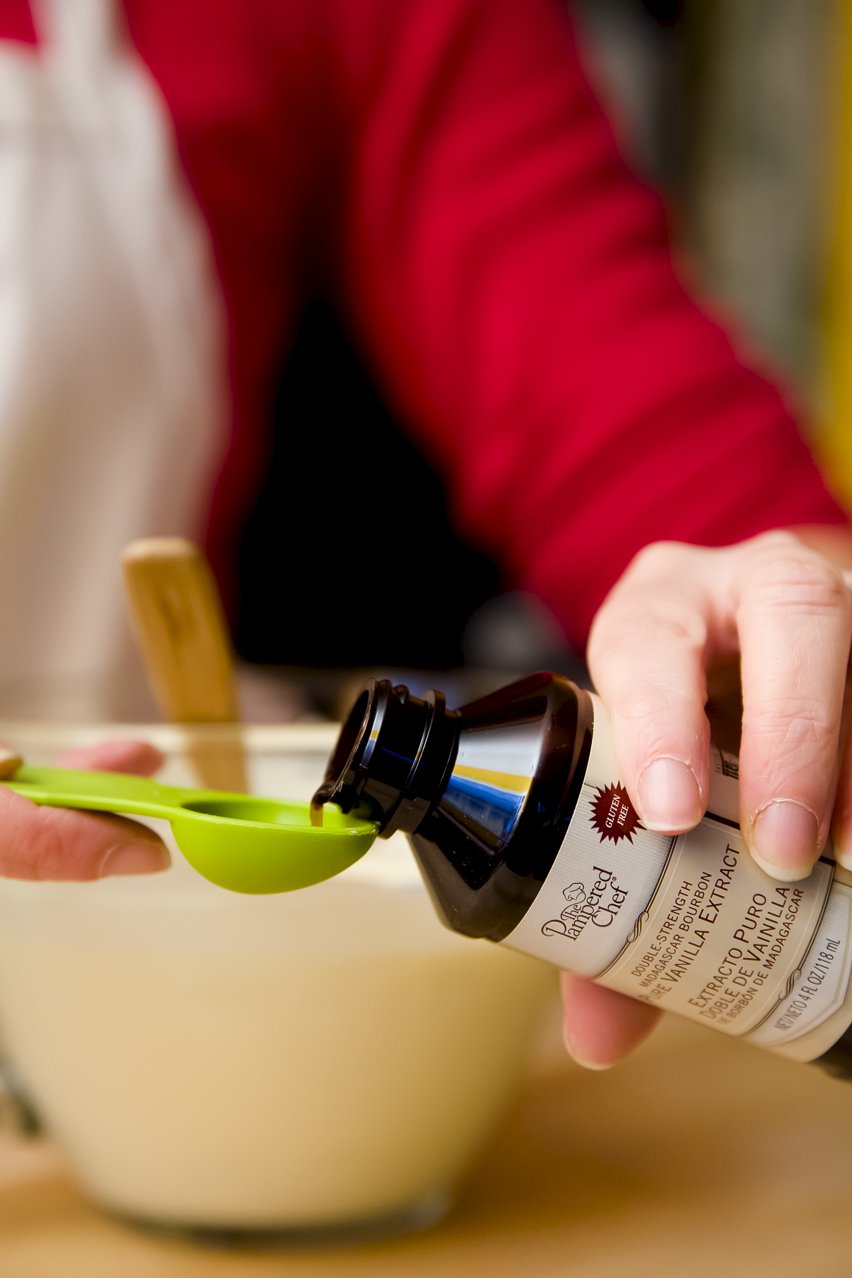 Did you know that you can dehydrate yogurt? I learned all about it in a fantastic post from Thank Your Body. In my first couple of tests at making eggnog leather, I mixed yogurt and eggnog. The result was too thin and the "leather" ended up being more cracker-like (tasty, but not what I was going for). I decided to use yogurt alone as the base for my eggnog leather. I suggest using plain/unsweetened full-fat yogurt. I also tried this recipe with Greek yogurt. It worked, but because the Greek yogurt was more lumpy, I had to add the step of blending everything before dehydrating.
To flavor the yogurt like eggnog, I first added vanilla extract. I love that Pampered Chef sells a pure vanilla extract and that it is double-strength. The more vanilla, the merrier!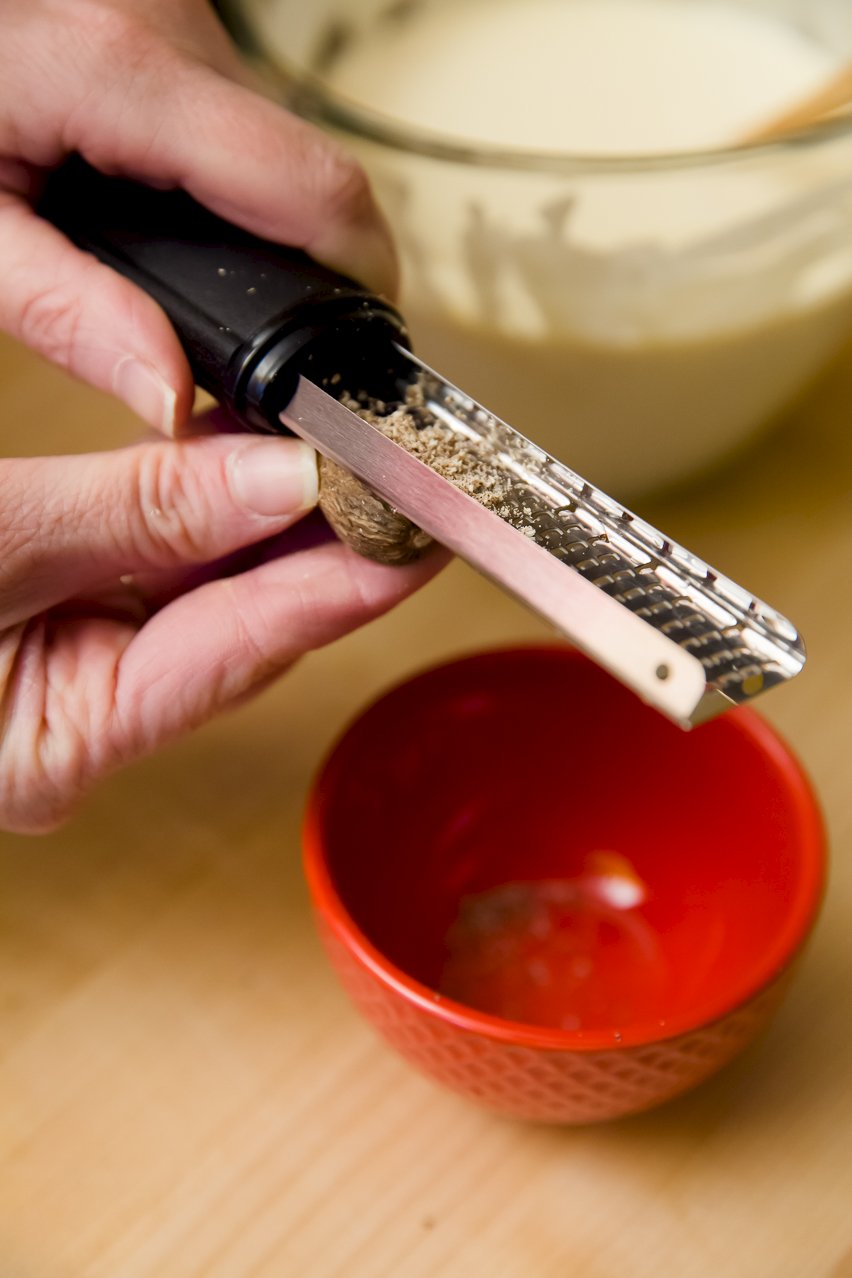 Then, I added some fresh nutmeg. While store-bought ground nutmeg works in this recipe, it's always best to use fresh spices when you can. It's simple to grind nutmeg with a microplane grater. Pampered Chef's grater is short and stubby compared to most microplanes that I have used and I wasn't sure what I would think of it. I ended up really liking the feel of it in my hand. Speaking of my hand, why do I never remember to get a manicure when I'm going to be a hand model?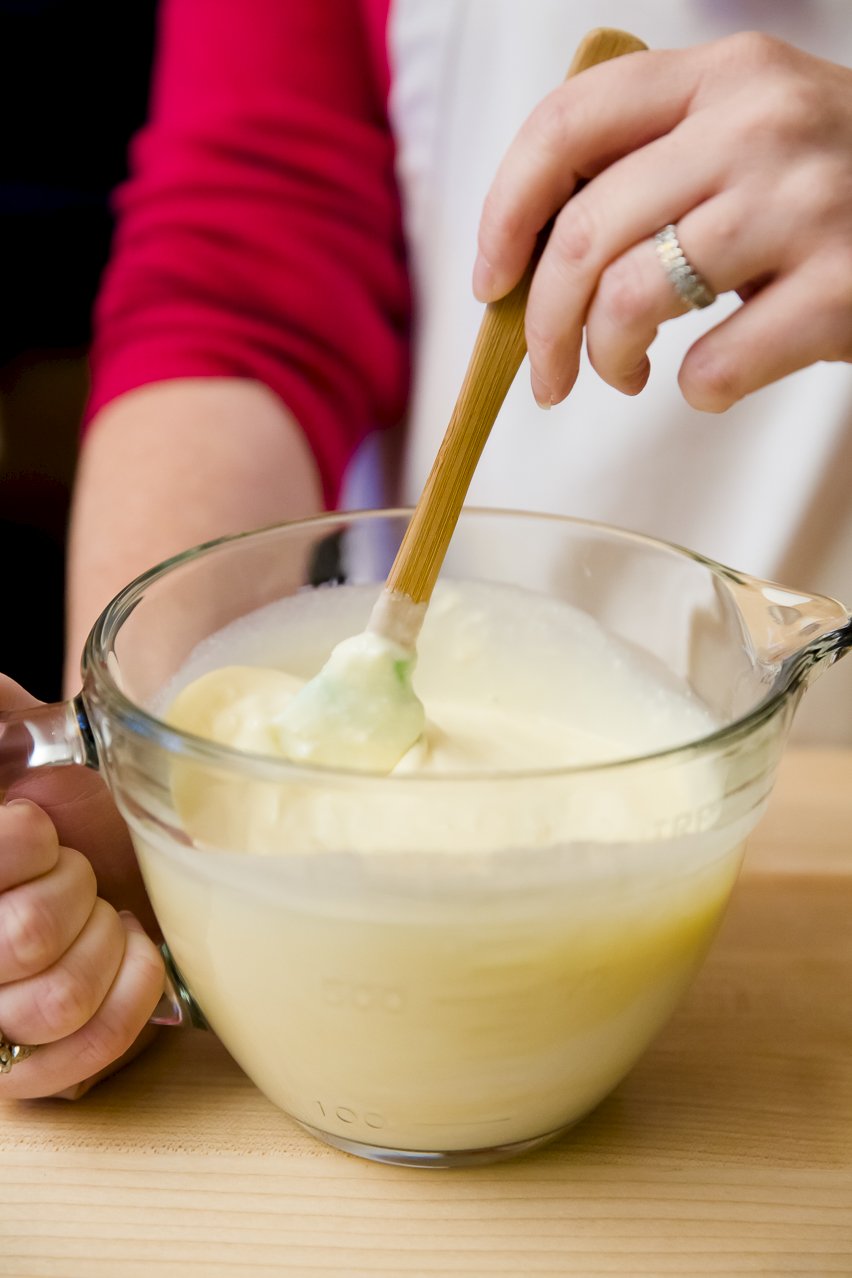 I also added a splash of rum (this is optional, but I liked throwing it in) and some sugar and mixed it all up in a batter bowl (a glass liquid measuring cup that comes with a lid) with a festive holiday spatula (because why not?).
Next, I dehydrated (again, I tested using both the oven and a dehydrator). I learned some dehydration tricks along the way: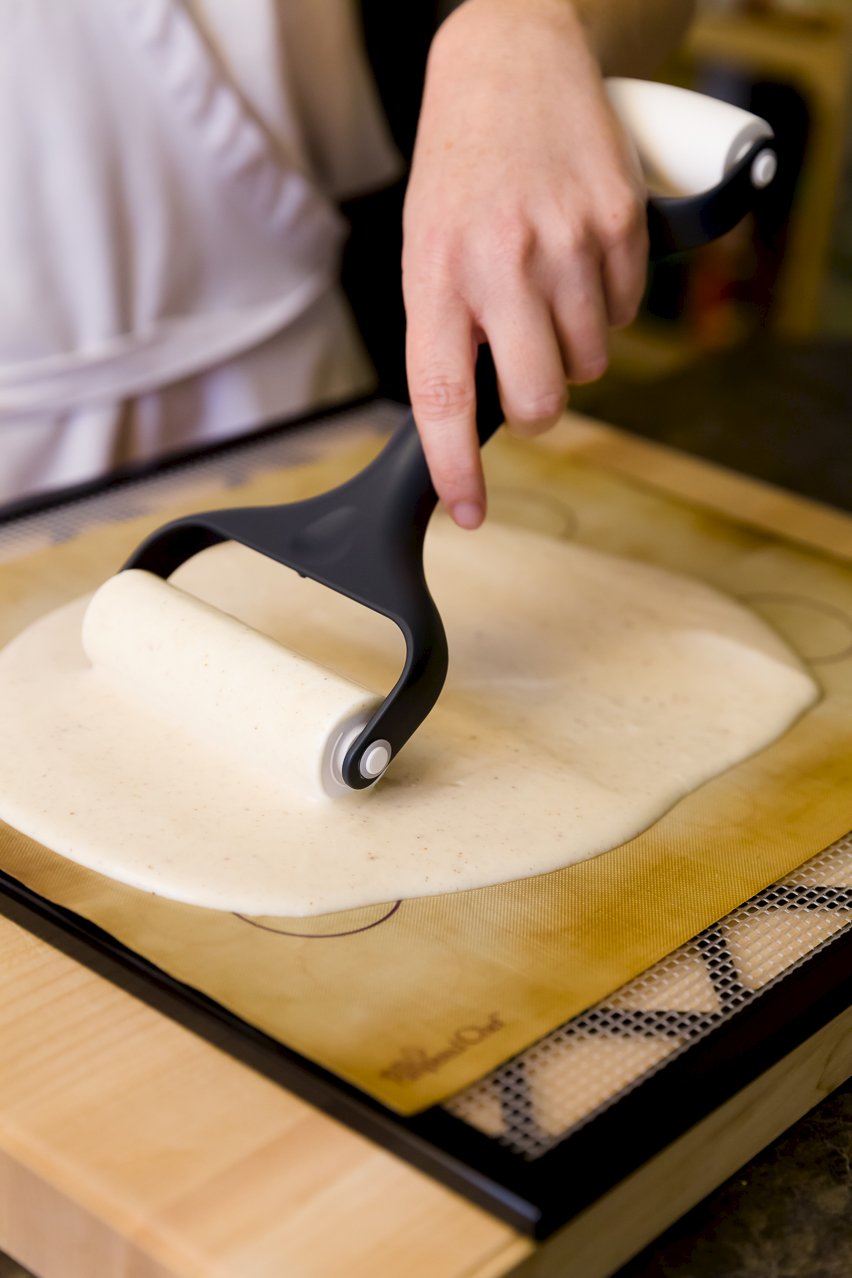 A silicone mat works better than parchment paper, but even a silcone mat needs to be greased. Eggnog leather is one of the only things that I've ever had stick to a silicone mat. It case it isn't obvious by looking at it above, my Pampered Chef silicone mat has gotten a LOT of use.
The ideal thickness is as thin as you can get it without being able to see through it to the mat.
It's nearly impossible to keep the edges of the leather from becoming more crispy than the middle. To minimize this, I learned that when spreading the yogurt on the mat, it helped to make the edges of the yogurt thicker than the middle. The baker's roller (shown above) is my new best friend. It is a tiny rolling pin that's great for smoothing out all kinds of batter and doughs. The coolest thing about it is that, while a typical rolling pin can't fit inside of a cookie sheet, the baker's roller can.
Dehydrating should take a little over five hours, depending on how thin the yogurt is. When you test for doneness, be sure to touch the middle and see if it feels leathery. As I said above, the edges are crispier and will appear to be done long before the middle.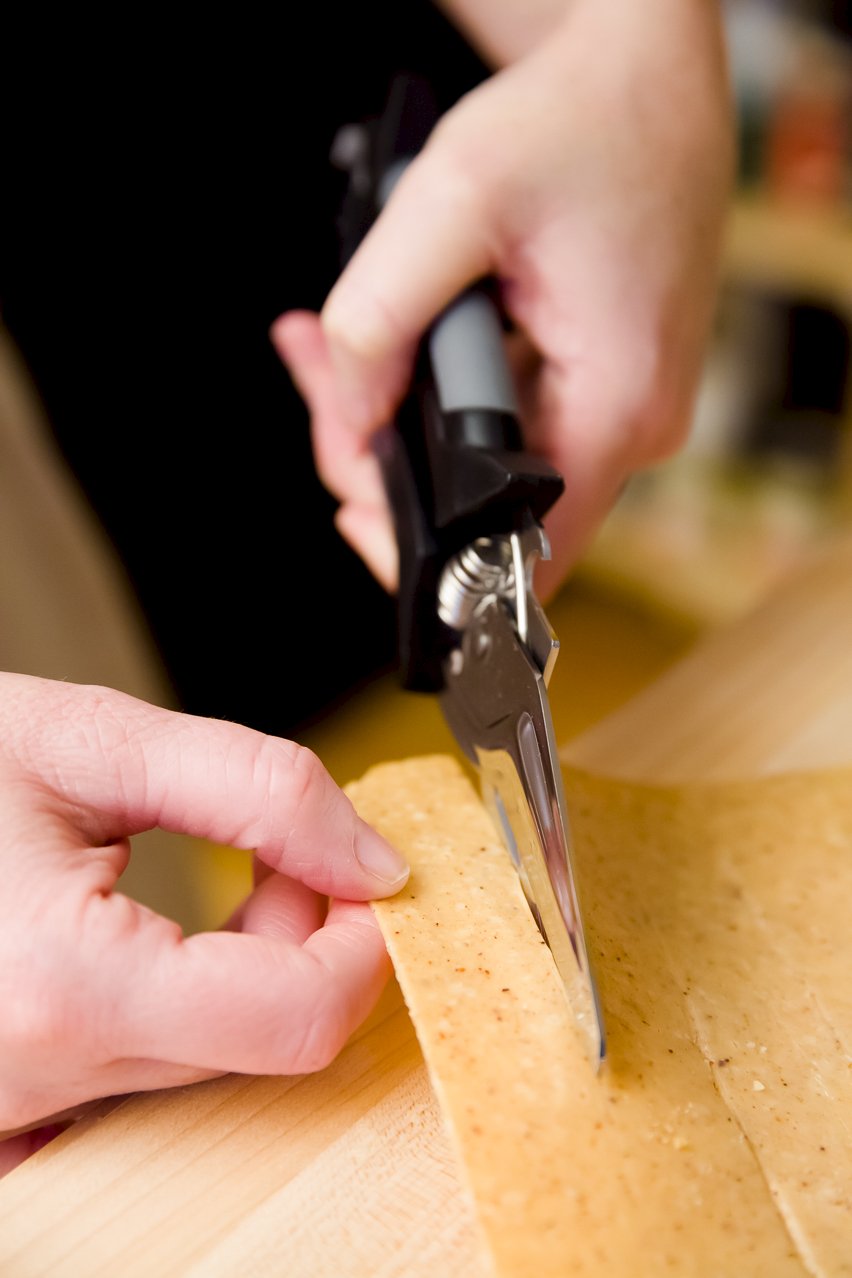 Aside from the eating, the best part of making eggnog leather is, of course, the cutting and rolling. You can use a pizza cutter or kitchen shears.
Incredible Eggnog Leather
Experience fruit leather like you've never tasted before - without the fruit!! This leather is eggnog flavored - it tastes just like the drink, but in a cheery, chewy, portable form.
Ingredients
3

cups

plain full-fat yogurt

3

teaspoons

vanilla extract

3

teaspoons

freshly grated nutmeg

3

teaspoons

dark rum

optional

3/4

cup

superfine sugar
Instructions
Mix all ingredients.

Place silicone mats on dehydrator trays or cookie sheets and lightly grease with vegetable oil or a cooking spray.

Divide yogurt evenly between two trays and spread it over the trays. Make it thin but not see-through, and thicker at the edges than in the middle.

Dehydrate in a dehydrator at 135 F or in the oven at the lowest temperature the oven has (mine is 170 F).

Start testing for doneness at 4 hours. Look for the middle of the trays to be leathery and not overly tacky. Continue to test every 30 minutes for doneness. It can take up to 6 hours, depending on the yogurt thickness and the humidity in your kitchen.

Trim off any crispy edges (you can eat these as they just aren't good for rolling) and cut the remaining leather into long strips with a a pizza cutter or kitchen shears.

Roll the strips and store in a sealed container until ready to eat.
Nutrition
Nutrition Facts
Incredible Eggnog Leather
Amount Per Serving
Calories 94
Calories from Fat 18
% Daily Value*
Fat 2g3%
Cholesterol 7mg2%
Sodium 28mg1%
Potassium 94mg3%
Carbohydrates 15g5%
Protein 2g4%
Vitamin A 60IU1%
Vitamin C 0.3mg0%
Calcium 75mg8%
Iron 0.1mg1%
* Percent Daily Values are based on a 2000 calorie diet.
If you give this a try, I'd love to know what you think!