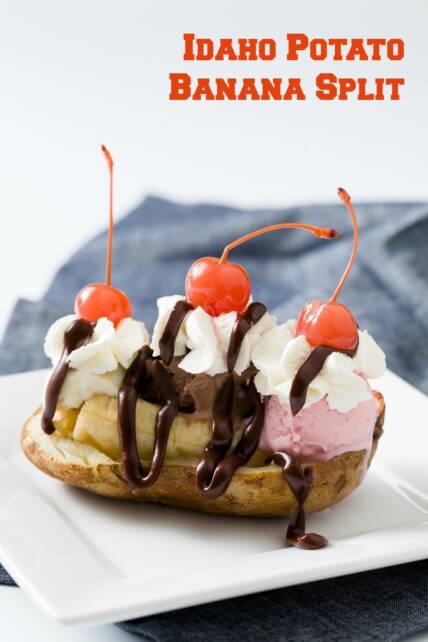 Over the next week, I'm going to share three potato dessert recipes I developed for the Idaho Potato Commission.  They are all, shall we say, a little unconventional.  Let's face it, potato desserts as a whole category are a little unconventional.  However, if you are regular reader, you've come to expect unique ideas from me that end up tasting crazy good.  These potato desserts are no exception.
First up is this glorious Idaho potato banana split!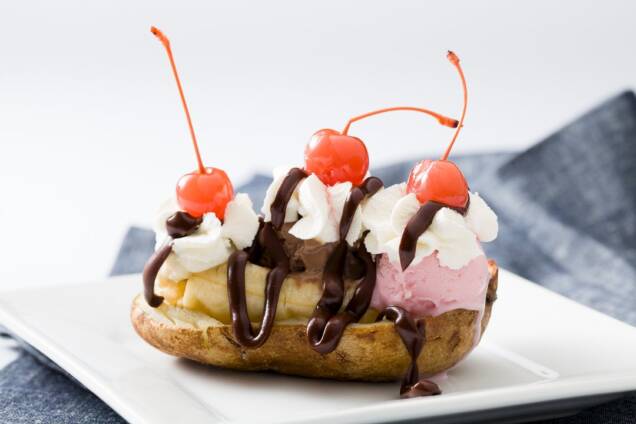 Raise your hand if you've ever dipped a French fry in a milkshake.  If you have, you know that potatoes go really well with ice cream.  If you haven't, try it ASAP.
My potato banana splits take advantage of the ice cream/potato winning flavor combination.  To prepare my potato banana splits, you start with potato skins that are baked with a touch of sugar to sweeten them.  Then, you use the potato skin as the boat for a classic banana split.
The key to the perfect potato banana split is to serve the banana split immediately – while the potato skin is still hot and before the ice cream melts.  You can eat the whole thing together or eat your potato boat last with any remaining melty ice cream and toppings (trust me, a potato with ice cream and hot fudge will make your typical ketchup topping look sad).
If you've tried this recipe, please RATE THE RECIPE and leave a comment below!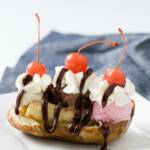 Idaho Potato Banana Split
Ingredients
1

Idaho® potato

1

tablespoon

butter

melted

1

tablespoon

sugar

1

large ripe banana

peeled

2

small scoops vanilla ice cream

2

small scoops chocolate ice cream

2

small scoops strawberry ice cream

whipped cream

to taste

chocolate sauce

to taste

6

maraschino cherries
Instructions
Heat oven to 400 F.

Prick potato in several spots and bake on a cookie sheet until skin begins to crisp and potato has a little give when squeezed, about 40 minutes.

Cool until the potato is comfortable to touch. Cut potato in half lengthwise and scoop out insides, leaving about ¼ inch of potato on each half.

Mix melted butter and sugar in a small bowl and brush onto the outside and inside of each potato skin.

Return potato skins to the baking sheet and bake for five minutes. Flip potato skins over and bake for five additional minutes.

Cut banana in half and then slice each piece in half, lengthwise. Put two pieces of banana into each potato skin.

Top bananas with one scoop of each flavor of ice cream, whipped cream, chocolate sauce, and a cherry on top of each scoop.

Serve immediately.
Having a potato as part of your banana split totally works in your favor when you want to have ice cream for dinner.  "Yes, mom… I had vegetables with my dinner!"
Stay tuned for the next two potato dessert recipes.