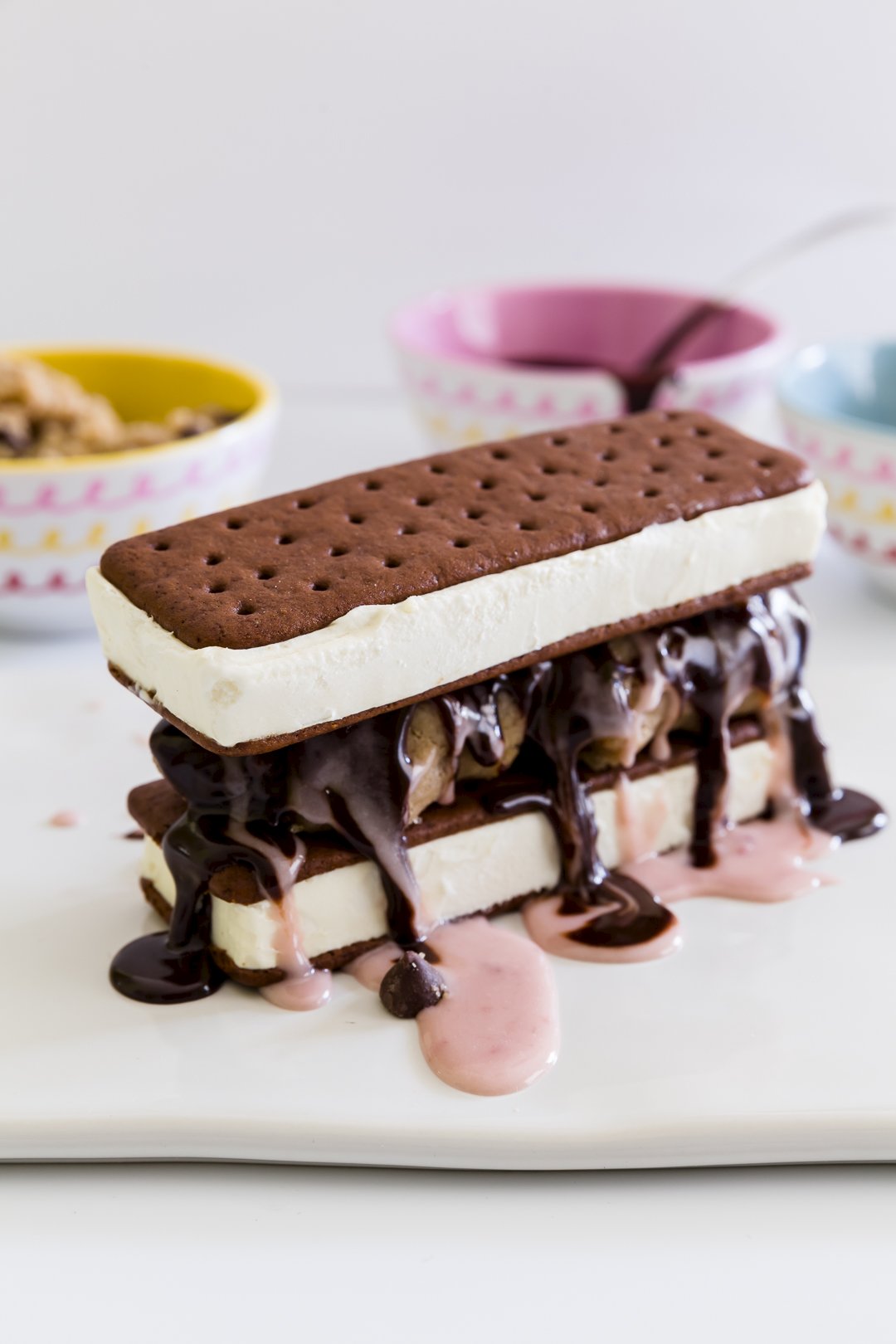 The best ideas often come when I'm half asleep. This time, while lazily dreaming about a box of ice cream sandwiches in my freezer, I came up with the ice cream sandwich sandwich. That's not a typo! The ice cream sandwich sandwich is a sandwich made by layering two ice cream sandwiches with cookie dough that's safe to eat, chocolate sauce, and strawberry glaze. I'm not sure whether it is complete genius or absolute insanity!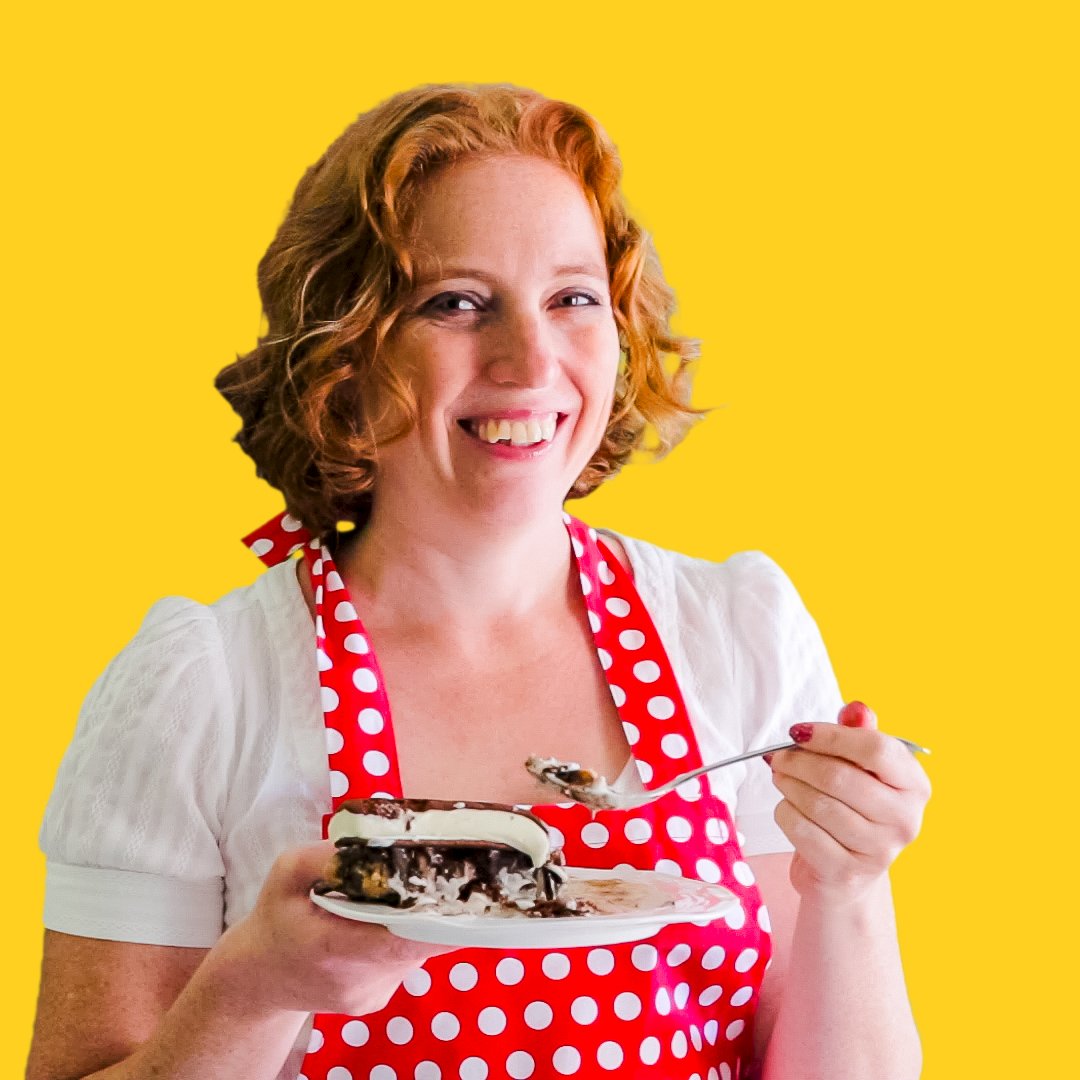 Watch the video at the end of this post and let me know what you think!
In the meantime, I'm sharing nine other totally amazing ice cream sandwiches that you need to try before summer ends.
Let's get started!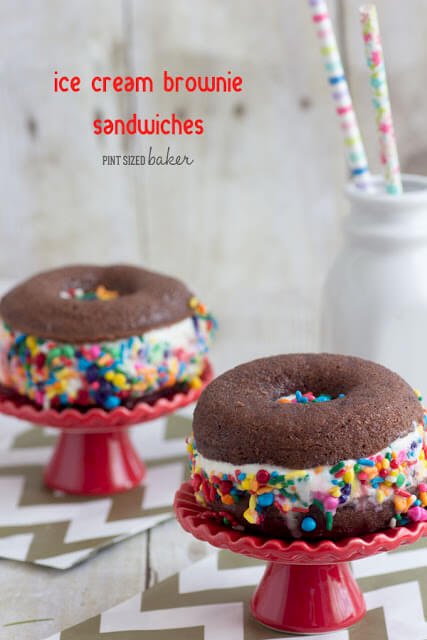 Pint Sized Baker's ice cream sandwich brownies are the cutest! She took brownie batter and baked it in donut pans and then used it for these sandwiches. Of course, you can use regular square brownies and they would be just as great!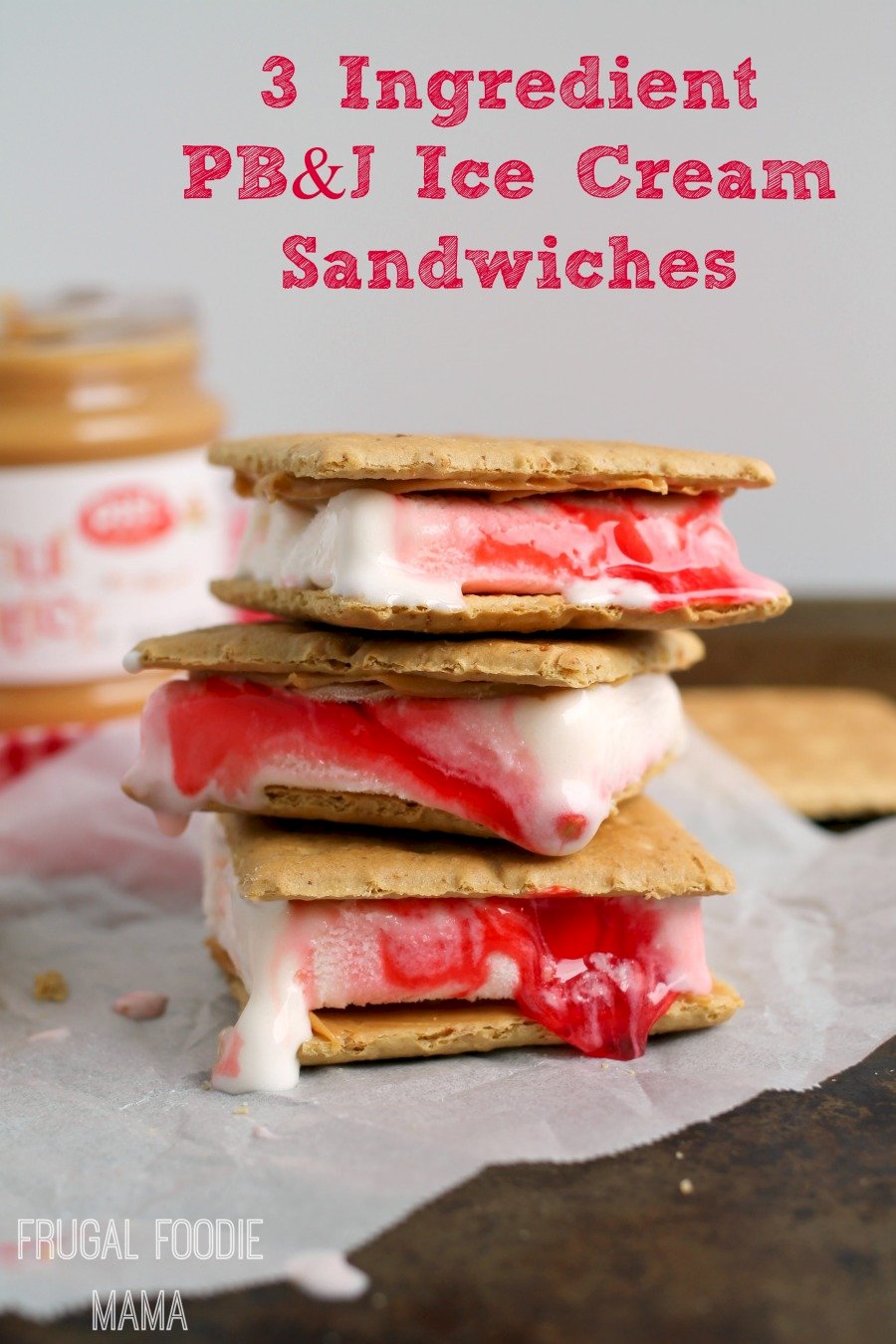 Ice cream sammies on graham crackers?! Yes, please! Who could resist Frugal Foodie Mama's PB&J Ice cream Sandwiches?!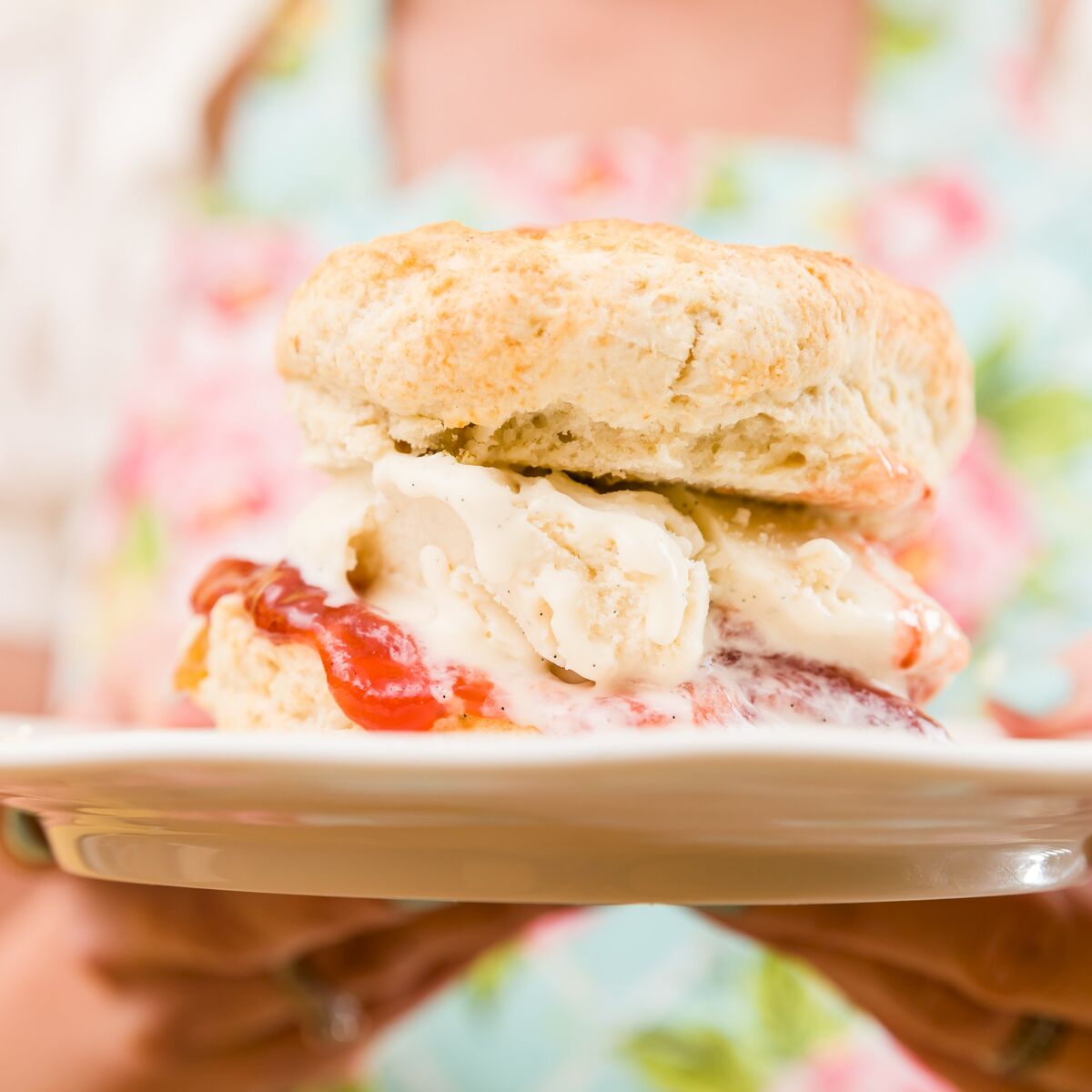 My clotted cream ice cream sandwiches also use jam, but this time it's on a scone. I fill the sandwich with homemade clotted cream ice cream. However, vanilla ice cream would be great with this as well.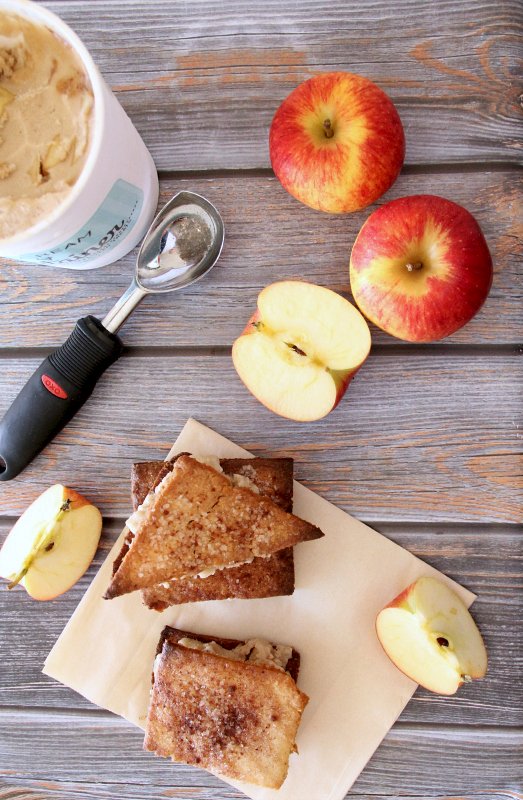 These apple pie ice cream sandwiches by Around My Family Table use pie crust and are filled with ice cream and baked apples! I know that I said that you should make these before summer ends, but these would be so perfect for early fall!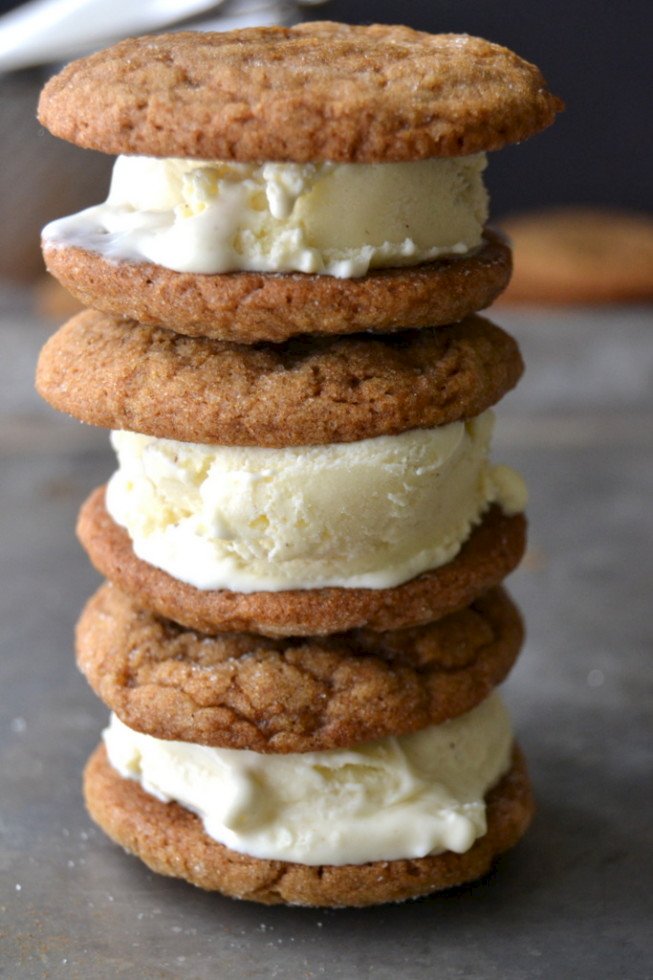 Here's another one that I think would be wonderful for fall. These ginger nutmeg ice cream sandwiches from The View From Great Island are made using ginger cookies and a nutmeg-flavored ice cream. You could even throw some candied ginger into the sandwich for an extra ginger punch!
I love how these snickerdoodle ice cream sandwiches by Sweet ReciPEAs double down on snickerdoodles. They're made with snickerdoodle cookies and homemade snickerdoodle ice cream!
Did you ever get funnel cake with ice cream at a carnival? I can only imagine that these churros ice cream sandwiches from Chocolate Moosey taste similar, but even better! I want one – or ten!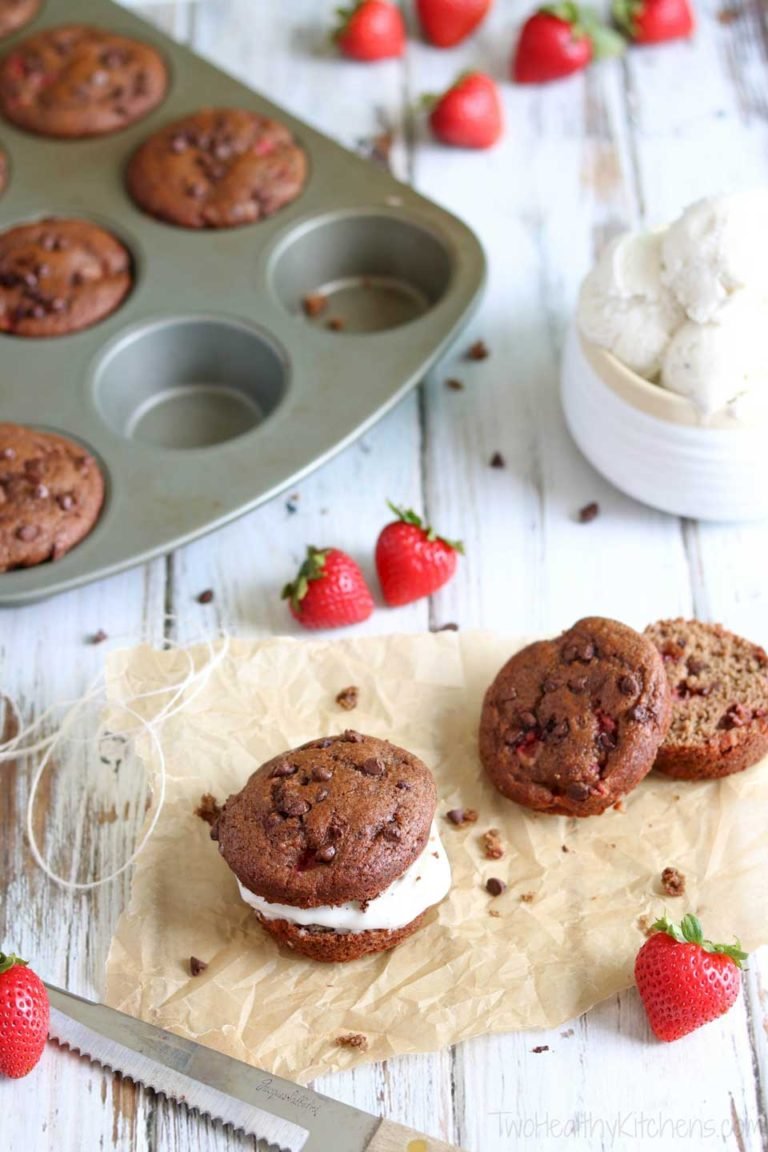 You know that muffins get a bad rap around here (they are the evil sisters of the fabulous cupcakes). However, if you are going to use one to make a muffin ice cream sandwich, I totally approve. This great idea comes from Two Healthy Kitchens!
My vanilla cola ice cream sandwiches are a total taste of Americana. I made them star-shaped using Tovolo's ice cream sandwich molds.
And now, the ice cream sandwich sandwich video!!