Last night, I received the following comment on my Facebook page (it's no longer up, so don't look for it) and I wanted to publicly respond:
If a family receives food stamps then I doubt that they have the means to access a Whole Foods store. Buying organic is usually not at the top of the priority list. I work with this population daily. You don't have a clue, despite your good intentions. No need for comment, I am opting out of your FB page.
She's right.  I don't have a clue – which is exactly why I am participating in the Hunger Challenge (read my intro post on the Hunger Challenge for all of the details).
Everyone who is participating in the challenge is free to interpret the rules how they'd like.  Several people have asked me whether I'll be using items already in my pantry during the week.  The answer is no.  The only items in my pantry that I am using this week are salt and pepper.  Yes, I could have taken the challenge one step further and relied on public transit or only visited grocery stores within a certain radius of my home.  Admittedly, that would have been more of a challenge.  But, I wanted to use the week to explore – to really think about what food costs and how those costs differ from place to place.
What would it be like to eat on food stamp dollars at Whole Foods, the normal store where I shop?  What if I shopped at a less expensive grocery store like Shop 'n Save?  How much cheaper would it be?  What would the experience be like shopping in a bargain basement store like Aldi?  Would I save money by shopping at bread outlets?  How much would I rely on coupons?  If I just went to one store, I feel like I would have missed out on an education.
That being said, let's talk about my first few shopping trips.  And yes, the first one was at Whole Foods.  You'll see that I was able to get some good values, but it wasn't easy.
I never walk out of Whole Foods spending under $25 – usually the bill is $50 or more.  So, I knew that if I were going to shop for the Hunger Challenge at Whole Foods, I would need to call in an expert.  My friend, Jennifer, writes the blog Healthy Life Deals.  Using the the power of extreme couponing, she regularly gets a whole cart of groceries for just a few dollars and sometimes even for free.  I asked her if she would be willing to come shopping with my family to give us some pointers.
The night before our shopping trip, emails starting coming in from Jennifer fast and furious.  She had pages and pages of links to coupons that I needed to print out so that we could get our good deals.  As I printed my thick stack of coupons, I wondered, "Would someone on food stamps have a computer?  Would they have a printer?  Would they have time to print these out or would they be at their second or third job trying to make some money?  They certainly wouldn't have the help of shopping with Jennifer."  But, like a model student, I dutifully printed and prepared to learn from the best.
When we got to Whole Foods, Jennifer whipped out her portfolio of coupons.  The ones I had printed were only meant to supplement the coupons that she had brought with her.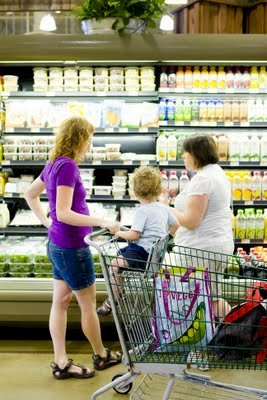 My son was a total trooper while Jennifer and I discussed
what to buy.  When he wasn't photographing us, Jonathan
took our son for walks around the store and outside to
keep him from going too stir crazy.
We spent two hours in the store matching coupons to products and deciding what we would really use and how we would use it.  Is the peanut butter worth the money?  Which pasta would save us a quarter?
In the end, we got $60 worth of groceries for $17!  Jennifer has the entire breakdown on her blog.  Did I mention that she's amazing?!
In Short:
You can get good deals at Whole Foods, but you need lots of time and lots of organization.  Access to a printer also helps, and printing (which costs money even at most libraries) would eat into the coupon savings.
Not surprisingly, Whole Foods is not the place to buy any fresh fruits and vegetables if you are on a tight budget.
ALDI
Our second shopping trip was to ALDI – the self-proclaimed "Nation's Low-Price Leader".  The first thing that I noticed was that the shopping carts were all locked up.  How was I supposed to get a cart?  A nice man handed me a quarter and stuck his own quarter into the cart in the next row.  "You get it back when you return the cart," he told me.  I never would have figured it out without him.
I headed inside in search of cheap produce.  We found cantaloupes for $0.99, seven bananas for $1.09, and a bag of carrots for $1.39.  The produce looked fresh, but it all had my produce pet peeve – packaging (which, by the way, even Whole Foods has a lot more of now).  Most items were bagged or shrink wrapped.  If I were a single person on Food Stamps, I'd want to come to ALDI to save money, but I wouldn't want to buy a big thing of broccoli or a whole bag of potatoes.  On the plus side, bagged produce makes budgeting easier.  I didn't need to weigh my onions and then do the per pound math to know how much my onions would cost.
In Short:
ALDI is a great place to go for cheap produce for a family, but any thoughts of organic need to go out the window.
At Whole Foods, it's taken for granted that you will be given shopping bags.  People bring their own bags to be nice to the environment and you are even given $0.10 of off your purchase for each bag you bring.  At ALDI, if you want bags, you have to bring them – and don't think someone is going to do your bagging for you.  You are shopping for bargains, so you've got to work.
Companion Outlet
We knew that one of our favorite local bread shops, Companion, has a bread outlet where bread is available at 35-40% off retail prices.  Since we happen to be friends with the owners of Companion, we asked them directly for more information about the outlet.  We were told that the best time to go is between 7am and 9am.  I was still sleeping when my husband and son made the trip to the outlet.  They came home with a loaf of delicious looking bread for $3.16.
In Short:
Good bread still costs more than mass-produced bread, even if it's discounted.  We could have bought a loaf of bread at ALDI for half that price.  We're happy to have the bread we love as part of our week's food, but understand that those couple of dollars might have been better spent.
Shop 'n Save
There's a Shop 'n Save near our house and we'd been in there before, but it's not some place that we regularly visit.  At Shop 'n Save, the deals are posted in red throughout the store.  We bought some pasta and pasta sauce (Jonathan always makes his own, but it's cheaper to buy prepared stuff than to buy all of the ingredients).  We also got a pound of chicken for $1.96 (it said "natural" on the package – I'm never sure exactly what that marketing term means, but it sounded good).
In Short:
Dry beans are cheaper than canned beans, but they take a long time to cook.  We were hungry last night and our dry beans from Shop 'n Save were a bit chewy because we lost patience.
The Shop n' Save jingle, "The more you shop, the more you save – every day at Shop 'n Save," simply isn't true.  You have to be really careful how much you shop or you'll go over your budget.  But, there are a lot of good deals to be found.
Summary
I don't have a clue what it would really be like to live on Food Stamps (thankfully) and I know that I still won't after the week is over, but I'll have taken a small step towards understanding.
What I'm Eating
I'm going to start an album on Facebook showing some of the meals that we've eaten and how much they cost.  Look for it there in the near future.