My potato candy made with Nutella has the consistency of fudge and tastes like Nutella. It's sweet and chocolaty and you'd never guess that the candy is made with potatoes.
My version is also easier to make than the classic version. I use the microwave instead of a range to cook the potatoes and then shape the candies rather than rolling them up. I make my potato candy into shamrocks and cover with green sanding sugar to create an adorable St. Patrick's Day dessert treat.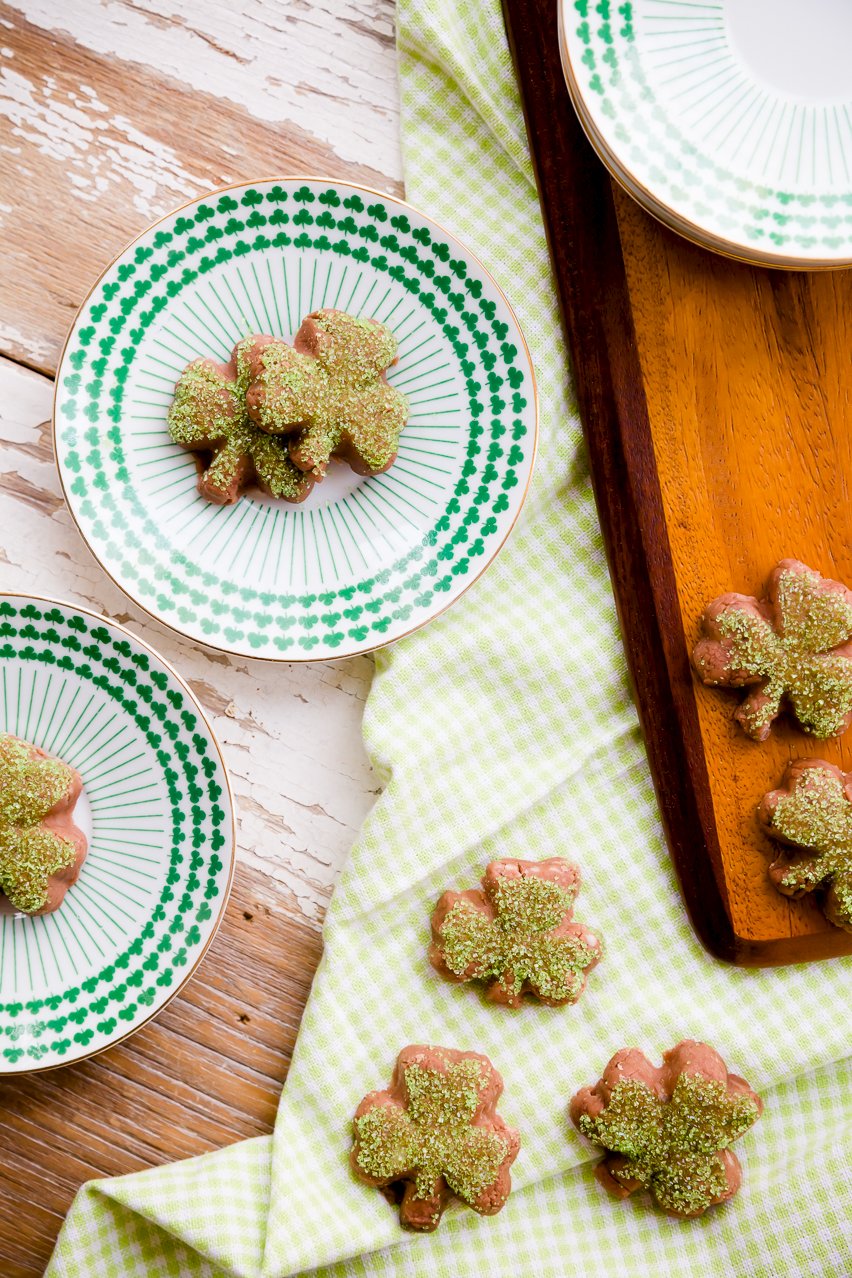 What is Potato Candy?
There are two types of potato candy:
The Irish version looks just like potatoes (the resemblance is astonishing) but actually contains no potatoes.
Traditional potato candy, like mine, uses potatoes as a main ingredient. The potatoes act as a binding agent rather than as a flavoring for this no-bake treat.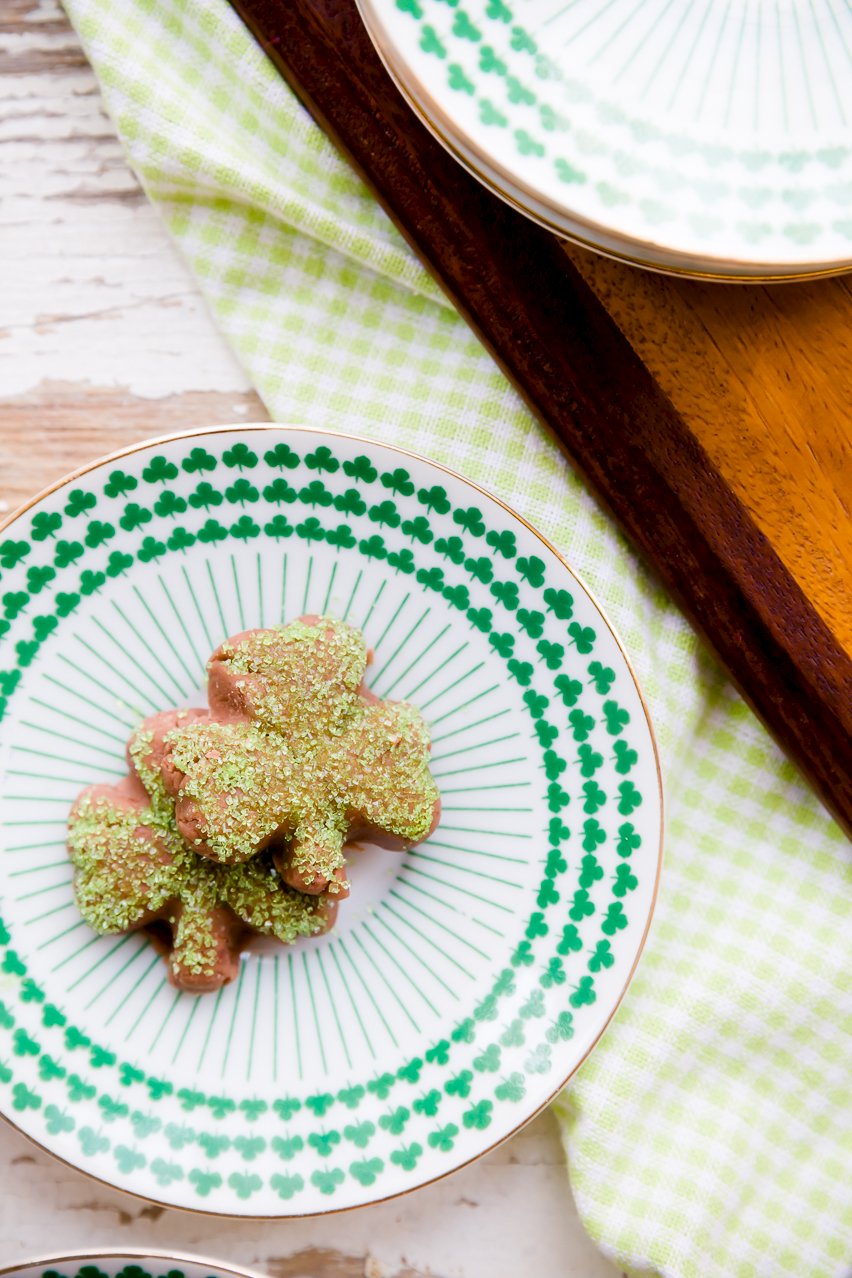 How to Make Potato Candy
Potato candy that contains potatoes is typically made with three ingredients:
boiled potatoes
powdered sugar
peanut butter
The boiled potatoes and powdered sugar are mixed together, rolled out thinly, topped with peanut butter, rolled up like a jelly roll, and sliced. You can see the traditional way of making the dessert on Southern Plate.
My version simplifies the classic. I microwave the potatoes, use Nutella instead of peanut butter, mix everything together, and mold the candy into shamrocks (because shamrocks are adorable!) for a special St. Patrick's Day dessert.
Special Tools and Supplies Needed
To make the potato candy look like shamrocks, you'll need a shamrock candy mold. This is the one that I used. It's meant to be used for lollipops, but it worked perfectly for my needs. (View on Amazon)
Although the green sanding sugar is not a required ingredient, it sure makes the candy look cute. (View on Amazon)
Potato Candy with Nutella
My potato candy with Nutella has the consistency of fudge and tastes like sweetened Nutella.
Ingredients
5

ounces

russet potatoes

peeled (or cut a larger potato to size)

1 1/2

cups

powdered sugar

1/4

cup

Nutella

or other chocolate hazelnut spread

green sanding sugar

optional
Instructions
Microwave the potato until it's cooked. (Am I the only one who loves the existence of the potato button on the microwave?)

Cut the cooked potato into a few pieces and put it into the bowl of a stand mixer fitted with the paddle attachment.

Beat the potato until it's all mashed up.

Add a little powdered sugar at a time and mix until the mixture comes together like a dough.

Mix in the Nutella. Your candy is done now and you can make it any shape you want - the easiest choice would be to just roll it into balls. The instructions below explain how to make the shamrocks.

Grab a small ball of potato candy and press it into a shamrock lollipop mold.

Peel the shamrock out of the mold, break off any extra pieces, and press together any parts that may look off (the part you grabbed the shamrock from might be a bit out of shape).

Fill another lollipop mold with a layer of green sanding sugar.

Press the candy you just made into the mold with the sanding sugar and remove.

Repeat the process for the remaining candy. If the unmolded candy becomes too dry to work with, mix in a TINY drop of water.

Store in a sealed contained, separating layers of candy with wax paper.
Nutrition
Nutrition Facts
Potato Candy with Nutella
Amount Per Serving
Calories 76.12
Calories from Fat 13
% Daily Value*
Fat 1.4g2%
Sodium 2.59mg0%
Potassium 56.02mg2%
Carbohydrates 15.74g5%
Protein 0.44g1%
Vitamin C 0.51mg1%
Calcium 6.21mg1%
Iron 0.28mg2%
* Percent Daily Values are based on a 2000 calorie diet.
Facebook Shout Out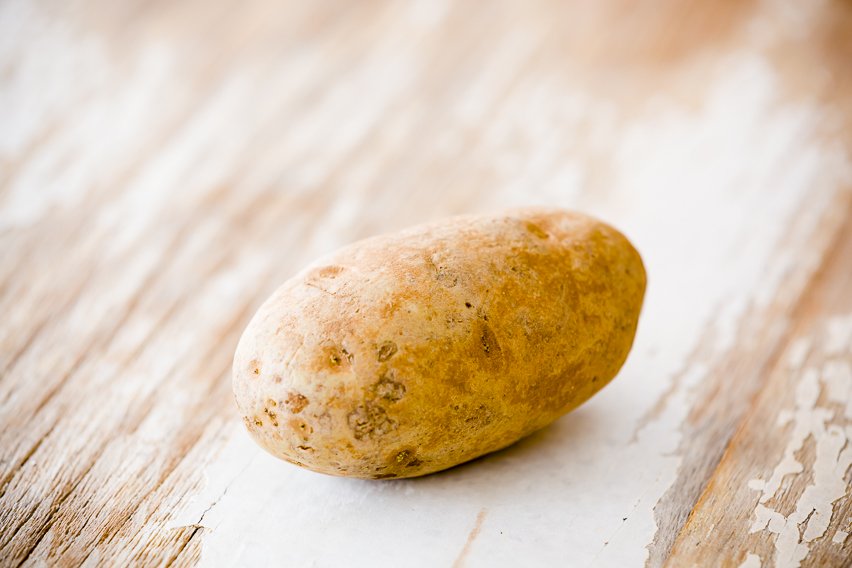 Congrats to Jaime Lange Burke who correctly guessed the other two ingredients in a Facebook comment when shown only the image of a potato!