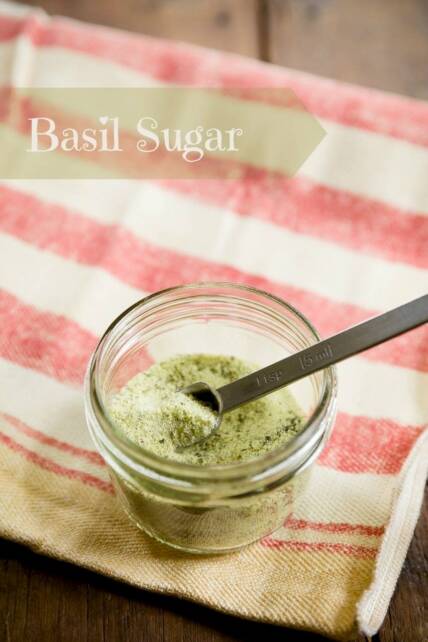 Basil is so frequently used in savory dishes that people often overlook how well it works in desserts.  When sweetened up a bit, basil's flavor closely resembles mint, but it has less breath-freshening intensity.  I've made basil cupcakes in the past by creating basil syrups or infusing oils with basil.  However, now that I've discovered basil sugar, it is my new preferred method for flavoring desserts with the herb.
Once you make the basil sugar, simply replace some or all of the sugar in your baked goods with the basil sugar to add a whole new complexity to your desserts.  I can't wait to share the strawberry basil cupcakes that I made with the basil sugar in this jar!
What You'll Need To Make Basil Sugar
Basil Sugar Recipe
I got the basic basil sugar recipe proportions from Jana's blog, Cherry Tea Cakes.  However, the instructions below are slightly different from hers.
I love that Cherry Tea Cakes operates as a charity.  Jana donates all of her profits to local food banks.  She says, "Sometimes it's a little, sometimes it's a lot but it's always an adventure."  If you enjoy this basil sugar, you ultimately have her to thank and you can do so by donating money via PayPal to donate@cherryteacakes.com or by donating to a local food bank.
If you've tried this recipe, please RATE THE RECIPE and leave a comment below!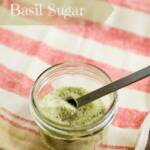 Basil Sugar
Servings
1
cup basil sugar
Ingredients
1

large handful of fresh basil leaves

1

cup

sugar
Instructions
Rinse basil leaves and gently pat dry with a towel.

Pulse basil leaves in a food processor until they are as small as you can get them. Don't worry if there are still some big pieces since you'll process them further in a bit. You should end up with about one packed tablespoon of chopped up basil. Add more basil or remove some if you are too far off.

Place processed basil and sugar in a small bowl and use a spoon to mix well, pressing the basil into the sugar.

Place the basil sugar in the food processor and pulse to fully combine.

If not using within three days, store in the freezer until ready to use.

If basil sugar starts to get clumpy, pulse again in a food processor just before using.
Recipe Notes
You can follow these same instructions with powdered sugar for use in basil frosting!