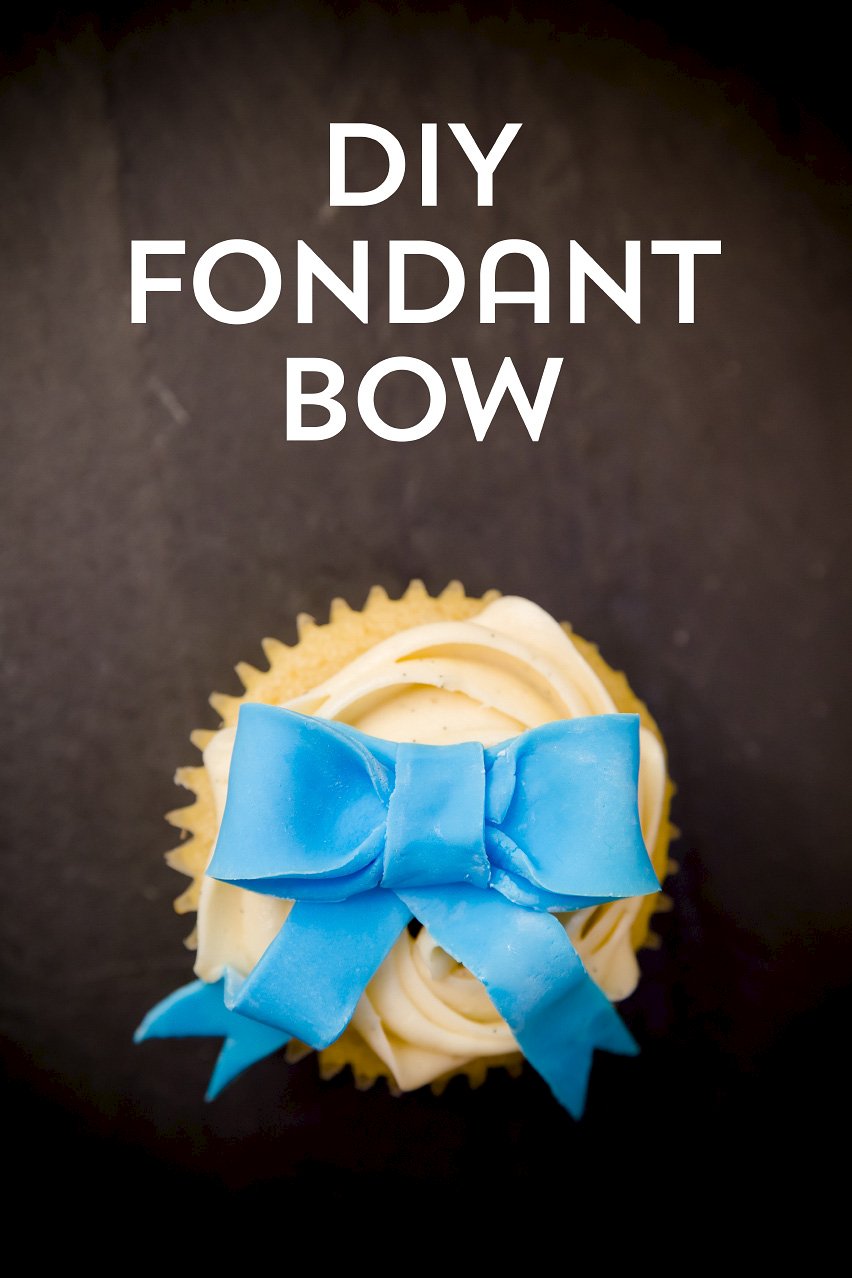 When you meet a celebrity in person, you never know what to expect. Will you find the person you see on TV or encounter someone else entirely? I had the opportunity to meet Buddy from the popular TLC show Cake Boss on a complimentary trip to his NJ facility. There, I learned about his line of Cake Boss Baking products coming to stores this September. Buddy and I did not become BFFs – I didn't even get close enough to snap the classic awkward fan girl and celeb photo – but Buddy did win me over.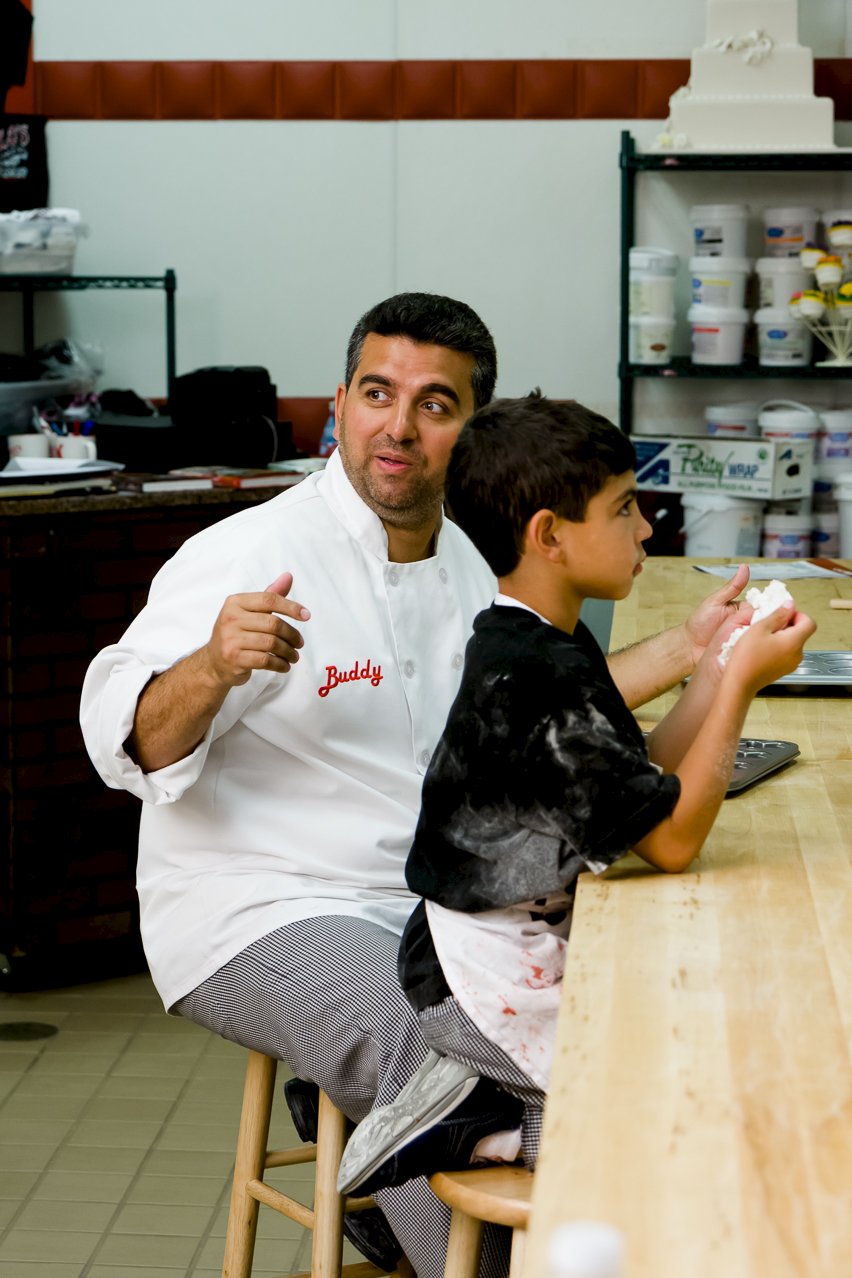 When Buddy addressed the group of 25 of so journalists and bloggers, he spoke from the heart about how he wants to see home bakers at all skill levels succeed and how he designed his new line of Cake Boss Baking products to not only be fun, but to make things easier. Here's a great example: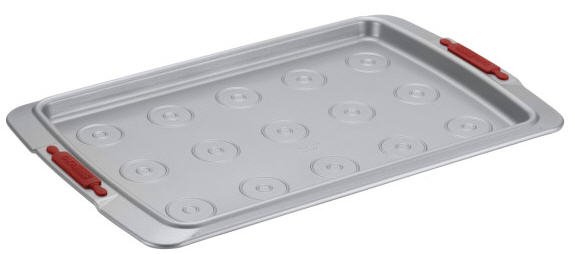 Cake Boss Baking will have a cookie sheet that helps you space your cookies evenly – genius!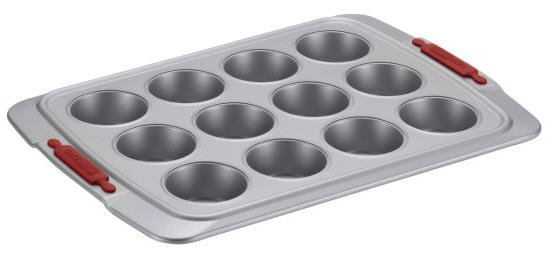 I'm also a sucker for cupcake tins with an easy place to grab when you remove them from the oven. Although I haven't tried the Cake Boss Baking cupcake tins yet, I held them and was impressed with the quality.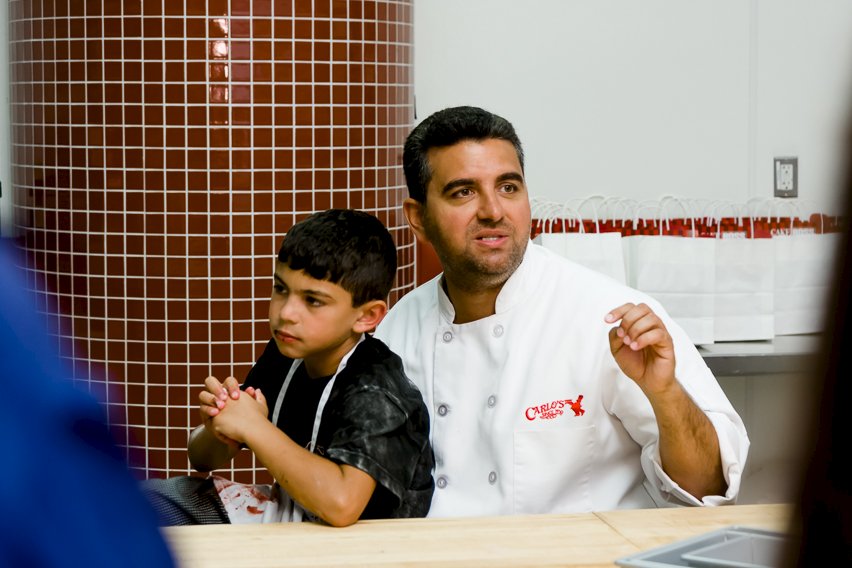 With his flour-covered son on his lap, Buddy talked with pride about how his celebrity status helps make it cool for boys to become bakers. I hadn't thought about the importance of male role models in the baking world before, but I'm glad for my son's sake that they exist.
Being a guy didn't stop Buddy from creating cute girly prep bowls and mixing bowls (he said that his wife helped with the designs!).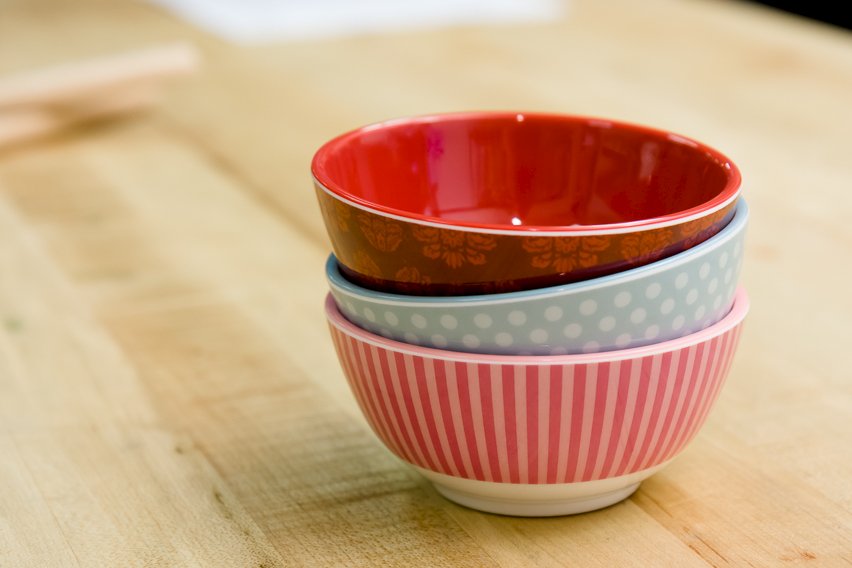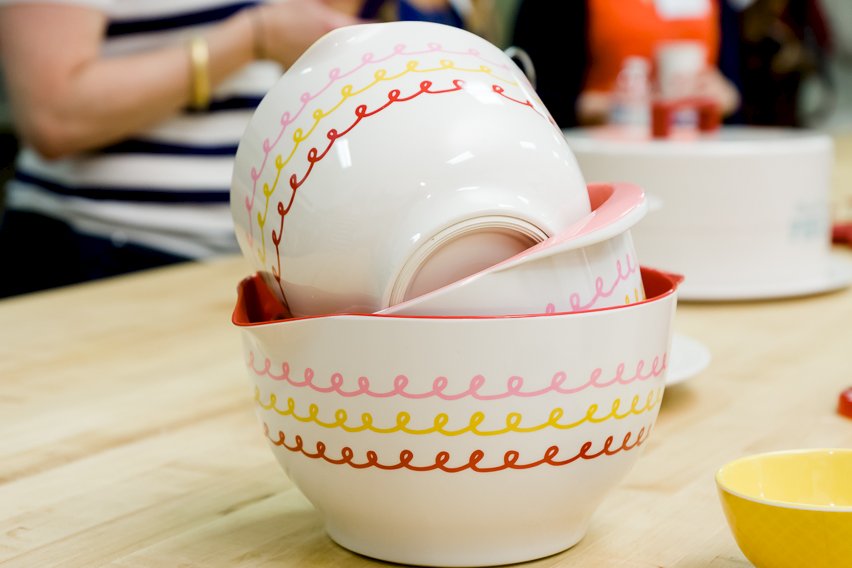 Since Buddy is known for his elaborate fondant-covered cakes, I got a crash course in decorating cakes with fondant as part of my visit to the Cake Boss facility – something I've never done before.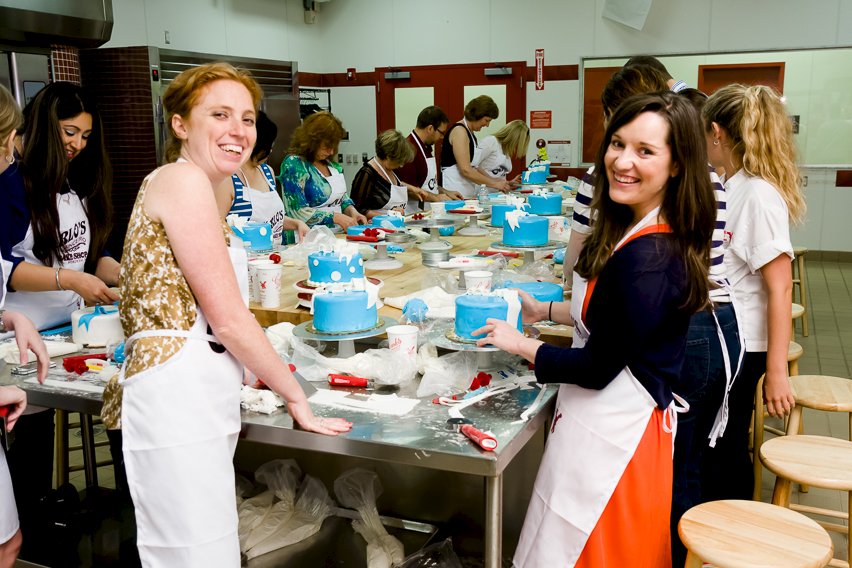 Here I am working on my cake (to my right is Shannon McCook from Parade Magazine). Shannon got the gig at Parade after she was discovered from the success of her cupcake Etsy shop. Naturally, we bonded immediately over cupcake love!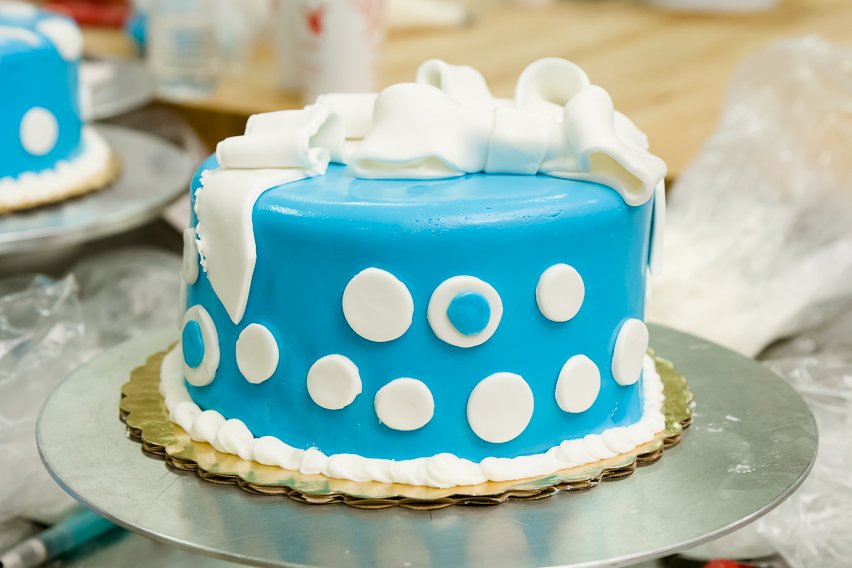 This is the cake I made in the class. It's no Sweetapolita creation, but I was proud of it for a first attempt. The most fun part was learning to make the bow. I saw an immediate cupcake application. Making the bow is shockingly easy – even for someone who has never used fondant before. If you have ever played with play-doh before, this will be a breeze.
How to Make a Fondant Bow for a Cupcake
1. Roll out your fondant nice and thin, dusting a little cornstarch on the counter to keep it from sticking. Cut a strip of fondant about the width of a stick of gum but a little longer. Cut a "v" into one end of the strip and bend it slightly in the center to give it a little more dimension. Repeat to make a second strip that looks the same.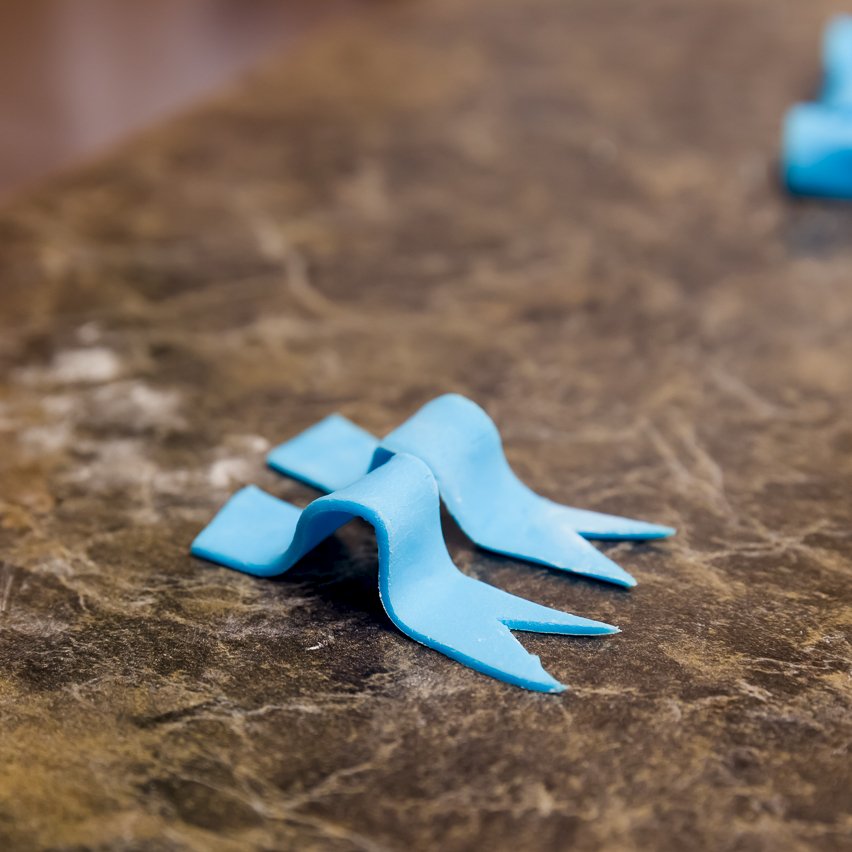 2. Cut a third strip that is just a touch wider and just a touch longer than the first two strips. Paint a line of water down the middle of the strip.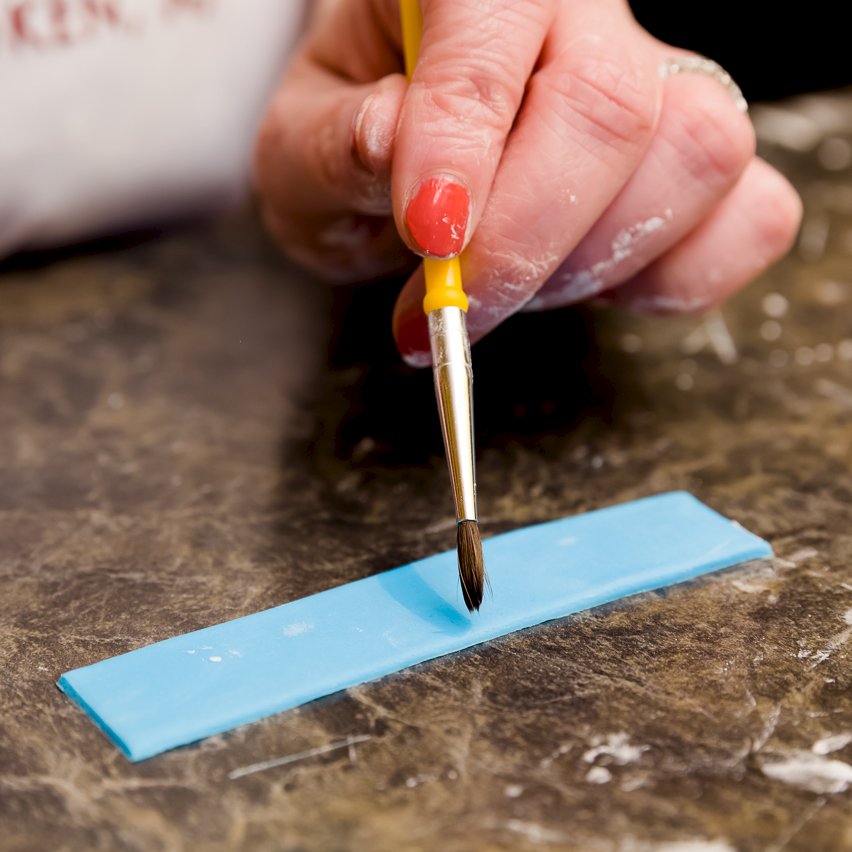 3. Fold the two ends of the strip into the water line. Don't try to make this nice and smooth (you aren't folding sheets here). You want to leave two open loops.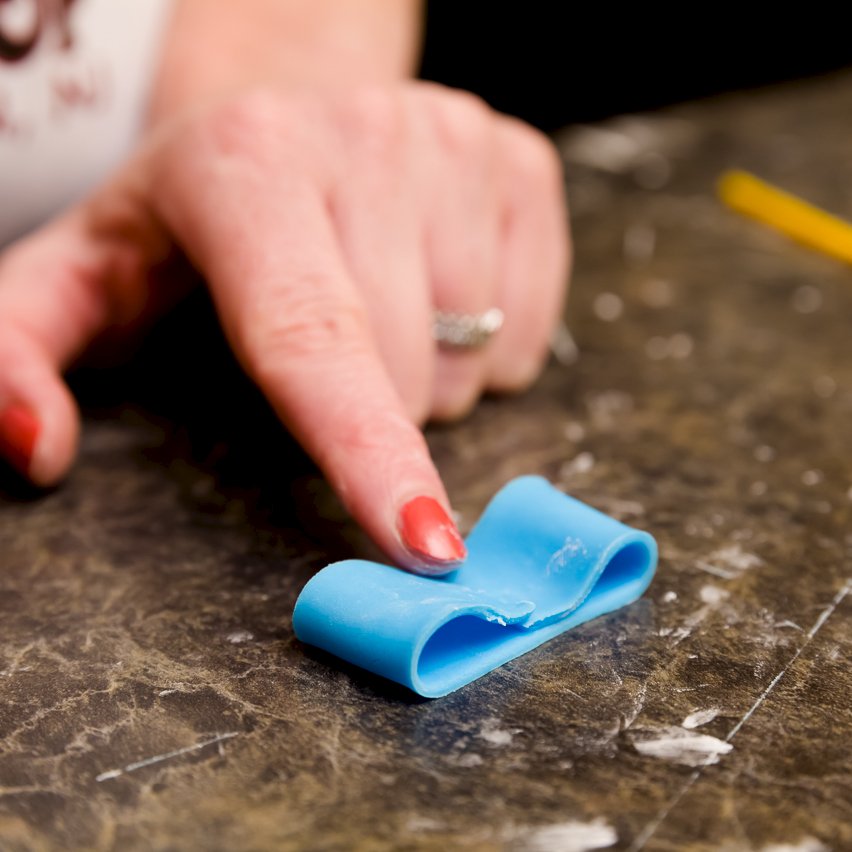 4. Pinch at the seam and it will start to look like a bow!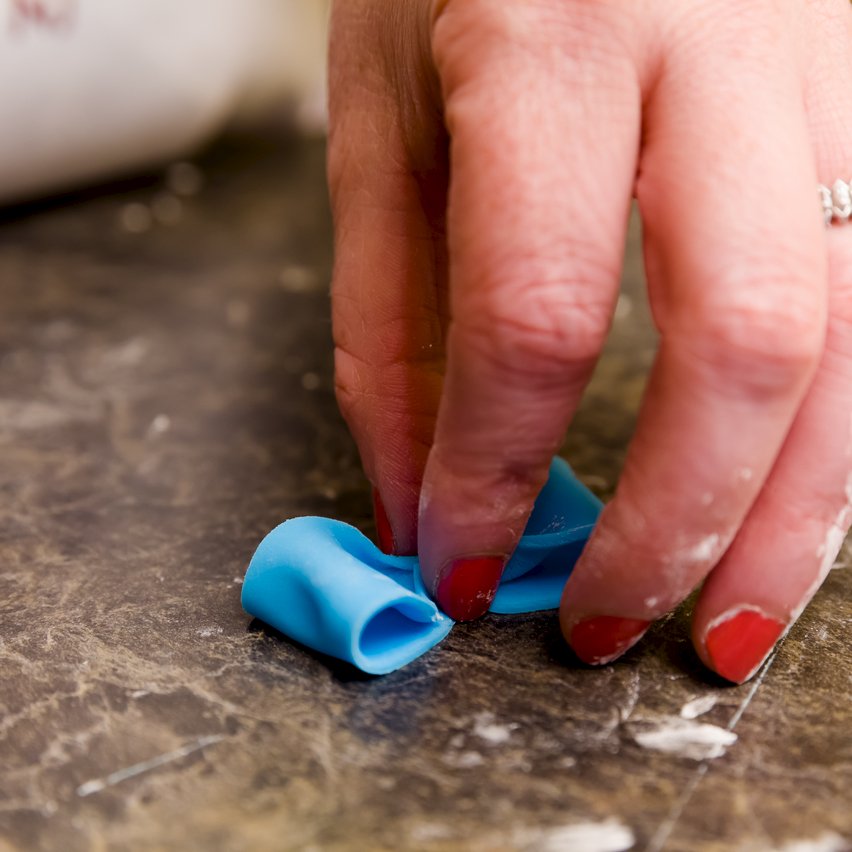 5. Cut one more small strip of fondant and paint one whole side of it with water.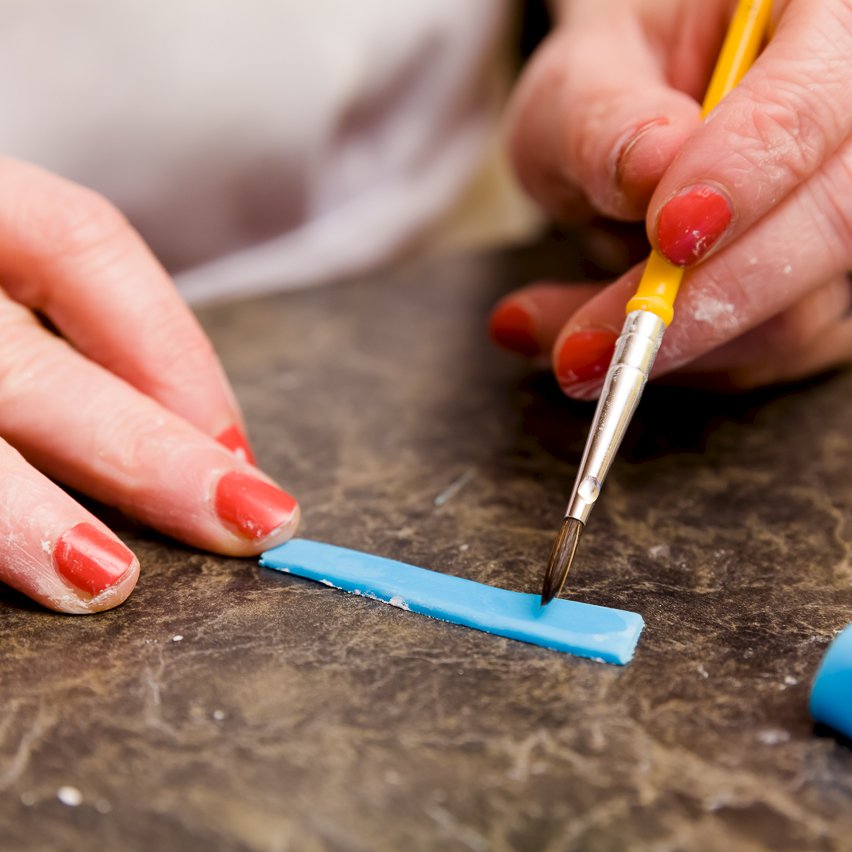 6. Cover the whole seam with the strip you just painted with water, like a little fondant hairband. Give one final poof to the sides and you are ready to place the bow on the cupcake!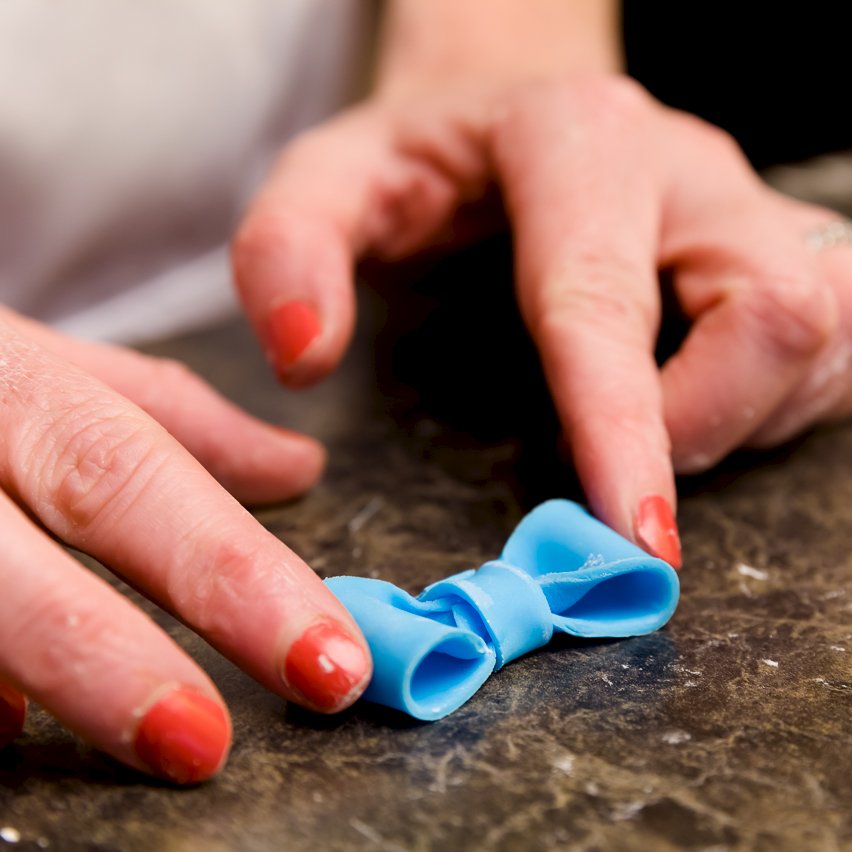 7. Place your two ribbons in n upside-down v formation on the cupcake and place the bow at the point. Voila! You've done it!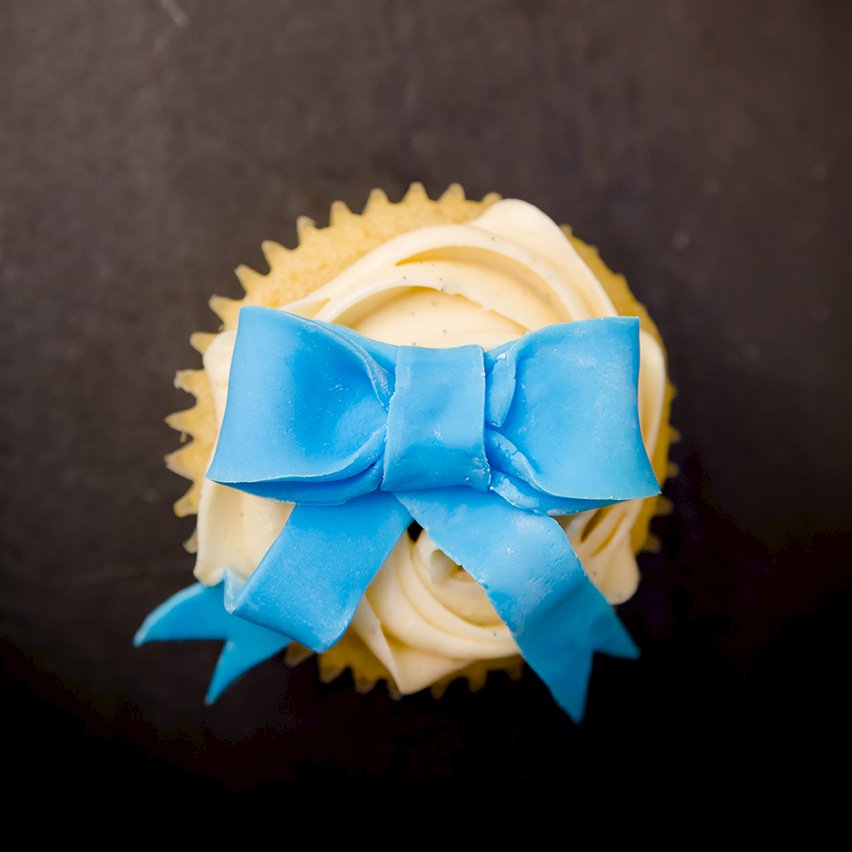 I'll be sure to tell you when the Cake Boss products come on the market, but be sure to follow Cake Boss Baking on Facebook and Twitter to get the latest updates.