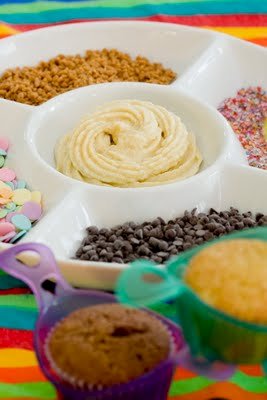 Rather than spending lots of time creating wow-worthy cupcakes to serve at your next party, consider letting your guests do the decorating. Serving your cupcakes unfrosted is not only a ton less work for you, but your guests will love getting to decorate their own. You might also consider making mini-sized cupcakes so that people can decorate and eat several cupcakes without feeling too guilty.
To host a cupcake party, you'll need:
Cupcakes (to make it really easy on yourself, you can make vanilla and chocolate cupcakes using the same recipe).
A cupcake stand. I was recently sent a cupcake stacker stand to review and I love it – more on that later.
Frosting (as many kinds as you feel like).
Toppings (sprinkles, chocolate chips, nuts, etc.)
Taste & Create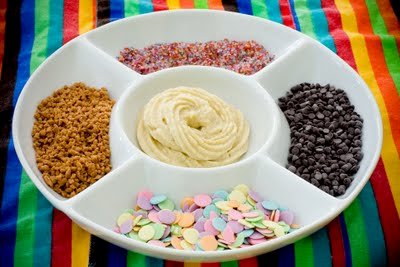 It's been a few months, but I am again participating in Taste & Create. Taste & Create is a food blogger event where you get randomly matched with another food blogger to try out their recipes and ideas. I got the idea for the cupcake party from my partner this month, Katie at One Little Corner of the World. Coincidentally, Katie lives in St. Louis and I met her at a FoodBuzz dinner.
Katie posted about a fabulous taco bar party that she hosted and I decided to take the same concept and use it with cupcakes. I hope she doesn't mind that I didn't use one of her exact recipes – I took the "Create" part of Taste & Create very seriously. I did make sour cream frosting (shown in the center of the photo above) to keep with the spirit of her meal.
In addition to the sour cream frosting, my cupcake party featured two kinds of sprinkles, chocolate chips, and Skor chips (toffee chips).
Cupcake Stacker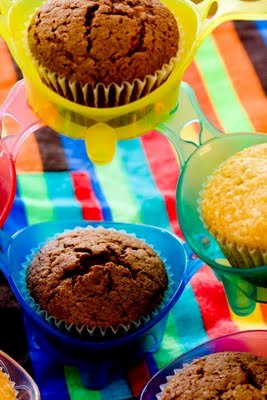 I've never seen anything like these cupcake stackers before. They are essentially the legos of the cupcake world. You can connect the stackers together in whatever configuration you like, creating a custom cupcake stand.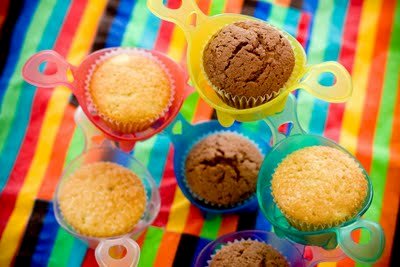 The great thing about them is that when it's time to eat the cupcakes, people simply remove a cupcake stacker from the pyramid. The single cupcake stacker can then act as a little cupcake bowl to contain crumbs while people are eating.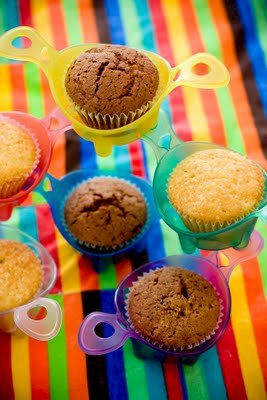 Of course, you don't have to just use the cupcake stacker for cupcakes. You could use them for condiments, snacks, or candy.
Coming Next
I'm super excited to be posting Bride and Groom 3.0's video cupcake review of their cupcake party. Plus, you'll have a chance to win some cupcake stackers of your own. Stay tuned!