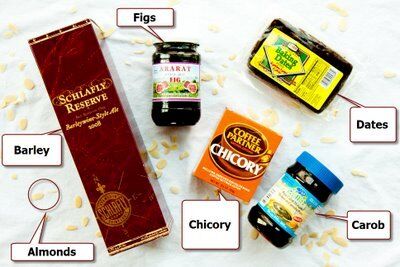 I often bake using basic pantry staples. Many of you could replicate those cupcake recipes without taking a trip to the store. My next cupcake, however, will likely require some shopping.
I never would have thought of creating a cupcake with carob, barley, chicory, almonds, dates, and figs were it not for Teeccino. After enjoying the flavor combination in beverage form, I thought, "Why not combine them all in a cupcake!" People often ask me how I get inspiration for cupcakes – well, this is it. I had a list of flavors and headed to the store to find them.
In order to make my Teeccino-inspired carob cupcake, I had to buy every item shown in the picture above except the almonds (almonds are a pantry staple for me). This got me wondering – how stocked are the pantries of my readers?
How many of the following do you have in your pantry? (Bragging rights and public accolades to the person who has the highest number.)
Any brand of barley wine
Dates (whole, pitted, date jam, or baking dates)
Figs (whole or fig jam)
Sliced almonds