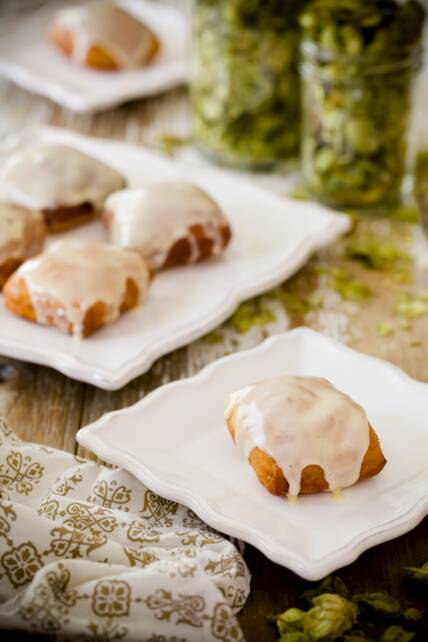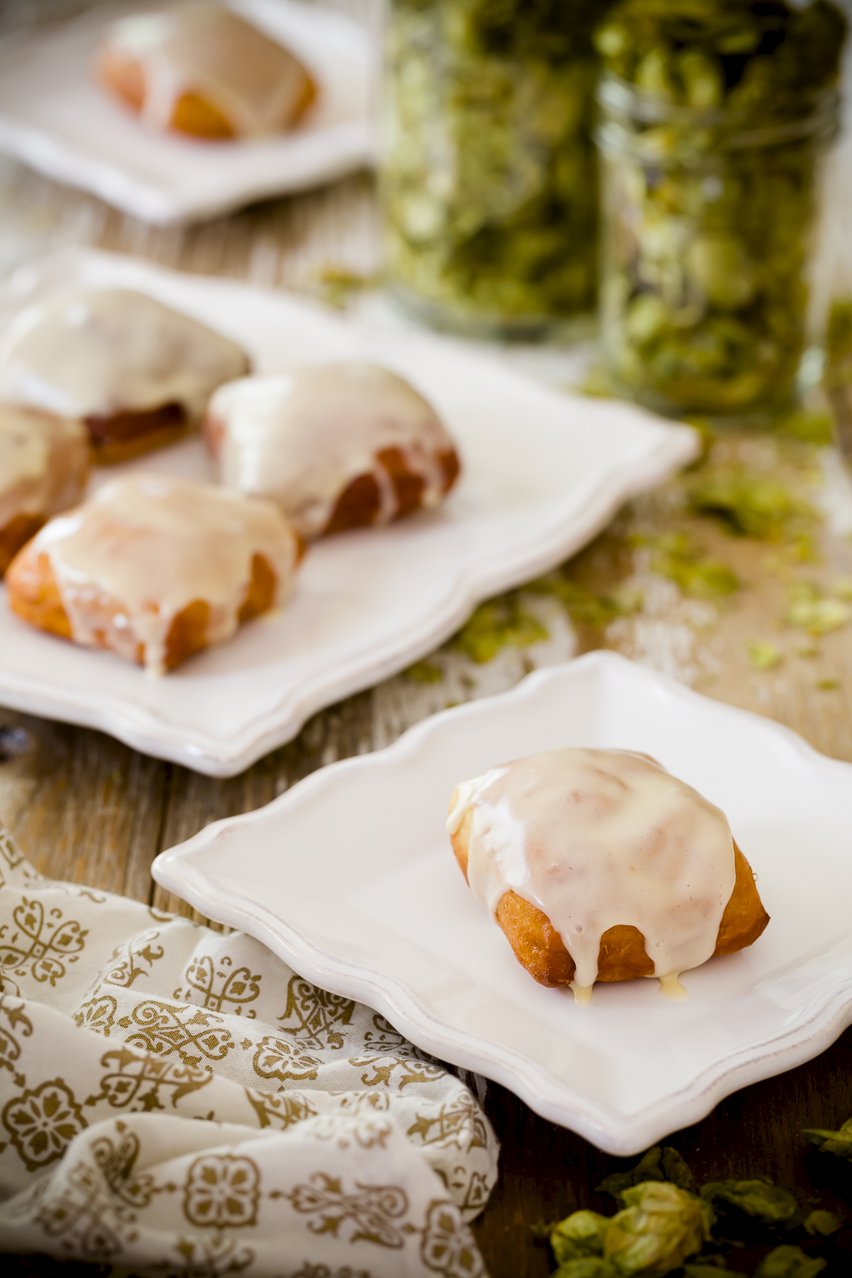 Not everyone loves the herbal, bitter flavor of hops, but those who do go hoppin' mad for it.  I once waited in an hour-long line with a hopped up crowd of hoppy beer enthusiasts to try a special release of Bell's Hopslam Ale and saw firsthand the extent of hop fandom.  Although we rarely see hops used outside of beer-making, the flower can be used as tea or as a flavor in a variety of dishes (I'll share some ideas at the end of this post).  My hops donuts not only contain hops, but they are also sweetened with barley malt to give them more of a beer flavor.  The donuts themselves, as you might imagine, were more fragrant and bitter than most you've tried, but once topped with a sweet lemon curd glaze, the balance was lovely and soul-satisfying.
Saving Some Money
Although you don't have to use all organic products to make these donuts (I realize this can be cost-prohibitive), if you are someone who does prefer to buy organic and all-natural products, I can tell you I found great prices at Vitacost, even lower than Amazon.com. Vitacost, who sponsored this post, is a discount online shopping site that has an inventory of over 40,000 healthy-ish products, and free shipping when you spend $49.  Here are the ingredients, which in total are more than 40% less expensive at Vitacost than Amazon's current listings:
Starwood Botanicals Hop Flowers, 1 pound – $15.99
Woodstock Farms Organic Powdered Sugar, 16 ounces – $4.07
King Arthur Flour Organic Unbleached All-Purpose Flour, 2 pounds – $3.69
Eden Foods Organic Barley Malt Syrup, 1.4 pounds – $6.49
Spectrum Unrefined Peanut Oil, 16 fluid ounces – $7.49
Red Star Active Dry Yeast, 4 ounces – $7.49
Aloha Bay Himalayan Table and Cooking Salt Fine Crystals, 15 ounces – $5.99
Hops Donuts with Lemon Curd Glaze Recipe
The recipe for these hops donuts is adapted from Martha Stewart's Cinnamon Honey Donuts with Raspberry Jam.
Hops Donuts with Lemon Curd Glaze
My hops donuts not only contain hops, but they are also sweetened with barley malt to give them more of a beer flavor.
Prep Time
1
hour
30
minutes
Total Time
1
hour
50
minutes
Ingredients
Donut Ingredients
1/2

cup

milk

3

tablespoons

hops

1

teaspoon

active dry yeast

2

tablespoons

warm water

2

tablespoons

barley malt

1

large egg

lightly beaten

1

tablespoon

peanut oil + another 3 cups or so for fry oil

1/2

teaspoon

salt

2

cups

all-purpose flour
Lemon Curd Glaze Ingredients
1/4

cup

lemon curd

1/2

cup

powdered sugar
Instructions
Donut Instructions
In a small saucepan, bring milk and hops to a boil.

Remove from the heat and cover for fifteen minutes.

Strain the mixture to remove the hops. Don't worry if you lose some of the milk with the hops. This is expected.

In a medium-sized bowl, combine yeast with warm water and let sit until foamy, about 5 minutes.

Whisk in barley malt, egg, 1/3 cup of hoppy milk (if you don't have enough, you can add some plain milk), and peanut oil.

Stir in salt and flour until dough is smooth.

Transfer to a lightly oiled bowl, cover, and set in a warm place until doubled in size, about 1 1/2 hours.

Turn out dough onto a lightly floured board and knead four or five times.

Roll dough to a roughly 10 inch square about 1/4 inch thick.

Use a pizza cutter to cut into 2 1/2 by 2 1/2 inch squares and transfer to a parchment- or silpat-lined cookie sheet.

Let rest in a warm place for about 20 minutes.

Fry in small batches at 360 F in a saucepan or deep fryer until both sides are golden brown, flipping mid-way through frying (about 90 seconds in).

Transfer to a paper-towel-lined baking sheet to remove some of the excess oil.
Lemon Curd Glaze
Mix lemon curd and powdered sugar in a small bowl until smooth.

Spread over warm (not piping hot) donuts.
Nutrition
Nutrition Facts
Hops Donuts with Lemon Curd Glaze
Amount Per Serving
Calories 113
Calories from Fat 18
% Daily Value*
Total Fat 2g 3%
Cholesterol 12mg 4%
Sodium 92mg 4%
Potassium 52mg 1%
Total Carbohydrates 19g 6%
Protein 3g 6%
* Percent Daily Values are based on a 2000 calorie diet.
Recipes Using Hops
If you buy a one pound bag of hops to make hops donuts, you'll have most of the bag left over.  If you don't want to make beer, here are some ideas for you: