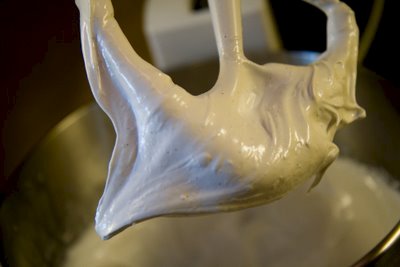 I decided on a honey frosting for upcoming cupcakes when I received honey in my
CSA package
last week. I had made a
honey frosting
before. The problem, however, is that I don't like using both honey and powdered sugar in honey frosting recipes – way, way too sweet. Last time, I ended up using mead (honey wine) in the frosting recipe with very little sugar. This left me with more of a glaze than a frosting. I then drizzled honey on top of that to give the honey frosting more texture and a sticky sweetness.
For this cupcake, I searched the Web to find a honey frosting recipe that did not use powdered sugar at all. I found a fluffy honey frosting recipe on
Big Oven
which was originally from the American Bee Journal. It used a full cup of honey and no powdered sugar.
How I Ended Up Making Honey Meringue Frosting
What I failed to consider was that the honey frosting recipe I chose involves beating egg whites until they are stiff and then adding a sugary substance – just like when I make meringue. Regular readers may know that
I don't like meringues
because they remind me too much of marshmallows (something else I'm not a fan of).
The fluffy honey frosting did end up being a honey meringue. I have never heard of a honey meringue before. It worked, though! It tasted like a honey marshmallow – especially after I torched it on the cupcakes like you'll see soon.
You'd Better Eat The Honey Meringue Frosting Quickly
About an hour after I frosted the cupcakes, something started to happen. The honey meringue frosting started to drip. The frosting became messy and gooey – not at all appetizing. If you like honey and you like meringue, I do encourage you to try making this frosting, but only if you are going to
serve it immediately after you frost
. Do not wait or you will be sadly disappointed.
The Honey Meringue Frosting Recipe
As noted above, I found this recipe on
Big Oven
. I am reprinting it below with my slight modifications.
If you've tried this recipe, please RATE THE RECIPE and leave a comment below!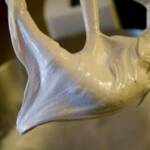 Honey Meringue Frosting Recipe: You'd Better Eat It Quickly
Ingredients
1

C

honey

1/4

t

salt

2

egg whites

1

t

vanilla bean paste or vanilla extract
Instructions
In a small saucepan or double boiler, heat honey to boiling.

In a bowl, combine egg whites, salt and vanilla.

Beat with an electric mixer at high speed until whites are stiff but not dry.

Slowly pour in hot honey.

Beat for 5-7 minutes until frosting holds shape.