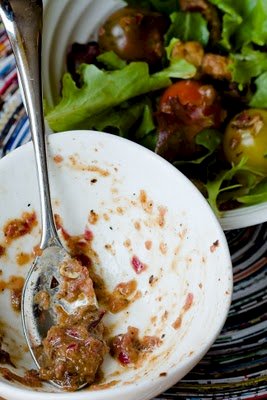 Growing up, my dad made homemade salad dressings. He would mix together mayo, mustard, cocktail sauce, and some spices and – poof! – we had a homemade dressing that was better than any store-bought Thousand Island dressing I've tasted. I learned from him that salad dressing doesn't have to come in a bottle. As an adult, I've concocted all sorts of different homemade salad dressings. One of my favorite homemade salad dressings (although quite pricey) is a simple mixture of saba (a sweet and thick aged balsamic) and truffle oil.
For this month's Taste & Create, I was paired with Megan of A Bolder Table. Megan had a recipe for a cipollini onion, mustard, and maple salad dressing that not only sounded complex and appealing, but also seemed like a flavor combination that would make for a very interesting cupcake (it did).
What is a Cipollini Onion?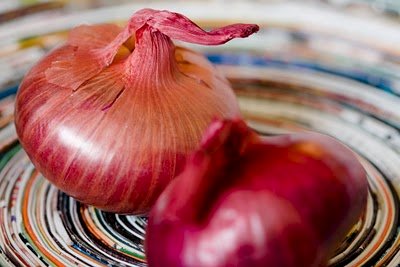 Cipollini onions are some of the babies of the onion world – they fit in the palm of your hand.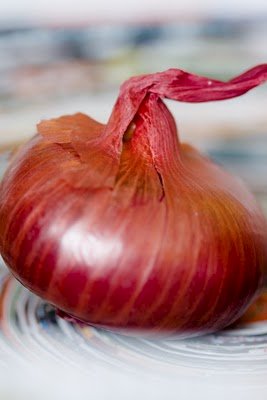 My love of things small extends beyond tiny cakes; I also have a particular affection for these mini onions.
As far as taste goes, cipollini onions are mild and they are sweeter than some other varieties of onions. If you can't find cipollini onions in your local markets, I would recommend using a yellow onion. One large yellow onion would be about the same size as the four cipollini onions that this recipe calls for.
Mustard, Onion, and Maple Salad Dressing Recipe
Megan's mustard onion and maple salad dressing recipe was more of a recipe framework than an actual recipe. She lists the ingredients that she used and indicated which ones she used more than others, but not the exact proportions. Below, you'll find the exact proportions that I used. Jonathan is already begging me to make this homemade salad dressing again, and since it's far healthier than a cupcake, I probably should.
If you've tried this recipe, please RATE THE RECIPE and leave a comment below!
Homemade Salad Dressing – Mustard, Onion, and Maple
Ingredients
4

cipollini onions

3/4

C

extra virgin olive oil

3

T

whole grain mustard

2

T

maple syrup

2

t

apple cider vinegar

2

t

soy sauce

1

t

hot sauce

I used Sriracha sauce.
Instructions
Finely chop the onion and saute in the olive oil until fragrant and golden brown.

Remove from heat and let cool.

Transfer to food processor and process until thick and pasty.

Put all other ingredients in the processor and blend until combined.

Serve immediately or store in the refrigerator for up to two weeks.