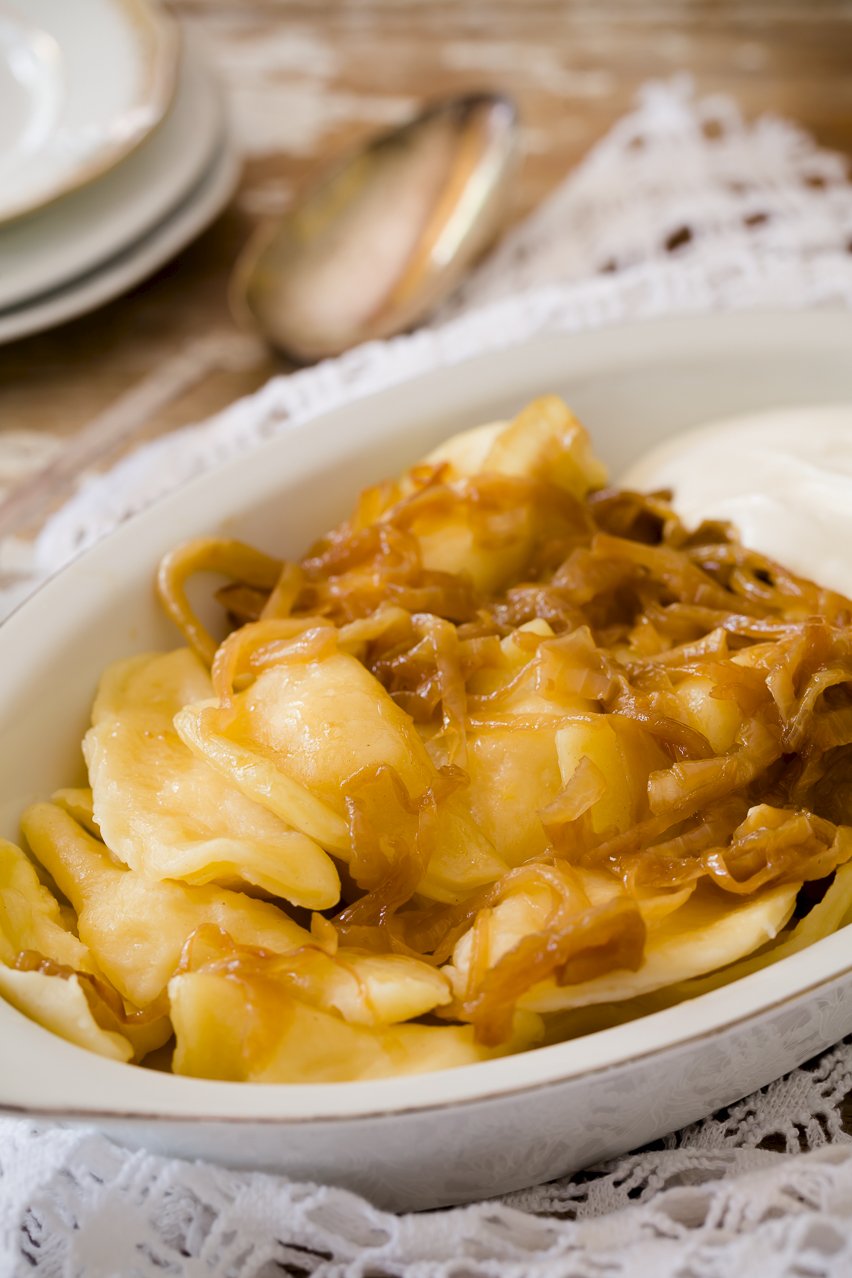 I used to date a guy who regularly had pierogies for breakfast. Never once in the whole time we dated did either of us consider making homemade pierogies. This was in my pre-baking-blog days (a.k.a. the Stef food dark years). Now, if a food exists, I want to make it from scratch (see homemade Spam and homemade Lucky Charms as evidence).
When the book Pierogi Love fell into my lap, I was excited to dive into the art of pierogi making.
Pierogies are Central and Eastern Europe's version of Chinese dumplings or Italian ravioli. They are essentially half-moon shaped noodles stuffed with a filling (traditionally potatoes, sauerkraut, meat, or fruit).
What I adore about Pierogi Love is that it does for pierogies what my blog has done for cupcakes – it pushes the boundaries of pierogies. The book begins by sharing a basic savory and a basic sweet pierogi dough and detailing assembly, cooking, and storage procedures. Then, it moves on to the fillings. This is where the book gets fun! Imagine s'mores pierogies, sweet potato pie pie-rogies, peanut butter and jelly pierogies, and jalapeno mac and cheese pierogies! Once you have the dough down (and it's easier than you might think), the possibilities are practically endless.
With so many creative pierogi options, why did I choose to cover basic potato and cheddar pierogies? Never fear, my friends; I couldn't let Pierogi Love have all the creative fun. In my next post, you'll see what I created with these potato and cheddar pierogies and it will become clear why I chose them.
Potato and Cheddar Pierogi Recipe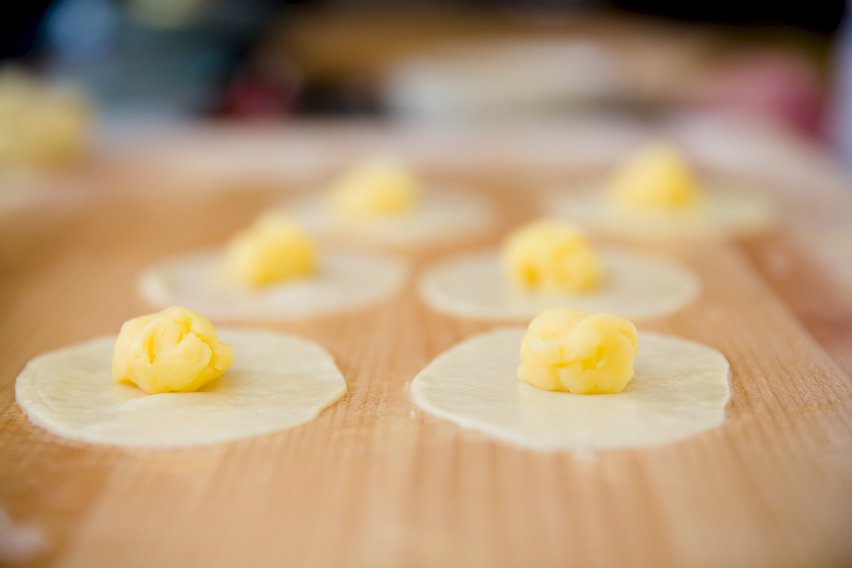 The recipe below comes from Pierogi Love, with permission. I've rewritten many of the steps in my own words. I've also made one notable change to the recipe, drastically reducing the amount of salt. I'm very sensitive to salt and didn't feel that the pierogies needed to be quite as salty as originally written. The original recipe calls for 1 tablespoon plus 1/4 teaspoon kosher salt in the filling, and I only use 1/2 teaspoon. The dough recipe originally called for 1 teaspoon of salt and I only use 1/2 teaspoon.
Author Casey Barber suggests using this Roul'Pat for rolling out the pierogi dough. The dough was incredibly sticky and since I didn't have one, I used some vegetable oil on a wooden cutting board. This worked just fine. I would advise using oil rather than flour because adding too much flour could affect the consistency of the dough. (View on Amazon)
Homemade Potato and Cheddar Pierogies
Pierogies are Central and Eastern Europe's version of Chinese dumplings or Italian ravioli. They are essentially half-moon shaped noodles stuffed with a filling.
Servings
24
pierogies (or 48 pierogies if reusing scraps)
Ingredients
Dough Ingredients
1

large egg

1/2

cup

sour cream

Greek yogurt also works

3

tablespoons

unsalted butter

melted and cooled slightly

1/2

teaspoon

salt

2

cups

all-purpose flour
Filling and Assembly Ingredients
1/2

pound

Yukon Gold potatoes

peeled and cut into 2-inch pieces

1/2

teaspoon

salt

1/4

cup

shredded Cheddar cheese

1

tablespoon

whole milk

1

large egg

1

tablespoon

water
Instructions
Dough Instructions
In a small bowl, whisk egg, sour cream, butter, and salt.

Place flour into a large bowl and gently stir the wet ingredients into the flour.

After stirring for a minute or two, the dough will start to come together. Knead it a little bit in the bowl, incorporating any dough scraps stuck to the sides or bottom of the bowl.

Turn out to a Roul'Pat or a cutting board with a thin layer of vegetable oil and knead for about one minute.

Cover the dough with a mixing bowl and let rest for 15 minutes.
Filling Instructions
Place potatoes in a medium saucepan and add water to cover by about 2 inches.

Stir in salt, cover, and bring to a boil on medium heat.

Uncover and cook until potatoes are tender, about 10 minutes.

Drain out liquid using a colander and return potatoes to the pot.

Cook potatoes on low heat for thirty seconds, stirring the whole time, to remove any excess liquid.

Use a potato masher to mash the potatoes. (If you want to get fancy, you can use a ricer or a food mill fitted with a fine disc to make the potatoes extra smooth.)

Stir in cheese and milk. You should be able to roll the mixture into small balls at this point. If the mixture is too dry, you can add a little extra milk.
Assembly Instructions
Divide dough into four equal pieces with a bench scraper or a knife. Cover three of the pieces with a mixing bowl.

Roll out the remaining piece of dough as thinly as possible into a rough 8" x 12" rectangle on a Roul'Pat or a cutting board with a thin layer of vegetable oil Depending on the type of rolling pin you are using, you may also need to apply vegetable oil to the rolling pin to keep the dough from sticking.

Use a 3" round cookie cutter to cut the dough into six circles.

Spoon approximately one teaspoon of filling onto the center of each circle.

Whisk the egg and water until blended. Then, using your finger, swipe a very small amount of egg around the edge of each circle. This egg wash acts as a sort of glue.

For each circle, stretch one half of the dough over the filling to meet the other side in a half-moon shape. Use your thumb to press the edge closed.

Repeat for the other three dough sections. See note on re-rolling scraps.
Storage Instructions
If not freezing or cooking immediately, cover pierogies with plastic wrap or a non-terry cloth kitchen towel, then store at room temperature for up to one hour or refrigerate up to three hours before cooking.

To freeze, line a rimmed baking sheet with wax paper or parchment paper. Place pierogies in a single layer on the sheet and freeze at least 30 minutes or until hard. Transfer frozen pierogies to a freezer bag. Store up to three months.
Cooking Instructions
To boil fresh or frozen pierogies, boil a pot of water over medium-high heat (approximately 1 quart of water for every 6 pierogies). Add pierogies and cook until floating, 2-3 minutes for fresh and 4 to 5 minutes for frozen. Serve with grilled onions and sour cream.

To pan-fry fresh or boiled pierogies, heat one tablespoon neutral oil (like canola or vegetable oil) or melt 1 tablespoon unsalted butter in a skillet over medium heat. Add as many pierogies as will fit in a single layer without crowding. Cook until pierogies are brown and crispy, about two minutes per side. Repeat with additional oil or butter and pierogies. Serve with grilled onions and sour cream.
Reheating Instructions
Reheat cooked pierogies in a 350 F oven, in a skillet over low heat with melted butter or oil, or microwave in one minute increments until warm. Keep large quantities of pierogies warm at parties by tossing with butter or oil and storing in a covered casserole dish in a 300 F oven.
Notes
Pierogi Love gives very specific instructions regarding the dough scraps: "Resist the temptation to re-roll dough scraps for additional rounds.  It seems wasteful, but the dough won't be as tender the second time around." Well, I couldn't resist the temptation. :)  True, the re-rolled scraps were a little bit more chewy, but only a pierogi connoisseur would really notice.  Re-rolling the scraps actually doubled the number of pierogies that I could make from the recipe and there was still enough filling.
You may have extra filling. Just eat it! It tastes great!
Nutrition
Nutrition Facts
Homemade Potato and Cheddar Pierogies
Amount Per Serving
Calories 75
Calories from Fat 27
% Daily Value*
Fat 3g5%
Cholesterol 21mg7%
Sodium 114mg5%
Potassium 61mg2%
Carbohydrates 9g3%
Protein 2g4%
Vitamin A 105IU2%
Vitamin C 1.2mg1%
Calcium 21mg2%
Iron 0.9mg5%
* Percent Daily Values are based on a 2000 calorie diet.