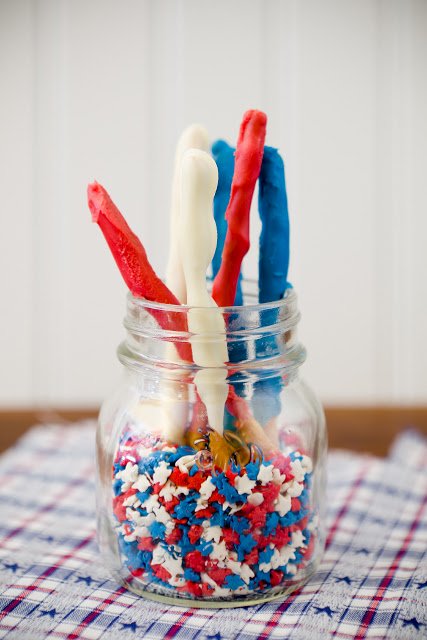 Seeing Heather's cake immediately made me want to create cupcakes decorated with Pocky Sticks. But after seeing my
homemade Lucky Charms
, you guys know that I can't just take the easy route and go buy some Pocky Sticks. I had to make homemade Pocky Sticks with an ingredient list that I felt more comfortable with. I found a
recipe for homemade Pocky Sticks on Jun-Blog
(the same place that I turned to with great success when trying out
latik
for the first time).
Pichet's recipe for homemade Pocky Sticks tastes just like the real thing (I did a side-by-side comparison). The main difference is that it is near impossible to get the homemade version to be as thin as the store-bought variety. I tried, and tried, and tried, but even when I succeeded in rolling the dough thin enough, the cooked Pocky Sticks would invariably crack when I dipped them in the melted chocolate. However, making the Pocky Sticks a bit thicker is a small price to pay when you consider the decorating potential of homemade Pocky Sticks.
I've been noticing lots of people on
Pinterest
(like
Lady Behind the Curtain
) going all out decorating 4th of July pretzels. Guess what? You can decorate homemade Pocky Sticks any way that you would decorate pretzel sticks.
I kept my Pocky sticks basic red, white, and blue (created using white chocolate and food coloring), but you can make yours as simple or extravagant as you like.
I know that you will amaze me with your ideas! If you make some, I'd love to see photos of your decorated sticks. You can post the photos to the
Cupcake Project Facebook page
.
Homemade Pocky Sticks Recipe
As noted above, the recipe I used for homemade Pocky sticks is from
The Sweet Spot
and I found it on
Jun-blog
. The recipe below is only slightly adapted. I changed the size of the Pocky sticks to make them 5 inches long instead of the huge 10 inch ones the recipe calls for, and I describe how I achieved the red, white, and blue look on my Pocky Sticks.
Homemade Pocky Sticks
While slightly thicker than the original, these are perfect for decorating to your heart's content!
Ingredients
1/4

cup

sweetened condensed milk

2

tablespoons

water

1

cup

all-purpose flour

1/2

teaspoon

baking powder

2

tablespoons

sugar

1/8

teaspoon

ground cardamom

1/8

teaspoon

salt

1/4

cup

unsalted butter

room temperature

1

large egg white

beaten

4 1/2

ounces

white chocolate

Red food coloring

Blue food coloring

A few teaspoons of vegetable oil
Instructions
Mix the sweetened condensed milk with water and set aside.

In the bowl of an electric mixer, mix the flour, baking powder, sugar, cardamom, and salt on low speed until well mixed.

Add the butter and mix until the mixture resembles cornmeal, about 5 minutes.

Mix in the condensed milk mixture all at once and continue mixing until it is fully incorporated and the dough forms a ball around the paddle.

Transfer to a large sheet of plastic wrap, pat into a 1-inch-thick disk, and wrap tightly in the plastic.

Refrigerate for 20 minutes.

Preheat the oven to 300 F.

Break off a ball of dough with the diameter of a dime (a tiny piece). Roll the dough into a five inch long snake. Try to make the snake fairly thin, but with enough thickness that you can still pick it up and move it without it breaking.

Transfer the snake to a parchment- or Silpat-lined baking sheet (or just roll it directly on the sheet if that's easier for you) and repeat with the remaining dough, setting the sticks 1/2 inch apart.

Refrigerate the baking sheets, uncovered, for 10 minutes.

Brush the dough snakes with the egg white and bake until golden brown and crisp. Check on them at 20 minutes, but depending on how thick you made them, it may take 25 minutes.

Cool completely.

Melt white chocolate in a double boiler or using short intervals in the microwave. Stir until smooth.

Divide melted chocolate into three tall shot glasses.

Add red food coloring to one of the shot glasses. If the chocolate is no longer smooth and liquidy, add a little vegetable oil at a time to the red chocolate until the consistency is good for dipping.

Add blue food coloring to another one of the shot glasses. If the chocolate is no longer smooth and liquidy, add a little vegetable oil at a time to the red chocolate until the consistency is good for dipping.

One at a time, dip 1/3 of the Pocky sticks in the plain white chocolate. Set each one back on the lined cookie sheet when done.

Repeat with the other two colors.

Refrigerate until just before serving to harden the chocolate.
Nutrition
Nutrition Facts
Homemade Pocky Sticks
Amount Per Serving
Calories 31
Calories from Fat 9
% Daily Value*
Fat 1g2%
Cholesterol 2mg1%
Sodium 9mg0%
Potassium 17mg0%
Carbohydrates 3g1%
Vitamin A 25IU1%
Calcium 10mg1%
Iron 0.1mg1%
* Percent Daily Values are based on a 2000 calorie diet.