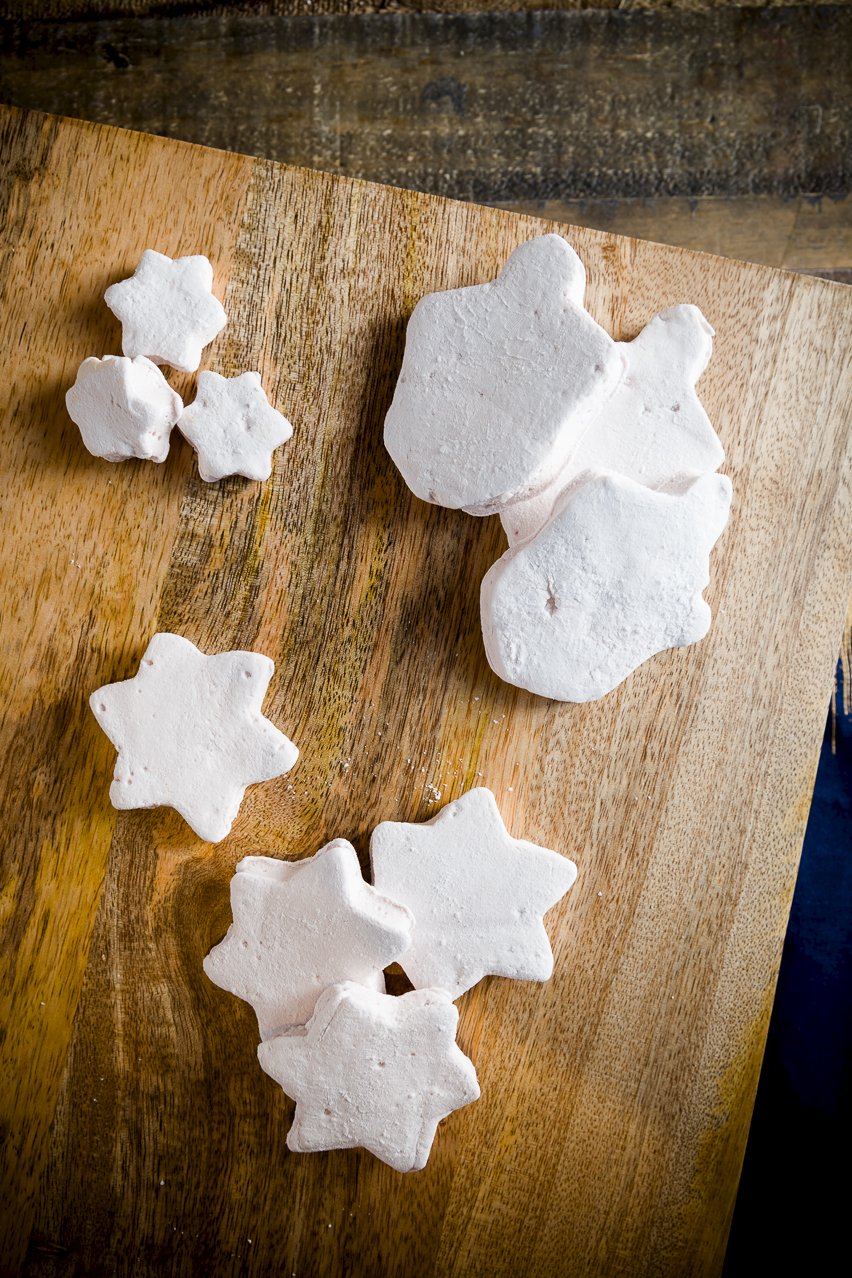 With Chanukah landing smack on top of Thanksgiving this year, I wanted to create a Chanukah recipe that evoked both the fall s'more season and the marshmallows so often found on top of Turkey Day sweet potato casseroles. I decided to make Manischewitz-flavored marshmallows and cut them into Chanukah shapes. To get some insight into marshmallow making, I turned to my friends at Kakao Chocolate to walk me through the ins and outs of crafting homemade marshmallows. Don't let the "chocolate" in their name fool you; the folks at Kakao Chocolate are experts in a wide range of confections.
With Kakao's help (specifically that of Jenny Bazzetta Price), we churned out Manischewitz marshmallows that had an intense Manischewitz concord grape flavor. If you want to impress your Jewish family (or someone elses's), this is the dessert to throw on the holiday table.
Before I share the marshmallow recipe, I want to let you know that I am hosting a Thanksgivukkah blogger potluck today (this recipe is part of the potluck!) with some blogger friends to celebrate Thanksgivukkah (the merger of Thanksgiving and Chanukah). You can get all of the details about the potluck in my Thanksgivukkah post. Here are all of the other particpants:
Manishchewitz Marshmallow Recipe
Products Used to Make Manishchewitz Marshmallows
The marshmallows are made using powdered gelatin. (View on Amazon)
They also use light corn syrup (not the same as high fructose corn syrup). (View on Amazon)
Of course you'll need Manishchewitz wine – I suggest the classic Concord Grape flavor.
You absolutely need a candy thermometer to make marshmallows and I recommend this one. It beeps when the desired temperature is reached. This makes your life so much easier! (View on Amazon)
If you want to develop some of your own marshmallow flavors, Jenny from Kakao strongly suggests this book. This is the best guide that she has found on marshmallow making. (View on Amazon)
Don't forget the Chanukah cookie cutters! (View on Amazon)
Lastly, if you like the wood cutting board that the marshmallows are featured on, you can find it at West Elm. West Elm helped me style this shoot as well as all several other shoots for Thanksgivukkah.
Homemade Manischewitz-flavored Marshmallows
Make these impressive grape-flavored marshmallows for your next holiday get together.
Ingredients
400

grams

Manischewitz Concord Grape wine

230 grams for gelatin mixture and 170 grams for sugar mixture

40

grams

powdered gelatin

680

grams

sugar

560

grams

light corn syrup

powdered sugar for dusting
Instructions
In a small mixing bowl, mix 230 grams of wine and 40 grams powdered gelatin. Stir well.

In a heavy-bottomed saucepan set to medium heat, mix sugar, corn syrup, and remaining 170 grams of wine. Heat to 253 F.

Add gelatin mixture to sugar mixture, stir, and cool to 212 F.

Transfer to the bowl of a stand mixer (or any bowl if you plan to use a hand mixer) and whip on high speed until the mixture is slightly warmer than room temperature and falls very slowly when you lift up the whisk, about ten minutes.

Transfer to cookie sheet lined with oiled parchment paper. Distribute the marshmallow mixture evenly on the sheet.

Top marshmallow mixture with another sheet of oiled parchment paper, oiled side down. This helps both sides of the marshmallow to be smooth.

Leave at room temperature overnight.

Spread powdered sugar on both sides of the marshmallow. The powdered sugar keeps the marshmallow from being too sticky on the outside.

Dip cookie cutters in powdered sugar and cut marshmallows into shapes.

Shake or sift off any extra powdered sugar.

Store in a sealed container at room temperature and eat within two weeks.
Nutrition
Nutrition Facts
Homemade Manischewitz-flavored Marshmallows
Amount Per Serving
Calories 234
% Daily Value*
Sodium 22mg1%
Potassium 19mg1%
Carbohydrates 56g19%
Protein 1g2%
Calcium 6mg1%
Iron 0.1mg1%
* Percent Daily Values are based on a 2000 calorie diet.