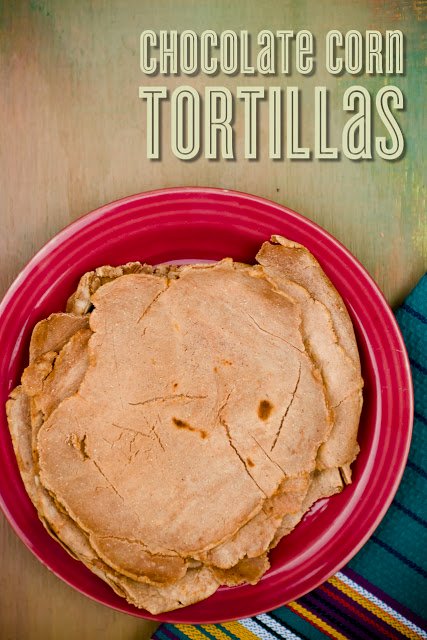 Although these homemade corn tortillas are chocolate corn tortillas, don't expect them to taste like dessert.  The chocolate is very subtle and serves only to give the tortillas a more robust flavor.  Chocolate tortillas would pair well with dessert fillings like peanut butter and banana or strawberries and chocolate.  But, as you'll see in an upcoming post, I filled mine with coffee rubbed pork.
Chocolate Corn Tortillas Recipe
If you've tried this recipe, please RATE THE RECIPE and leave a comment below!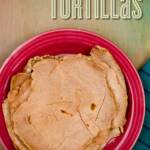 Homemade Corn Tortillas with a Hint of Chocolate
Ingredients
1 1/2

ounces

Abuelita chocolate

a Mexican chocolate made by Nestle containing sugar, cocoa, and cinnamon

1 3/4

cups

masa harina

corn flour treated with lime and water

1

cup

water
Instructions
Heat Abuelita until soft. I did this using 20 second intervals in the microwave. But, you could also soften it in a double boiler on the stove top.

In a medium-sized bowl, mix masa harina, water, and softened chocolate.

Turn dough out to a clean and dry surface. Knead until pliable and smooth. You may need to add a little more water or masa harina to get the texture correct.

Cover dough tightly in plastic wrap and let sit for thirty minutes.

Heat a skillet on medium heat.

Break off a small ball of dough.

Fold a large piece of parchment paper in half.

Place the dough ball in the middle of the folded parchment paper.

Roll the dough as thin as you can get it. The parchment paper really is key in this step. I tried rolling the dough without it and it stuck to the rolling pin and kept falling apart. If you have a

tortilla press

, use that instead of a rolling pin.

Transfer rolled dough to the hot skillet.

Cook for about 30 seconds and then flip.

Cook for another 30 seconds and turn out to a plate.

Repeat steps 6-12 to cook all of the tortillas.

Eat warm with your favorite filling.
Recipe Notes
My recipe for chocolate corn tortillas is an adaptation of the corn tortillas recipe on AllRecipes.
On Chocolate and Corn
When I posted about my chocolate tamale cupcakes, a few people seemed off-put by the combination of chocolate and corn.  Although it may sound unique, you've probably had the pairing before. Have you enjoyed chocolate-covered popcorn (love it!!) or gone coo-coo for Cocoa Puffs? Some of you may have even tried chocolate peanut butter Bugles.