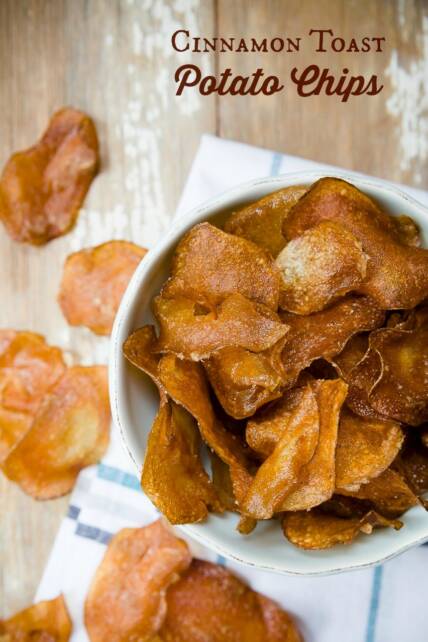 Do you lean more towards savory or sweet foods?  I'm guessing that if you read this blog, the answer is sweet.  So, say goodbye to overly salty and spicy potato chips and say hello to cinnamon toast potato chips!  These cinnamon toast potato chips taste like thin, crisp, crunchy pieces of cinnamon toast.  They are EXTREMELY addictive.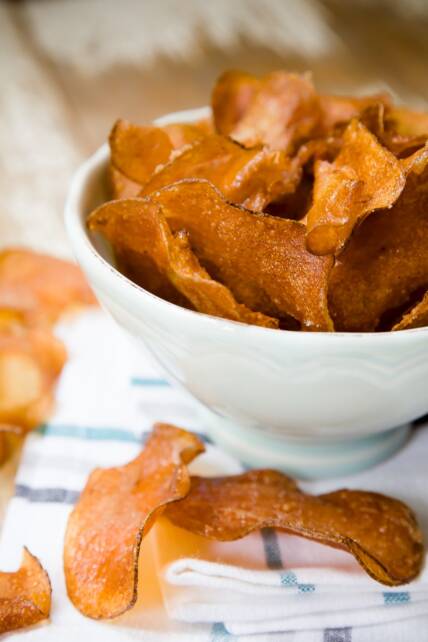 I used basic Russet potatoes for these cinnamon toast potato chips.  I thought about using sweet potatoes (and those would certainly work, too), but I wanted the chip to be like white bread – just a delivery mechanism for the cinnamon toast flavor rather than something with its own strong taste.
I tried three different methods for making potato chips – microwaving, oven baking, and frying.  I know that many people swear by the first two methods – and I really wanted to love the microwave method – but neither compared to frying.  The fried chips tasted like potato chips and the others just tasted bland.
I suggest eating the cinnamon toast potato chips within one day.  No one likes soggy chips.
If you've tried this recipe, please RATE THE RECIPE and leave a comment below!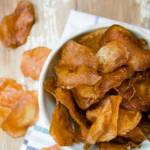 Homemade Cinnamon Toast Potato Chips
Ingredients
2

tablespoons

very soft

but not melted unsalted butter

2

tablespoons

sugar

1/2

teaspoon

cinnamon

1

teaspoon

vanilla extract

1

Russet potato

vegetable or peanut oil for frying
Instructions
Mix butter, sugar, cinnamon, and vanilla until fully combined and set aside.

Slice the potato into paper thin slices using a mandoline.

Fry the potato slices in batches in a deep fryer or skillet at 375 F for three to four minutes. You'll know the potato chips are done when they turn a golden brown.

Pat the chips with a paper towel to remove any excess oil.

Brush warm chips with butter mixture. The butter should melt on contact and thinly coat the chip. I just brushed one side of each chip, but you could do both sides for an even stronger cinnamon toast flavor.

Ideally, serve warm. Definitely serve within 24 hours to maximize crispness.