My next post will be about my high tea cupcakes. I may even post it later today – so check back. But first, let's talk fashion.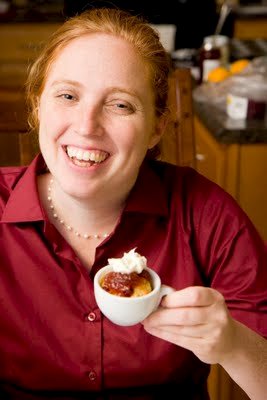 As a food blogger, I've been sent my fair share of free food (it's an awesome perk). However, for the very first time, someone wanted to send me clothes. That someone was Sharper Uniforms. They provide "a huge selection of today's most popular styles of Restaurant, Hotel, Country Club, Casino and Security uniforms." While it would have been super cool to get a security uniform (I'm thinking Halloween here), I suppose it didn't fit with the theme of my blog. They opted to send me a ladies' blouse that could be worn by a server or hostess.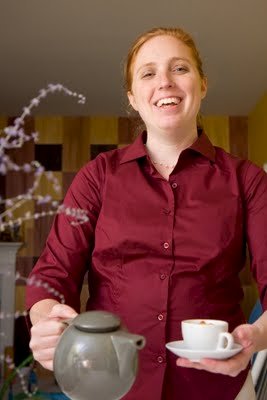 Here's me pretending to be a server. You're never too old to play make-believe. I suppose the server would most likely tuck the shirt in, but you can't really tuck when you are wearing maternity pants.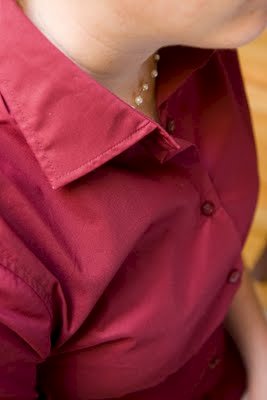 At the time Sharper Uniforms offered to send the shirts, I was very pregnant. There was NO WAY that I was going to fit into them. They kindly sent me the shirts anyway on the promise that I would review them when I could close the buttons (which turned out to be at five weeks postpartum). I don't say this to gloat – well, maybe just a little. I say this so that you know that Sharper Uniforms is one of those companies whose shirts run large (everything else in my wardrobe is at least a size medium and this is a size small shirt).
Not only did the blouse fit perfectly, I've been getting use out of it. Button down tops are great for breastfeeding (I'm sure that's just what they had in mind).
If you happen to be on the market for a uniform or nice blouse, check Sharper Uniforms out. I can't speak to all of their uniforms, but the shirt was high quality.
I don't expect to have a long career in shirt modeling, but I am certainly open to more free clothes, as is my junior assistant, baby Myles.