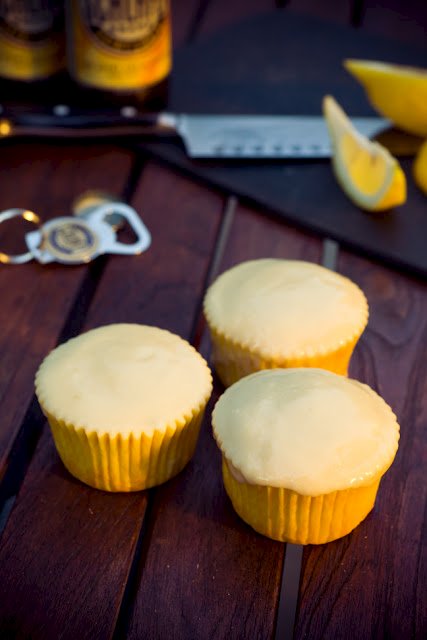 I'm in puppy love with my Hefeweizen cupcakes. Maybe it's because I've been on a quest to find the Ultimate Vanilla Cupcake and the past 15 or so cupcake recipes I've made have been some variety of vanilla, or maybe these Hefeweizen cupcakes really are just that good. If you are a beer fan (I'm talking about the kind of person who drinks beer for the taste, not chugs for the buzz), and you like wheat beer, you will truly appreciate this cupcake. With beer in both the cupcake and the glaze, these cupcakes have a noticeable beer flavor. The cupcakes also contain a touch of lemon as though you squeezed some into your bottle.
Beer cupcakes are typically heavy and manly. The beer cupcakes I've created in the past are no exception. I've done a beer cheese cupcake with bacon cheddar frosting (trust me on this one – it is a fan favorite), chocolate stout cupcakes, and Trappist cupcakes with a Trappist-style cheese. Unlike those, these Hefeweizen cupcakes are beer cupcakes for the summer. They are moist, fresh-tasting, and just the snack to tide you over while you're waiting for your burgers to finish on the grill.
Want More Details and the Recipe?
You'll have to head over to Jenn's blog, Beantown Baker, where you can read a guest post that I wrote. While you're there, be sure to take a look around. Not only does Jenn have a wealth of great posts of her own, but she's been having guest bloggers each Friday. Check out all of her Friday Favs to discover new, fun blogs to read.