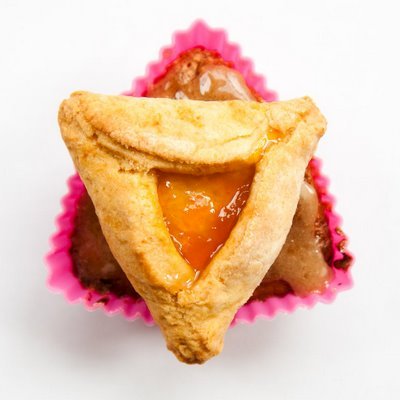 Hamantashen cupcakes are the perfect Purim dessert for the cupcake fan. Hamantashen cupcakes are not simply a cupcake with a hamantashen stuck on top. The cupcake itself is a triangle (as hamantashen must be), it has a sugar cookie flavor to it, and like the cookie, it has a jam filling. I topped the cupcake with a sweet jam glaze and then put a hamantashen on top for good measure.

Hamantashen cupcakes are the brain child of fellow St. Louis blogger, Susan (of SusanIsk.com). She first suggested that I make gefilte fish cupcakes and when I wasn't so thrilled with the idea, she proposed hamantashen cupcakes. Since they were her idea, I let her be the official taste tester.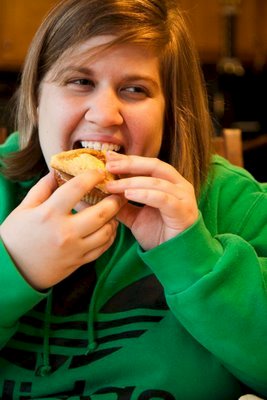 There was a debate over whether the cookie should be removed prior to eating or whether the whole thing should be eaten together. Susan, as you can see, opted for putting the whole thing in her mouth. She felt that it all went perfectly together and that the cupcake wasn't quite as good on its own. Credit also goes to Susan for the suggestion of turning the hamantashen on its side to make the cupcake look like a Jewish star. Jonathan and I both loved the idea!
Later tasters, such as my friend Christina, preferred eating the cupcake and the hamantashen separately. Christina claimed that the cake and the cookie together were a bit too dry, but each was good on its own.
Before You Get Started
Before you begin making hamantashen cupcakes, you need two key things (other than the cupcake ingredients):
Triangular cupcake liners. I purchased these locally at a Hobby Lobby. However, you can find them on Amazon if they don't sell them near you. Obviously, you can make the cupcakes in regular circle liners, but it's not as fun.
Hamantashen. You can buy some or use my homemade hamantashen recipe.
Hamantashen Cupcake Recipe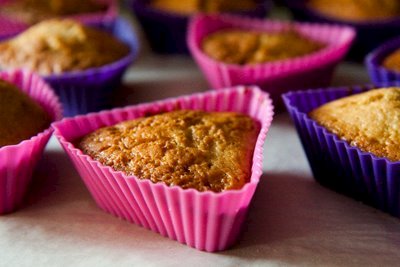 For the hamantashen cupcakes, I used the same sugar cupcake recipe to make the hamantashen cupcakes that I used for my snickerdoodle cupcakes. It is the perfect recipe to use when you want a cupcake to have the flavor of a sugar cookie.
I made the snickerdoodle cupcake recipe by slightly modifying How Stuff Works' caramelized sugar cake. I have reprinted it with my modifications below.
Hamantashen Cupcakes
The cupcake itself is a triangle (as hamantashen must be), it has a sugar cookie flavor to it, and like the cookie, it has a jam filling.
Servings
24
Hamantashen Cupcakes
Ingredients
Cupcake Ingredients
1 1/2

C

granulated sugar

divided

1/2

C

boiling water

2

large eggs

separated

2 1/4

C

all-purpose flour

1

T

baking powder

1

t

salt

1/2

C

1 stick butter, softened

1

t

vanilla

1

C

milk
Jam Glaze Ingredients**
1/2

C

jam of your choice

2

t

water

1

C

powdered sugar
Instructions
Cupcake Instructions
Heat 1/2 C sugar in heavy 8-inch skillet over medium heat, stirring constantly, until sugar is melted and golden brown.

Reduce heat to low.

Gradually add boiling water into sugar mixture; continue cooking until sugar is dissolved, stirring constantly. You need to stir really quickly here to keep the sugar from glomming up.

Beat egg whites in medium bowl at medium speed with electric mixer until soft peaks form.

Gradually add 1/2 C granulated sugar, beating at high speed until stiff peaks form; set aside.

Combine flour, baking powder and salt in medium bowl; set aside.

Beat butter and remaining 1/2 C sugar in large bowl until light and fluffy.

Beat in egg yolks and vanilla extract.

Gradually add sugar syrup, mixing until well blended.

Add dry ingredients to butter mixture alternately with milk, beating well after each addition.

Fold in egg white mixture.

Fill cupcake liners halfway full*

Bake at 375 F for 20 minutes.
Jam Glaze Instructions
Heat jam in a small saucepan on medium-high heat until it resembles a thick syrup.

Add in water and stir.

Remove from heat and strain out bits of fruit and seeds.

Let cool.

Mix in powdered sugar.

Spread on cupcakes.
Notes
*The Jam Fillling
Like the hamantashen cookies, the hamantashen cupcakes need a jam filling. You can use the same filling that you used in your hamantashen cookies or mix and match flavors. The easiest way to fill the cupcakes is to load the filling into a piping bag, shove the bag into the cupcake while it is still slightly warm, and squeeze. If you don't have a piping bag, you can always use a small paring knife to cut a hole in the cupcake, spoon in some filling, and then replace the cake that you removed.
**The jam glaze served as the glue to keep the hamantashen cookie stuck on the hamantashen cupcake. It also added a nice, sweet moist layer to top off each cupcake bite. I would suggest making the jam glaze with the same jam that you used as a filling, but again, you can always mix and match flavors.
Nutrition
Nutrition Facts
Hamantashen Cupcakes
Amount Per Serving
Calories 176
Calories from Fat 36
% Daily Value*
Fat 4g6%
Cholesterol 24mg8%
Sodium 143mg6%
Potassium 86mg2%
Carbohydrates 32g11%
Protein 2g4%
Vitamin A 155IU3%
Vitamin C 0.7mg1%
Calcium 40mg4%
Iron 0.7mg4%
* Percent Daily Values are based on a 2000 calorie diet.
The Jam Filling
The Jam Glaze
Ready to Eat
In the Circle of Cupcakes
It's the wheel of yummies
It's the leap to pick one
Before they're all gone
Till we find our cupcake
On the path unwinding
In the Circle, the Circle of Cupcakes
(
In case you totally don't get this
)