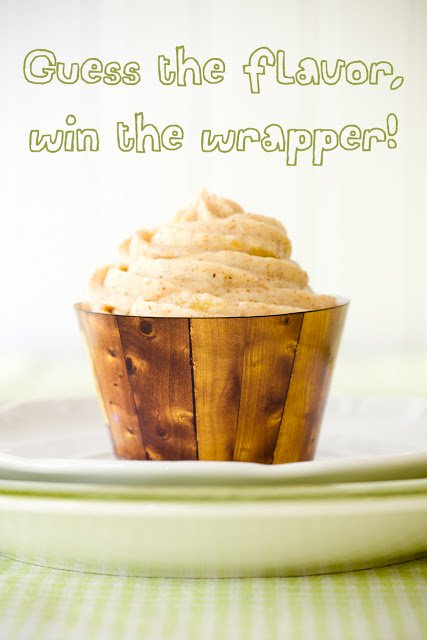 Update:  This contest is now closed.  Follow the link for the answer and the winners.
These wood paneling wrappers from NellieCakes Designs are among the most unique and stunning cupcake wrappers I've ever seen.  Nell was kind enough to send me wrappers to sample, plus she set some aside for you to win!  She is also giving a 15% discount to all Cupcake Project readers – just enter the code "project15" when you check out!
How to Win Wood Paneling Cupcake Wrappers from NellieCakes Designs

The cupcakes inside these wrappers are my twist on a classic Southern cupcake flavor.  For a chance to win the wrappers, leave a comment with your guess as to what the classic flavor is.  To get a second guess, pin the photo from this post to Pinterest.  Then, leave a comment here telling me that you pinned the photo and giving me your second guess.  
Fine Print:
All entries must be received by 11:59 PM CDT on Sunday, April 22.  I will reveal the answer on Monday.
There is a limit of two entries per person.  You may leave one comment with your first guess and a second comment with a second guess (only if you have pinned the photo).
Everyone who correctly guesses the answer is eligible to win.  I will randomly draw four winners from the pool of correct answers.  If there are not four people who have correctly guessed, I will draw from all entrants to select the remaining winners.
Each winner will receive 12 wrappers.
Be sure to include contact information in your comment.  I will post the winners in Monday's post and contact the winners directly.  If I do not hear from the winners within one week of contacting them, I reserve the right to draw new winners.
Good luck!  I can't wait to share the recipe on Monday!