Most mac 'n' cheese grilled cheese is made by putting mac 'n' cheese between two pieces of bread. Mine swaps this and makes a bread out of macaroni and cheese for the ultimate mac 'n' cheese grilled cheese!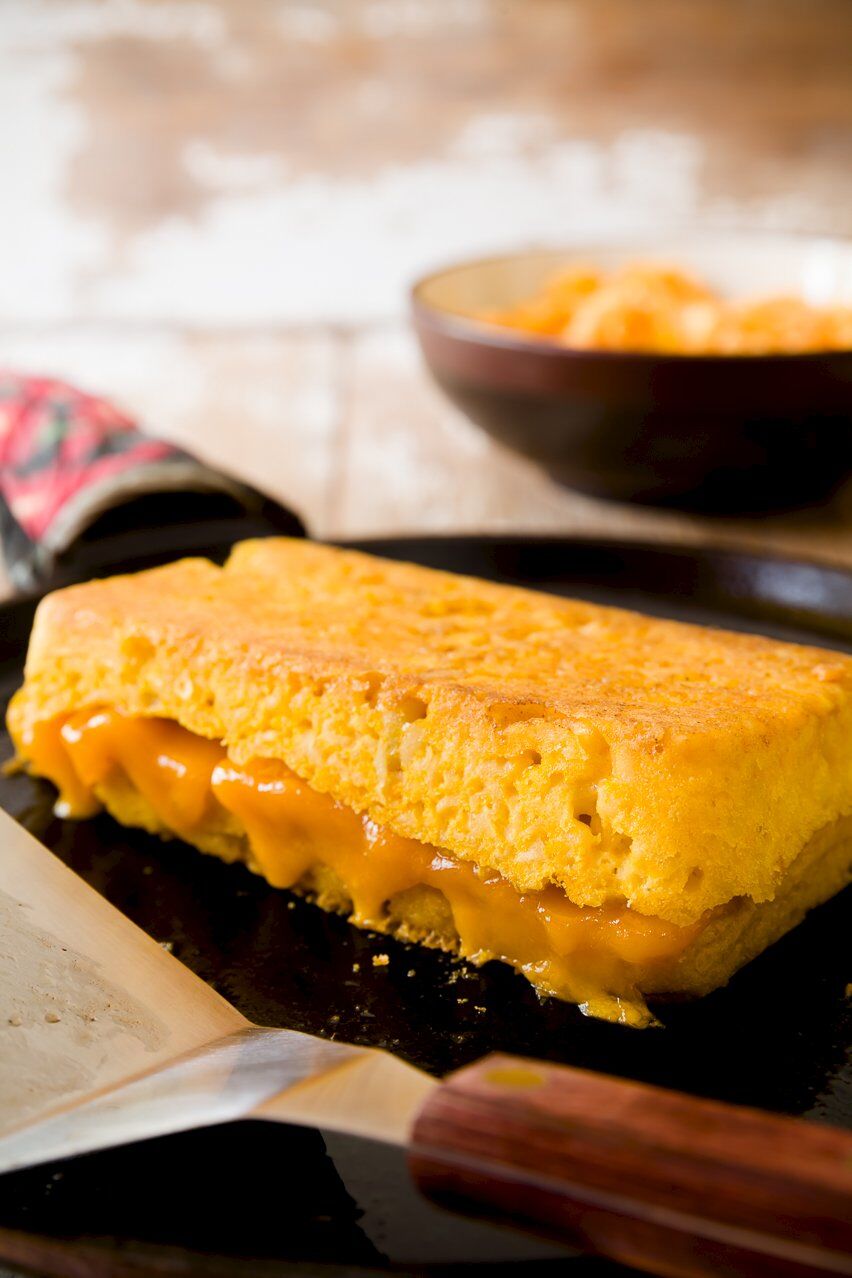 The bread on this grilled cheese sandwich is actually mac 'n' cheese. What you are looking at above is two slices of mac 'n' cheese "bread" grilled with more cheese in-between. Disgusting? Maybe. Every child's dream sandwich? Oh, yeah!
It took some experimentation to come up with a viable mac 'n' cheese "bread" that would hold its shape. The key, I found, is to food processes cooked mac 'n' cheese and to mix in eggs to provide a glue. Then, I spread the mixture thinly in mini loaf pans to make my "bread slices"; each mini loaf is one slice of "bread". When you grill the "bread" with the cheese, the part of the "bread" touching the cheese starts to break down a bit and you can actually see mac 'n' cheese mixed with the melted cheese. However, the outside of the "bread" can still be hand-held.
I used sliced cheddar cheese in my mac 'n' cheese sandwich, but any melty cheese would work well.
If You Like This Idea, You Make Also Like…
Do you remember when I made chocolate chip cookie grilled cheese sandwiches?
Then, there was the time that I made grilled cheese on banana bread and created hummingbird grilled cheese.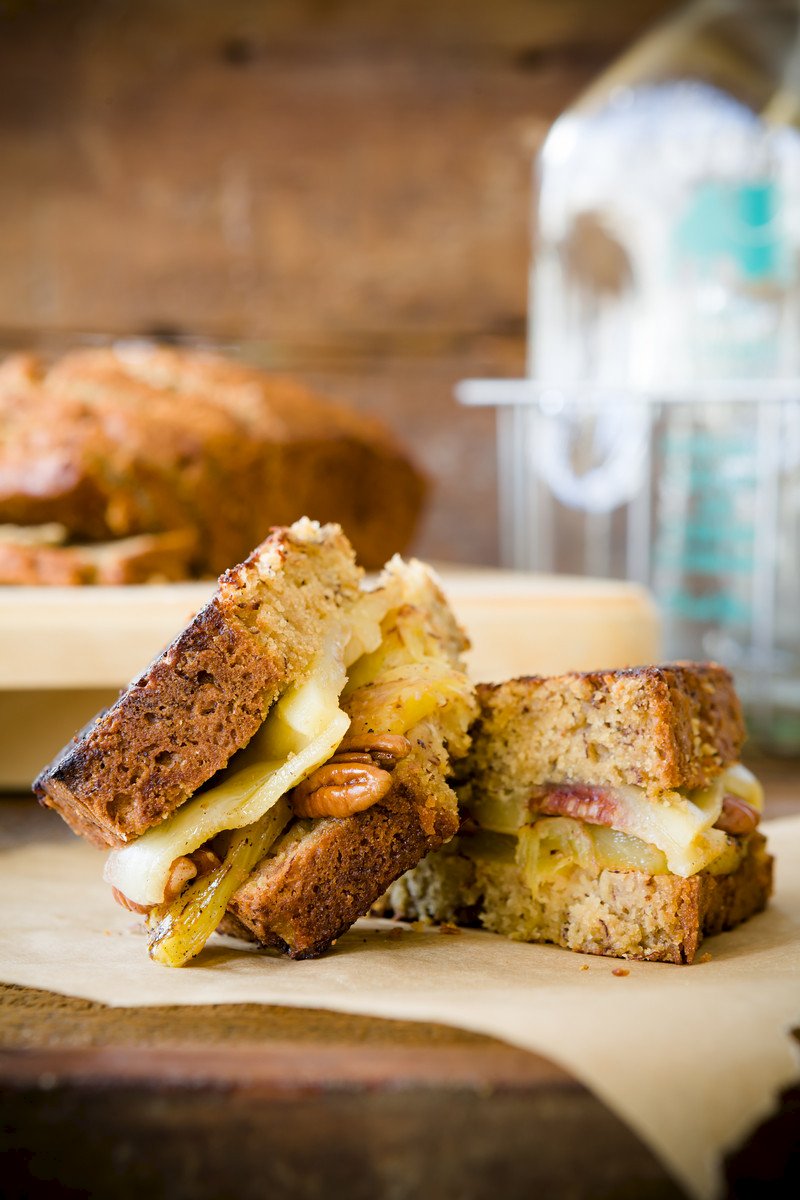 White bread clearly doesn't cut it for me!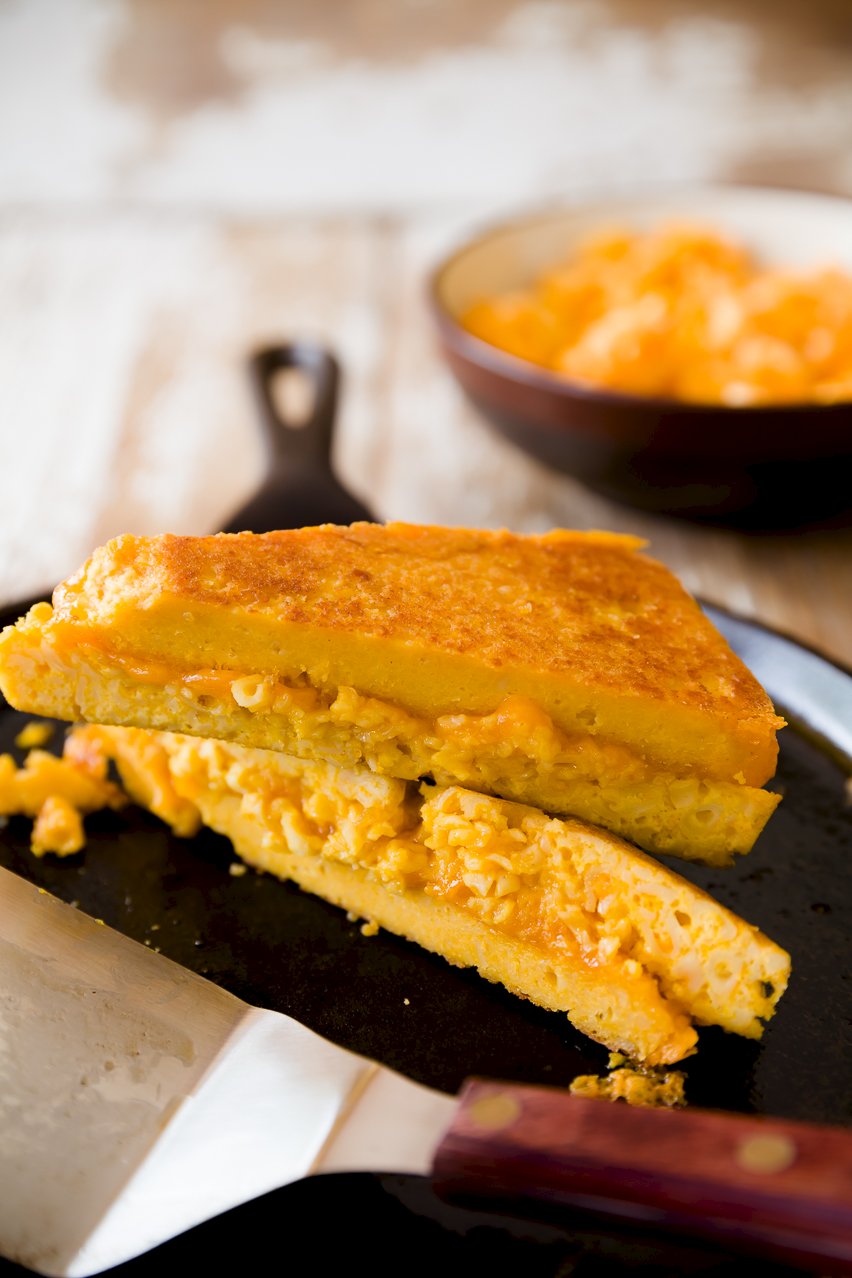 Mac 'n' Cheese Grilled Cheese
Ingredients
2

cups

cooked mac 'n' cheese

refrigerated overnight

2

large eggs

3

slices

of cheese

your choice

½

tablespoon

butter
Instructions
Preheat oven to 350 F.

Food process mac 'n' cheese with eggs until it looks like a thick, goopy batter.

Spread batter evenly in two mini loaf pans. The batter should only be along the bottoms of the loaf pans.

Bake for 20 minutes or until the mac 'n' cheese appears solid.

Keep in the loaf pans until the mac 'n' cheese "bread" is completely cool.

Carefully remove "bread" from the loaf pans.

Assemble the sandwich by placing the cheese between the two slices of "bread".

Melt butter on a skillet at medium-low heat.

Place sandwich on the skillet and let sit for 3-5 minutes or until the bottom starts to brown (sneak a peek using a spatula).

Carefully flip the sandwich and cover with a lid or foil until the cheese melts (another 3-5 minutes).
Nutrition
Nutrition Facts
Mac 'n' Cheese Grilled Cheese
Amount Per Serving
Calories 1883
Calories from Fat 765
% Daily Value*
Fat 85g131%
Cholesterol 430mg143%
Sodium 3837mg160%
Potassium 1011mg29%
Carbohydrates 193g64%
Protein 84g168%
Vitamin A 1490IU30%
Calcium 1249mg125%
Iron 10.6mg59%
* Percent Daily Values are based on a 2000 calorie diet.