Several people have commented to me that my blog posts keep getting longer and longer. My brother even pointed out that people are going to start having problems finding the bottom of them. Therefore, for this post I'm going to warn you right at the beginning. This is going to be long. This post will talk about a class, frosting, two cakes, and cupcakes. I've divided it into sections so you can read what you care about or if you don't like to read at all, you can just look at the pretty pictures.
Class Night 1
It's back to school time here in St. Louis. I'm not in school and have no kids, but I decided to get in the spirit and take a class related to the project. I checked out the various schools around town and shockingly (OK, not such a surprise) no one offered a cupcake class. I thought the next best thing would be to take a cookie decorating class, but as luck would have it, the cookie class I signed up for got canceled and I ended up in Cake Decorating 101 at
Sallies Cake and Candy Supplies
.
The class was incredibly cheap ($30 for three two hour classes), but it had a huge supply list. You know I was disappointed to be "forced" to buy more fun baking toys.
Growing up, I was what you might call a nerd: straight As, kiss-up to the teacher, and willingly spending my recess shelving books in the library. At least in 6th grade I had the sense to realize that maybe I should stop only wearing sweat pants to school and make some attempt to get a style. Taking a class now, in my 30s, I still had that drive to do things right and make a good impression on the teacher.
Five minutes into class and there was already a problem. For the next class we were going to have some homework (seriously?? homework??). We were to bring in one recipe of icing that we would have to make exactly according to her recipe:
1/2 Cup Crisco
1/4 Cup of water less 1t
1t clear flavoring (clear vanilla, almond, or lemon would be best)
1/4t salt
Teacher: Well, it may not work. If you want to use it, you can, but you should also make a recipe with Crisco just in case the first one doesn't work.
Nice. I've now given myself double homework.
Me again: Umm… one more thing. I like to use organic powdered sugar, not C&H brand. Is that a problem?
Teacher: Don't you want to be able to color your frosting? Organic powdered sugar makes the icing brownish. But, fine you can try it.
I've got to give her some credit here. She knew what she wanted me to do, but she was willing to be a bit flexible.
Class Night 2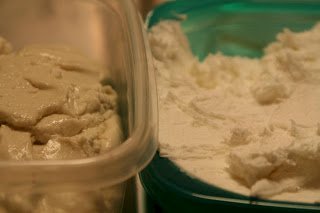 I showed up to class on night two with my two tubs of icing. The teacher took one look at my natural icing and said, that I was going to have to use the Crisco one. I could see what she was saying. The more natural icing (the one on the left in the picture if you can't tell) was less fluffy and drier. It also had a problem where the oil seemed to separate from the frosting. To take it one step further, the teacher wasn't even that thrilled with some of the students' frostings that used Crisco. Turns out that since
Crisco has gone trans fat free
it doesn't work as well for cake decorating. Her store sells a shortening with extra trans fat that she swears by. Apparently, it has been flying off the shelves since Crisco went trans fat free. Who knew there was such a market for trans fats. Yuck!
Aside from my disappointment about not being able to use my preferred frosting, the class was great. We learned how to make frosting roses. I was NOT the class star at this task. The teacher kept telling this other student, Miss Goodie Two Shoes (I can call her names since it wasn't me), that she should do this for a living. There was also a 12 year old boy in the class who the teacher concluded would be a pastry chef some day. As for me, she suggested that I practice.
So I did.
I went home and made rose after rose after rose after rose and I was able to do so with my preferred natural frosting. All I needed to do was add a bit of water and the texture worked out fine. I was also able to color it with no problem at all. Maybe it wasn't the exact colors Teach would have expected, but it worked for me and more importantly, it's something that I wouldn't feel bad feeding to someone I care about. The roses got better and better. Never quite perfect, but there were some that I was really proud of.
Homework for class 3 was even more intense. In addition to bringing in 30 roses, we were to bring a yellow cake, and two batches of icing.
I decided that it was time to break out
Grandma's Golden Glow
(the recipe is all the way at the bottom of this post). It's tried and true and it's just a one bowl recipe which made me happy after last week's all day tomato cupcake extravaganza.
While we could pick any yellow cake, the baking instructions from our instructor, much like the frosting instructions, were exact:
1. Bake the night before class.
2. Wait EXACTLY 10 min after it is done to remove from the pan.
3. Flip it out onto a towel on a drying rack.
4. Put into a plastic bag.
5. Untie the bag in the morning.
6. At 2pm on the day of the class remove the bag.
I broke rule one right away. I was tired the night before class. I figured I could just make it early on the day of class, she would never know the difference. FYI, this may sound like a calm relaxed decision, but I was seriously concerned that the teacher knew all and she would immediately call me out for breaking rule one.
The morning of class, I got up as planned and baked. As fate would have it, when I went to check on my tried and true cake it was all cracked at the top and not cooking properly. What??? I took it out of the oven, waited the 10 minutes and flipped. The top part of the cake came out but the bottom stuck to the pan! Clearly I haven't made a cake in a very long time. If only I could have made cupcakes. I could not bring this cake to class.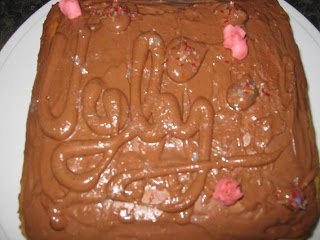 I just wanted to throw the cake in the trash, but it was a cake! It still tasted good. Instead, I threw some chocolate cream cheese frosting on it and labeled it for what it was.
The roses are a nice touch, don't you think?
I thought about buying a cake to decorate for class. I didn't think the teacher would mind since it was all about decorating not baking, but how could I buy a cake. It just didn't seem right (OK, Whole Foods didn't sell any square un-iced cakes). I would have to bake another one.
This time, I bought a brand new non-stick pan. The cake popped right out! Woohoo!! But… when I left it sitting on the counter for an hour, the middle sunk. Oh golden glow, how you have failed me. There were no third chances. I flipped it over and put it on a plate hoping it would have the correct consistency to ice despite being baked just hours before my class. I frost my cupcakes 15 min after they are out of the oven and have no problems.
I arrived at class full of fear. Would I even be able to decorate my cake with the crater in it?
Teacher: Is there a reason your cake did not arrive on a drying rack with a towel?
Me: No.. not really.
Teacher: You know that your cake is not going to look as good as everyone else because of your natural icing?
Me: Yes, I understand.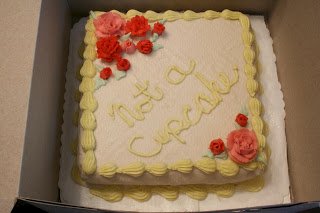 Well.. you be the judge. I thought my cake came out great! I learned a ton and also learned that my frosting while not shiny white would work just fine and with lemon flavoring rather than the almond I had used on the first batch it even tasted semi-decent (lovers of sweet frosting thought it tasted great).
A few tricks I learned that you may already know:
If the cake is uneven (ie it has a giant sump in the middle of it), you can just fill that in with frosting and then the cake is flat. Give that piece to someone who really likes frosting.
To keep the cake from being uneven in the first place, you can use magic strips. Apparently these things magically keep the cake flat. I clearly did not try them so I can't personally vouch for them.
You can make an amazing embroidered pattern simply by pressing a paper towel into the cake. I really want to try this on a cupcake. This will be coming soon.
Did I mention I learned how to make roses? I had no idea that these could be made in advance and then placed onto the cake using frosting as glue.
All said, I would highly recommend classes at Sallies. Everyone was friendly and patient and they know their stuff. I look forward to taking level two at some point, although the teacher did already warn me that if I take level two I better not show up with my natural frosting. Hmmm.
The Cupcakes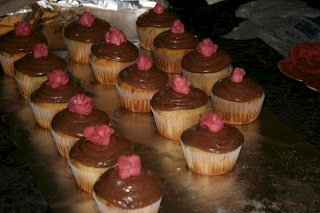 Because of the above-mentioned class and homework and the fact that I was already making a golden glow cake, I decided to make golden glow cupcakes to go with the golden glow cake. I used the classic chocolate cream cheese frosting though instead of the sweet shortening one I made for class. Expect a more creative cupcake again next week.
How'd they taste? They were good but really really dry. When I mentioned this to my mom, she pointed out that the golden glow is always dry. You are supposed to drink some milk after every bite. It was, in fact, perfect with some milk and the frosting still ranks up as some of my favorite frosting ever.
The Recipe
Golden Glow Cupcakes
The golden glow is always dry. You are supposed to drink some milk after every bite. It was, in fact, perfect with some milk and the frosting still ranks up as some of my favorite frosting ever.
Ingredients
Cake Ingredients
2 1/4

c

flour

3

t

baking powder

1

t

salt

1 1/4

C

sugar

1/2

C

butter

3/4

C

milk

2

T

milk

2

large eggs

1

t

vanilla
Frosting Ingredients
1 8

oz

package of cream cheese

3

T

milk

3

C

powdered sugar

2

squares

2 oz of melted unsweetened bakers chocolate
Instructions
Cake Instructions
Sift flour, baking powder, salt, and sugar

Add butter and 3/4 C milk

Beat two min

Add 2T milk, eggs and vanilla

Beat 2 minutes

Bake 350 for 25 - 35 min
Frosting Instructions
Soften cream cheese with milk

Gradually add powdered sugar

Mix in melted chocolate
Nutrition
Nutrition Facts
Golden Glow Cupcakes
Amount Per Serving
Calories 453
Calories from Fat 144
% Daily Value*
Fat 16g25%
Cholesterol 73mg24%
Sodium 359mg15%
Potassium 219mg6%
Carbohydrates 72g24%
Protein 5g10%
Vitamin A 590IU12%
Calcium 110mg11%
Iron 1.5mg8%
* Percent Daily Values are based on a 2000 calorie diet.