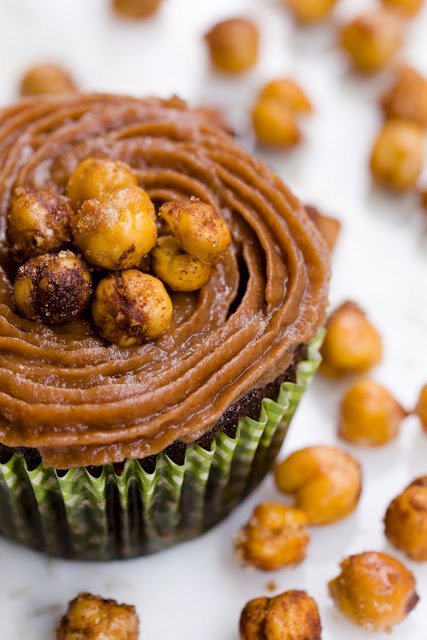 Ignoring the sweet and salty roasted chickpeas on top, these gluten-free chocolate cupcakes made with garbanzo bean flour and frosted with chocolate hummus are indistinguishable from the chocolate birthday cupcakes that you've had a thousand times – with the smell of smoke still lingering in the air from recently made wishes for ponies and Disney vacations.  The rich chocolate frosting (a step up from the typical turn-your-mouth-blue-"butter"cream) might give partygoers a small hint that something was different, but it's unlikely that they would think about it any longer than the birthday girl did to rip open the princess outfit she'd been waiting for.  These gluten-free cupcakes aren't special or spicy, and they don't have a unique earthy finish; they taste like classic all-American chocolate birthday cake. Sometimes, gluten-free or not, that's just what you want.

Tips on Baking with Garbanzo Bean Flour
These gluten-free chocolate cupcakes all started with an email from reader and Facebook fan Beth Davis.  She asked if I had any recipes using garbanzo bean flour.  I didn't, but I sure was up to the challenge!
Garbanzo bean flour is a common ingredient in Indian food, where it is called besan flour.  I found a very helpful article by Kay Miranda on Livestrong.com on baking with besan flour that I used in creating my recipe.  The article explains that besan flour leads to heavier cakes than all-purpose flour and suggests some ways to compensate:
"Sift the flour twice before adding it to any baking recipe to increase air surrounding the flour. This incorporates more air into the recipe, making lighter baked goods."
"Increase 1 tsp. of baking soda to 1 1/2. This helps create lighter texture with the soda bubbling through cooking."
Even if you don't use my recipe, I hope that you'll find these tips helpful if you choose to convert your own recipe to gluten-free with garbanzo bean flour.
Gluten-Free Chocolate Cupcake Recipe
My only complaint about this gluten-free chocolate cupcake recipe is that the cupcakes didn't dome (some even sunk a bit after cooling) and the ones that I filled too high got thin, crusty tops.  I believe that this happened because they were too light to support the weight of a dome (see my FAQ on collapsing cupcakes).  I was willing to deal with a few fallen cupcakes for the sake of such a light gluten-free cake.  No one will ever see the top of the cupcakes anyway since they will be slathered in frosting.  To ensure that your cupcakes don't overflow, be sure to only fill the liners halfway.
If you've tried this recipe, please RATE THE RECIPE and leave a comment below!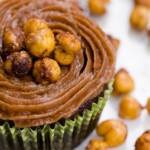 Gluten-Free Chocolate Cupcakes Made With Garbanzo Bean Flour – My Best Gluten-Free Cupcakes To Date
Ingredients
2 3/4

cups

garbanzo bean flour

sifted twice

1 3/4

cups

sugar

3/4

cup

cocoa powder

1 1/2

teaspoons

baking powder

2

teaspoons

baking soda

1/2

teaspoon

salt

2

eggs

2

teaspoons

vanilla

1/2

cup

olive oil

1

cup

whole milk

1

cup

boiling water
Instructions
In a large mixing bowl, mix flour, sugar, cocoa powder, baking powder, baking soda, and salt.

Mix in eggs, vanilla, olive oil, and milk until just combined.

Mix in water.

Fill cupcake liners just halfway.

Bake at 350 F for 25 minutes or until the top bounces back when lightly touched.
Recipe Notes
Chocolate Hummus Frosting and Roasted Chickpea Topper
You can frost these cupcakes with any of your favorite frostings. However, for extra chickpea fun, I highly recommend frosting with chocolate hummus and topping with roasted chickpeas just before serving.