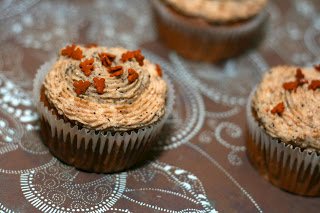 When I baked my eggnog latte cupcakes, the Bride wrote and said she liked them, but she wanted to try a gingerbread latte cupcake. Having never had a gingerbread latte, I was a bit skeptical of the combination (I know, what was I thinking?). One of the very first comments on the blog post was from Hillary of Chew On That who suggested the very same thing the Bride had. I guess I had to make them.
I had made gingerbread cupcakes once before, that had passed level one through four evaluation, so I knew right away that I was going to function within that established framework. How would I handle being faced with the new challenge of the latte part? I decided on a multi-tiered approach.
Can you tell I'm on the job market now? I've jumped into corporate mode. Ugh, I'd better save those good lines for my interview tomorrow.
I wanted both the cake and the frosting to have a gingerbread and a latte component. To give the cake a latte flavor, I injected it with a coffee flavored simple syrup after it was done baking. It did give it a subtle coffee flavor, but I think it was a bit unnecessary.
For the frostings, I made both a gingerbread and a latte frosting and I swirled them together.
I liked this cupcake even more than the eggnog latte cupcake and have to admit that Hillary and the Bride had a great idea! This was the very last cupcake that I made before sitting down with the Bride and Groom to choose their 3 wedding flavors. I will be posting the chosen cupcakes soon.
The cake is from allrecipes
If you've tried this recipe, please RATE THE RECIPE and leave a comment below!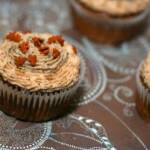 Gingerbread Latte Cupcakes: Eggnog Latte Needed a Friend
Ingredients
Cupcake Ingredients
5

Tbsp

unsalted butter

room temperature

1/2

cup

white sugar

1/2

cup

unsulfured molasses

1

egg

1

egg yolk

1 1/4

cups

all-purpose flour

1

Tbsp

Dutch process cocoa powder

1 1/4

tsp

ground ginger

1

tsp

ground cinnamon

1/2

tsp

ground allspice

1/2

tsp

ground nutmeg

1/4

tsp

salt

1

tsp

baking soda

1/2

cup

hot milk
Frosting Ingredients
1

cup

chilled whipping cream

8

oz

mascarpone

2

teaspoon

coffee extract

1/8

cup

coffee grinds

2 to 3

cups

confectioner's sugar

depending upon how thick you prefer frosting

1

teaspoons

cocoa powder

1

teaspoons

allspice

1

teaspoons

nutmeg

1

teaspoons

cinnamon

ground

1

teaspoons

ginger

ground
Instructions
Cupcake Instructions
Cream butter with the white sugar.

Add the molasses and the egg and egg yolk.

Sift together the flour, cocoa powder, ginger, cinnamon, allspice, nutmeg and salt.

Dissolve the baking soda in the hot milk.

Add the flour mixture to the creamed mixture and stir until just combined. Stir in the hot milk mixture.

Fill cupcake liners 3/4 full..

Bake at 350 degrees F (175 degrees C) for 20 minutes or until slightly springy to the touch.
Simple Sugar Instructions
Bring sugar and water to a boil, stirring until sugar is dissolved. Add 1 t coffee extract and let cool.
Frosting Instructions
Whip up whipping cream in mixer until soft peaks begin to form. Fold in mascarpone.

Split mixture in half. Do a better job than I at splitting it in half. For some reason my "half" ended up being 3/4 and 1/4 which ended up making the frosting not as evenly mixed as I would have hoped.

In the first half, mix in 1/8 cup coffee grinds. Then while mixing over low speed, slowly add about 1.5 cups of the confectioner's sugar 1/2 cup at a time, being careful not to over-whip frosting.

In a separate bowl, mix the remaining spices. Add 2 teaspoons of the spice mix to the second half of the frosting. Then while mixing over low speed, slowly add the remaining confectioner's sugar 1/2 cup at a time, being careful not to over whip frosting.
The Assembly
When the cake cools, poke holes in it and pour a few teaspoons of the coffee syrup into each cupcake. Put some of each frosting into a pastry bag and pipe onto the cupcake.
An Easier Option
This cupcake would be just as good if you just made the cake and latte frosting and didn't bother with the gingerbread half of the frosting or the simple syrup. You could also just make the gingerbread portion of the frosting. You can't go wrong!
Recipe Notes
I purchased the gingerbread sprinkles here.