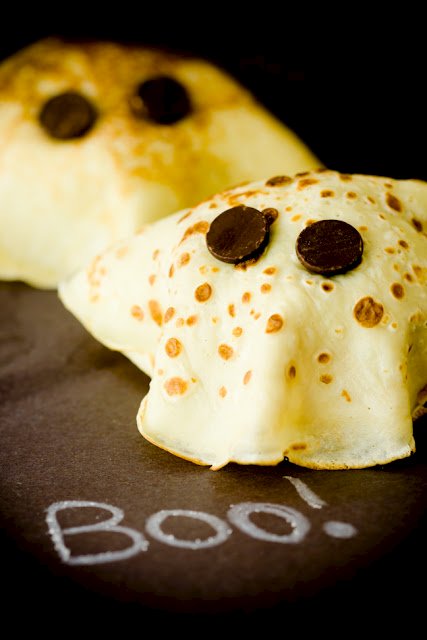 Halloween cupcakes in previous years have included witch Halloween cupcakes and scary Halloween cupcakes with googly eyes.  I've even made Halloween cupcakes with garlic to scare off vampires!  This year, I opted to make ghost Halloween cupcakes!
I've seen many ghost cupcakes made with fondant (and they are totally impressive), but I wanted to make ghost cupcakes with something that I love to eat – crepes!  Take any cupcakes (I used my apple cobbler cupcakes with pumpkin pie frosting), drape them in mini crepes, use chocolate chips for eyes, and you've got ghost Halloween cupcakes ideal for a Halloween breakfast or a late night snack.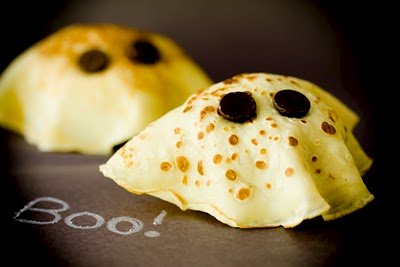 I love how the ghost in the front of this shot looks like he/she is about go haunting.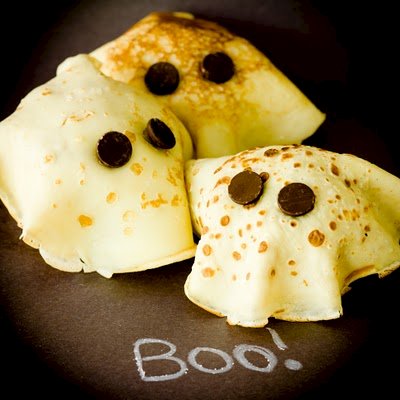 Here's the whole ghost family photo.
I used the crepe recipe from my pumpkin pie crepe post and I made the crepe in a 6 1/2″ skillet
.
Happy Haunting!
If you're on Google Plus, I'd love it if you give this post a plus. Thanks! :)