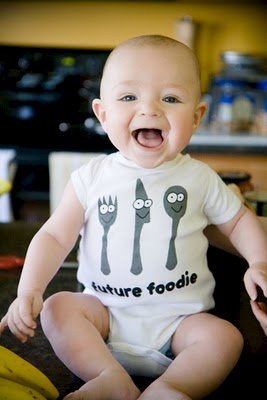 People often tell me how lucky Myles is growing up in a house with lots of cupcakes (no, he hasn't had one yet). What I hope he gains from my Cupcake Project is a spirit of experimentation with food (not pounds – we'll be teaching moderation). While I don't care if he's a doctor or a lawyer or good at baseball or basketball, I really hope that Jonathan and I are able to raise a foodie. I want him to care about what he puts in his body – to choose non-processed, fresh foods whenever possible – and to try new things. I'll know that there will be days when he comes home from a friend's house with a Happy Meal or eats candy whose ingredients I can't even pronounce; it's hard to avoid. But, in the end, I hope he learns to choose smoked Gouda on homemade whole grain bread over American cheese on Wonder Bread.
Myles is now seven months old and we are off to a good start with Baby-Led Weaning. But, we know that we've got a lot to learn.
Here's where you come in:
Tell me what you are doing or have done to raise a future foodie. Did it work or did it backfire? If you don't have kids, tell me about someone you know.
Your comment (with an email address) will enter you into a giveaway to win the adorable Future Foodie Onesie from the Spunky Stork (shown above on Myles) for a future foodie in your life. The onesie is made of 100% organic cotton and is super soft. It comes in two sizes, 0-6 months and 6-12 months (FYI – they run a bit big. Myles is now wearing 9 month clothes and the 6-12 month onesie is still quite huge on him).
For a second entry, share a tip, join in a conversation, or mention this giveaway on Twitter with the tag #futurefoodie.
Fine print: Limit 2 entries per person. Deadline is Friday, April 9th at 11:59 PM CDT.
To my international readers: Spunky Stork is willing to ship internationally. Yay!!