Fudge! Fudge! Fudge!
When I asked my Twitter friends if I should make a homemade fudge recipe the other night, everyone said, "Yes," and almost every one of them used exclamation points. For example, Twitter user Loverazor said, "fudge! fudge! fudge!" and Twitter user FNCrazy said, "FUDGE!!!!!" Yes, I counted the 6 exclamation points.
My Facebook friends got in on the act, too. There was only one person who dared to talk down to the mighty fudge. Bill from STLBites said, "I hate fudge. It's on the list." It should be noted that he didn't try mine.
Me and Fudge
When I think of fudge, I think of the fudge show at St. Louis Union Station.
Jonathan thinks of the fudge show, too. He thought he was going to come home to a nightmare of a mess in our kitchen. However, it turns out that making fudge is really easy! It took all of 10 minutes to prepare! You then need to have some patience and wait for 3 hours or so for it to harden before eating it up.
The Fudge Recipe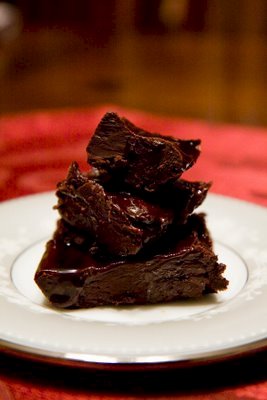 I got the fudge recipe from Joy of Baking. The main change that I made to the recipe was to add balsamic vinegar. I love the combination of balsamic and chocolate. I just recently had a fantastic chocolate balsamic truffle at the Vosges store in Chicago.
Homemade Fudge Recipe with Balsamic
I love the combo of balsamic with chocolate, so I had to try adding it to a basic fudge recipe.
Ingredients
14

oz

can sweetened condensed milk

1

lb

bittersweet or semisweet chocolate

coarsely chopped

2

T

unsalted butter

1/4

C

balsamic vinegar* plus 2 T for brushing on top of the fudge

I used saba, which is a very expensive traditional aged balsamic. However, the best balsamic that you care to spend your money on will do. I will tell you though that saba is amazing and would make a superb gift for any balsamic lover.
Instructions
Line the bottom and sides of an 8 x 8 x 2 inch pan (20 x 20 x 5 cm) with aluminum foil. Make sure you go up the sides. You can then easily lift the sides to take the fudge out of the pan when it's done.

Combine the condensed milk, chopped chocolate, and butter in a stainless steel bowl and place over a saucepan of simmering water.

Melt the chocolate mixture, stirring frequently. Make sure the mixture doesn't get too hot or the fudge may be grainy.

Stir until smooth (it will be very thick).

Remove from heat and stir in the balsamic.

Spread the fudge into the prepared pan, smoothing the top with an offset spatula.

Let stand at room temperature for a couple of hours.

Using a pastry brush, brush some balsamic on top of the fudge and let sit for another hour or so until the balsamic is a bit less liquidy and simply sticky.

Carefully remove the fudge from the pan by lifting the edges of the foil. With a long, sharp knife, cut the fudge into pieces.

Store in the refrigerator for several days, or freeze, well wrapped, for several months. Let thaw at room temperature, unwrapped, for a few hours before eating.
Notes
*Should you not want to add the balsamic, feel free to leave it off and replace with 2 t of vanilla extract.
Nutrition
Nutrition Facts
Homemade Fudge Recipe with Balsamic
Amount Per Serving
Calories 260
Calories from Fat 126
% Daily Value*
Fat 14g22%
Cholesterol 13mg4%
Sodium 35mg1%
Potassium 257mg7%
Carbohydrates 29g10%
Protein 3g6%
Vitamin A 125IU3%
Vitamin C 0.7mg1%
Calcium 89mg9%
Iron 1.9mg11%
* Percent Daily Values are based on a 2000 calorie diet.
What Cupcake is Coming Up?
Why, fudge brownie cupcakes with fudge frosting, of course!