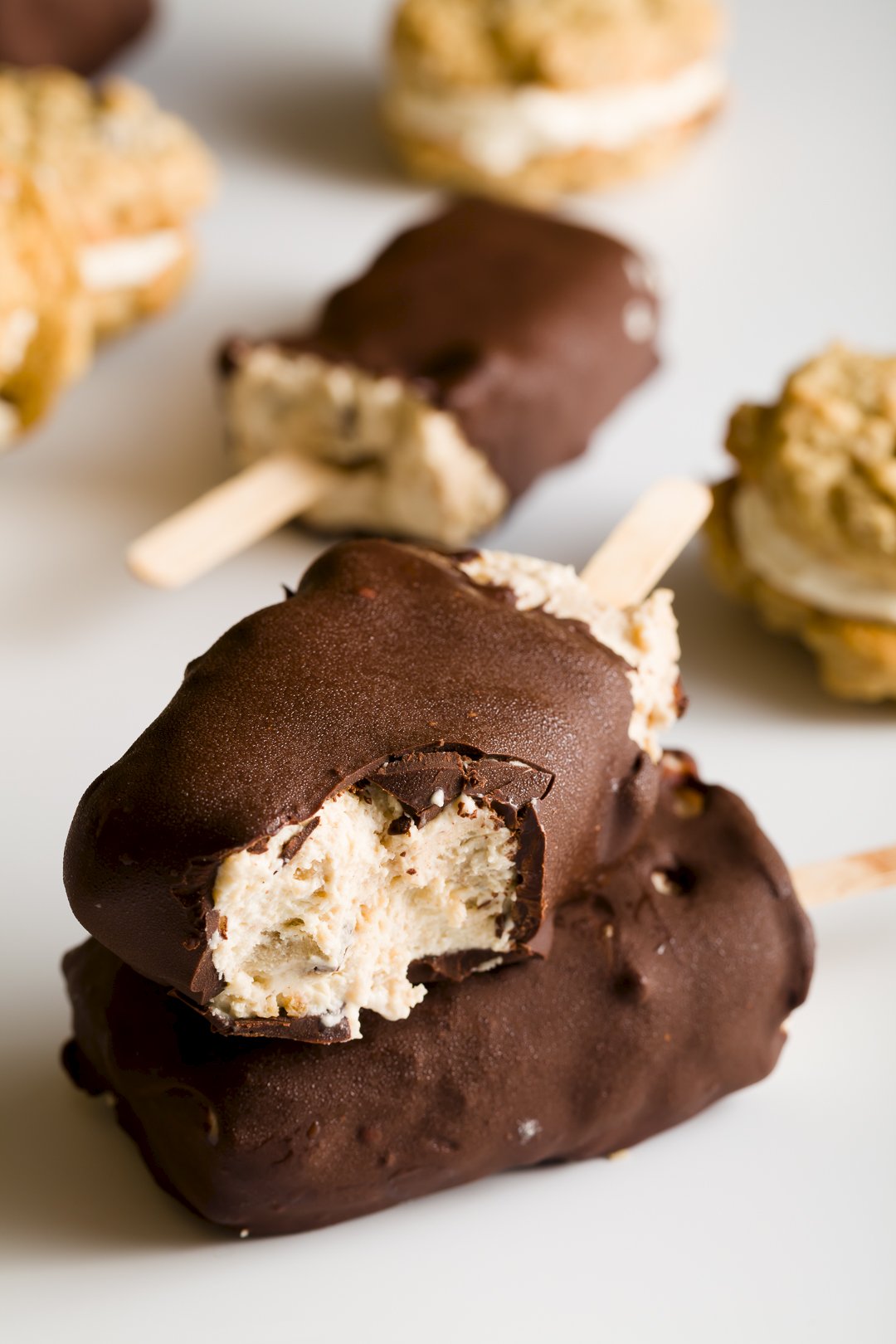 I met Julianne Bayer at a BlogHer Food conference several years ago. I didn't know many people there. She was attending with her mom and she reached out to me as a fellow baker. She was totally approachable and fun to be around. I knew she was talented, but I didn't know that she would write a book (selling over 4,000 copies in six minutes on QVC), making my conference connection a brush with fame!
The book that I'm referring to is No-Bake Treats! This is a book that should be in everyone's baking library for the summer! It includes chapters on no-bake cheesecakes, pies, layered desserts, tarts, cookies, and icebox cakes. Of course, it also includes ice cream, puddings, and parfaits! Every single recipe has a full-page photo and they are all gorgeous!
In selecting the first recipe to try from her book (which was a REALLY hard task, since they all sound fabulous), I must admit that I cheated a little. I really wanted to try to her oatmeal pie ice cream bars, but I didn't want to use store-bought oatmeal cream pies. So, I cheated and baked some oatmeal cream pies with chocolate chips and vanilla bean filling. Julianne, please don't be upset that I baked something in my review of your no-bake book! Readers, feel free to buy the oatmeal cream pies and skip the baking if you want.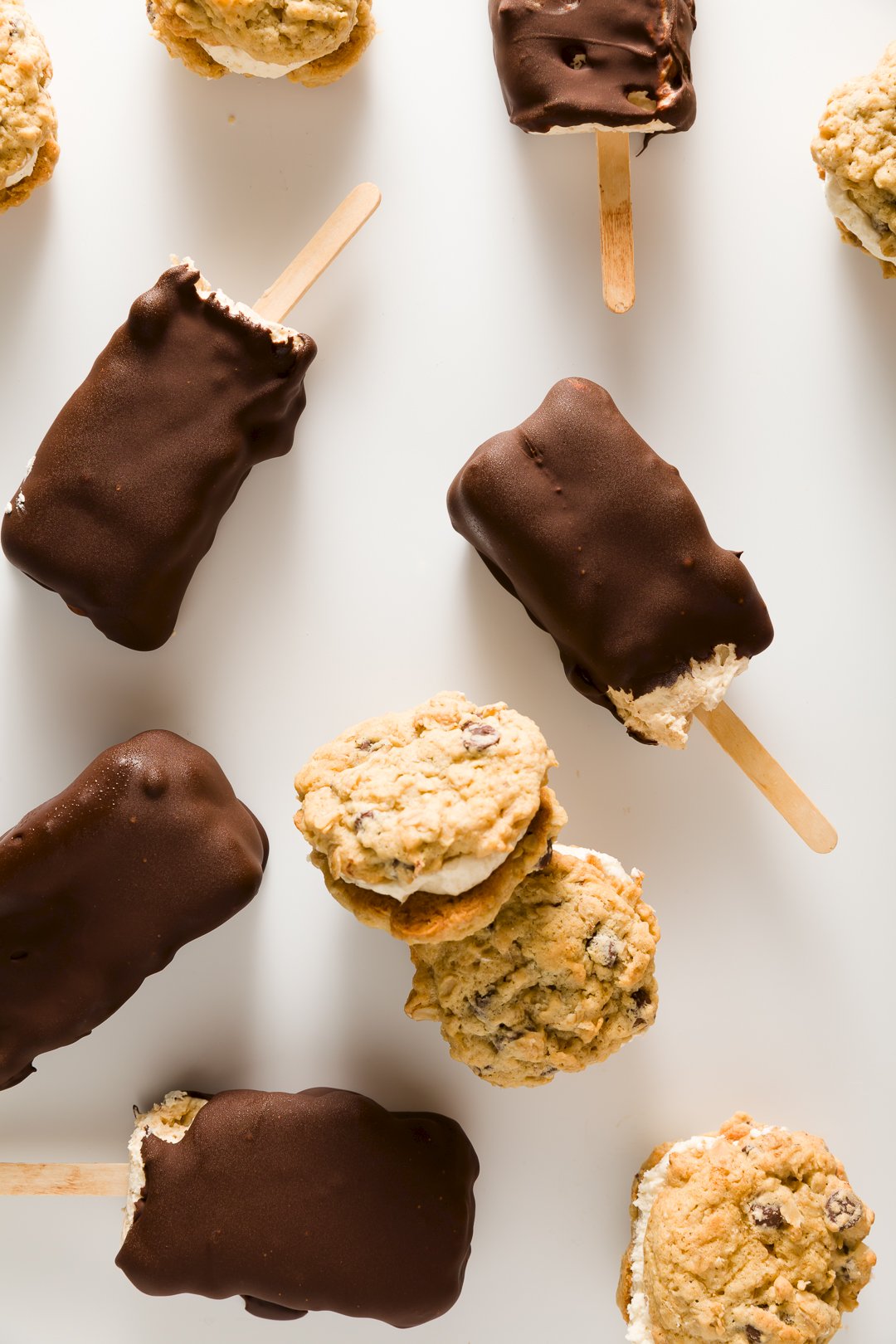 I also changed the name of her recipe in my post. Given the high ratio of cream cheese to heavy whipping cream in her ice cream bar recipe, I felt that it earned the prestigious title of frozen cheesecake. The texture is creamy and very dense.
The semantic change is in no way meant to undermine the greatness of this recipe. These popsicles with bits of oatmeal cream pie throughout are totally decadent showstoppers. They are so rich that they should probably be cut into smaller bars (as Julianne suggests doing for parties), but you'd just end up having two or three anyway!
Make these popsicles while we are still in the heat of the summer and then grab the book and try all of Julianne's other creations!
Frozen Oatmeal Cream Pie Cheesecake Popsicles
Make these popsicles while we are still in the heat of the summer and then grab the book and try all of Julianne's other creations!
Ingredients
Cheesecake Ingredients
1 1/2

cups

plus 2 tablespoons heavy whipping cream

cold

1

cup

powdered sugar

8

ounces

cream cheese

room temperature

1/2

cup

light brown sugar

1

teaspoon

cinnamon

1

teaspoon

vanilla extract

6

store-bought oatmeal cream pies or three homemade large oatmeal cream pies

chopped
Chocolate Coating Ingredients
24

ounces

dark chocolate chips

1/4

cup

vegetable oil
Instructions
Cheesecake Directions
Whip 1 1/2 cups of the heavy whipping cream in the bowl of an electric mixer until bubbly.

Add the powdered sugar a little bit at a time, whisking on high speed between each addition. Continue to beat on high speed until stiff peaks form.

Transfer to another bowl and store in the refrigerator until ready to use. Clean the bowl of your mixer to get ready for the next step.

Beat the cream cheese on medium-high speed in your mixer bowl for two to three minutes until it's light and fluffy.

Mix in the brown sugar and cinnamon.

Mix in the remaining two tablespoons of heavy whipping cream and the vanilla.

Mix in the chopped oatmeal cream pies and let action of the mixer break them up even smaller.

Gently fold in the chilled whipped cream until it is well combined.

Line a 9" square baking dish with foil, covering the bottom and sides of the pan.

Evenly distribute the mixture in the pan and freeze for 2 to 3 hours until the mixture is slightly frozen, but soft enough to cut through.

Remove the frozen cheesecake from the pan by lifting the edges of the foil.

Cut into 8 equally-sized bars.

Place a popsicle stick about 2/3 of the way into each bar and transfer to a parchment-lined cookie sheet.

Return the bars to the freezer for another 2 to 3 hours until they are completely firm.
Chocolate Coating Instructions
Combine the chips and oil in a microwave-safe bowl. Microwave in 30 second increments until the chocolate starts to melt. Then, whisk until it is completely smooth.

Pour the melted chocolate into something tall enough to dip a whole popsicle into (I like to use a large glass measuring cup).

Dip the popsicles one at a time, immediately returning them to the parchment-lined cookie sheet in the freezer.

Buy

No-Bake Treats

so you can make all of the rest of Julianne's recipes!
Notes
I doubled the chocolate coating amount that Julianne uses in her recipe. I must have coated my pops extra thick because the amount she suggested didn't come close to covering all of my pops. If you prefer a thin coating, cut my numbers in half.
Julianne says that these can be stored for several days. Ours have been in the freezer for a about two weeks and we are still enjoying them.
This recipe is slightly adapted from No Bake Treats: Incredible Unbaked Cheesecakes, Icebox Cakes, Pies and More by Julianne Bayer. Copyright © 2016. Reprinted with permission from Page Street Publishing Co. All rights reserved.
Nutrition
Nutrition Facts
Frozen Oatmeal Cream Pie Cheesecake Popsicles
Amount Per Serving
Calories 923
Calories from Fat 549
% Daily Value*
Fat 61g94%
Cholesterol 93mg31%
Sodium 244mg10%
Potassium 648mg19%
Carbohydrates 85g28%
Protein 10g20%
Vitamin A 1045IU21%
Vitamin C 0.7mg1%
Calcium 330mg33%
Iron 2.1mg12%
* Percent Daily Values are based on a 2000 calorie diet.