Springtime around here means that our chickens have finally started laying eggs again. (Did you know that unless you put a light in their coop to simulate the sun, chickens don't produce eggs in the winter?) It also means bright springtime baking flavors! My fresh ricotta cupcakes filled with lemon curd perfectly fit the bill. They taste like sunshine!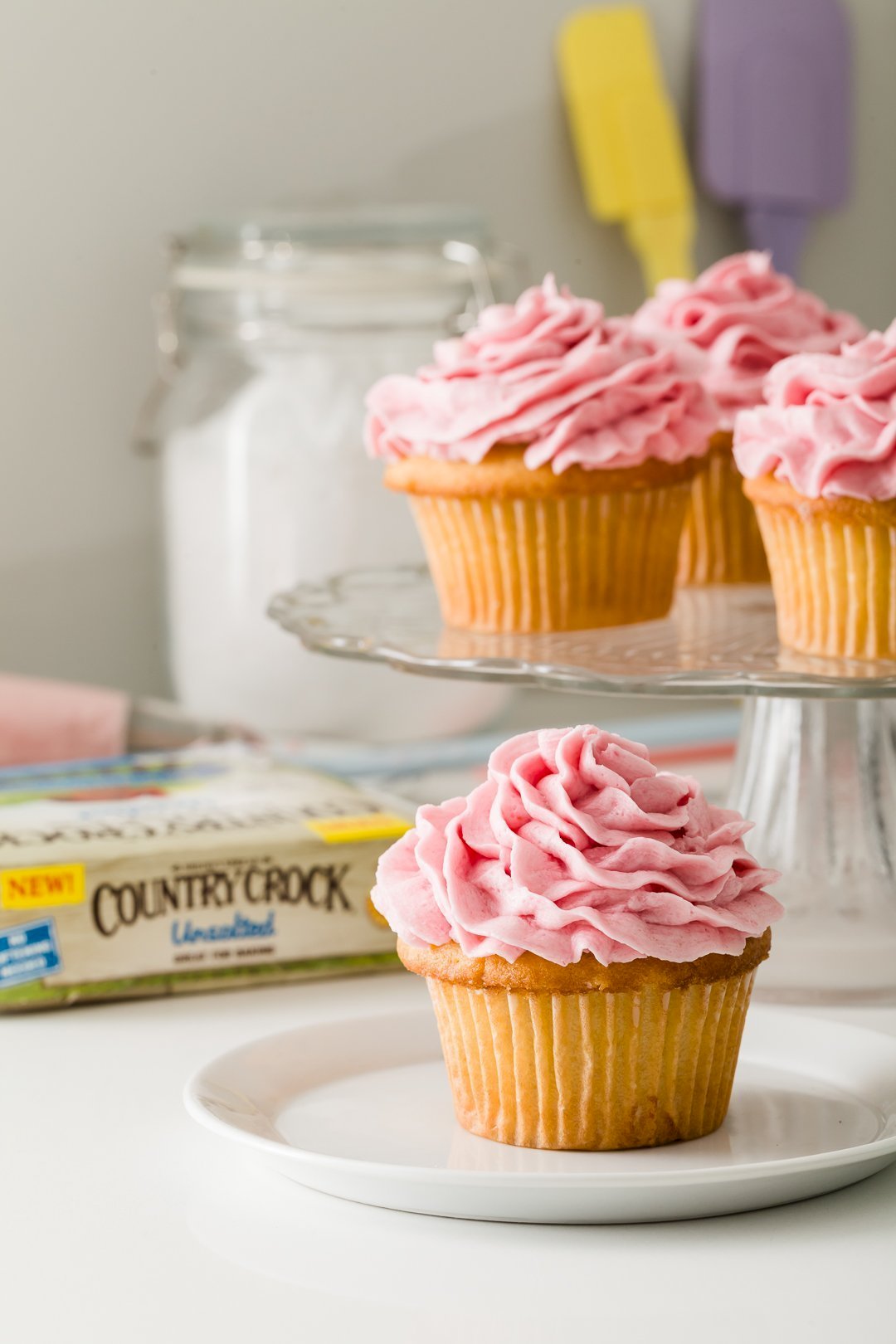 This post was sponsored by Country Crock®. However, all opinions are my own.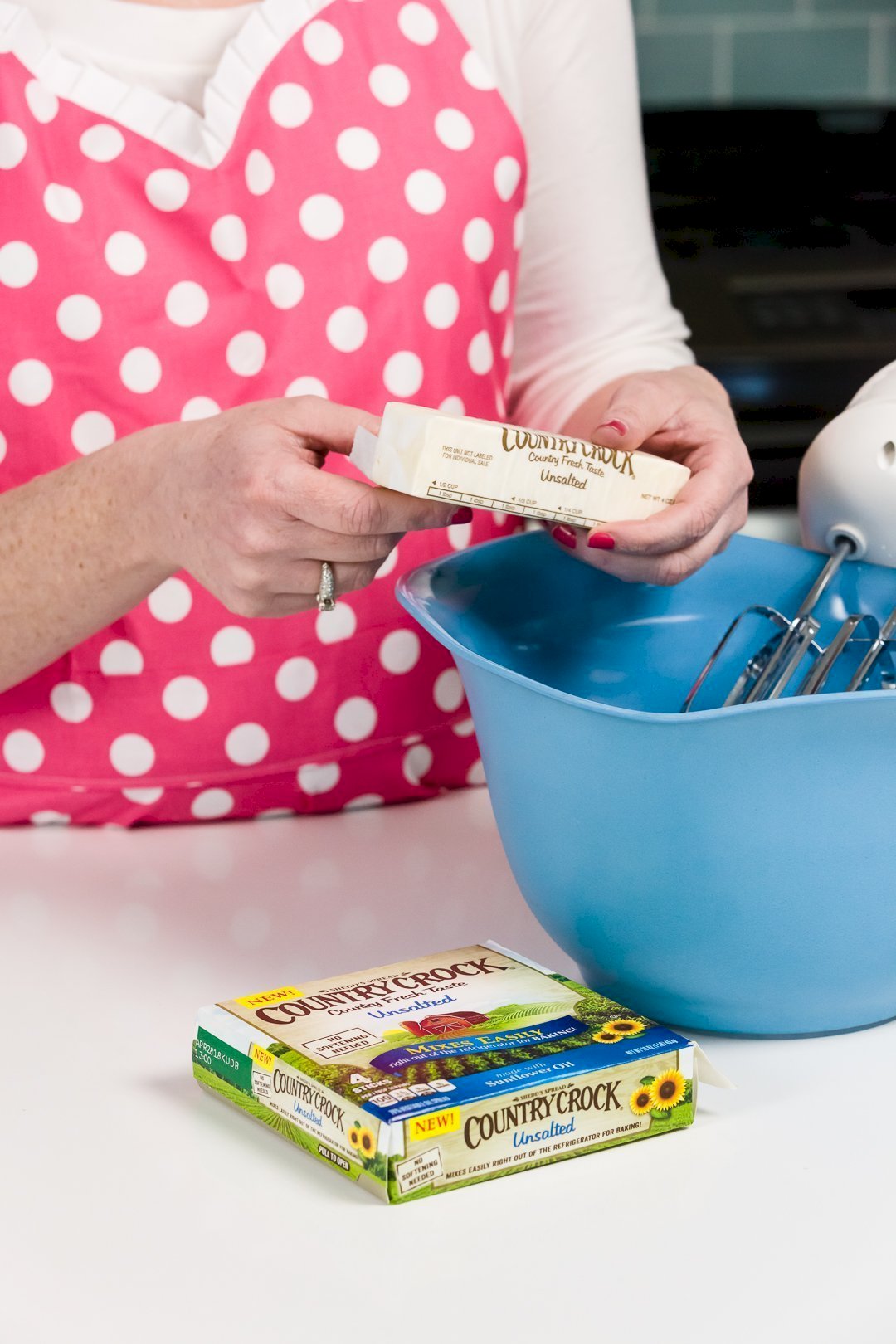 I'm always curious to try out new products on the market so I was happy for the opportunity to work with Country Crock® on this recipe and to tell you about the new Country Crock® Buttery Sticks. Buttery Sticks are made with sunflower oil and, like their name implies, they come in stick format (salted and unsalted). They can be used just like butter – a one-for-one substitution in recipes.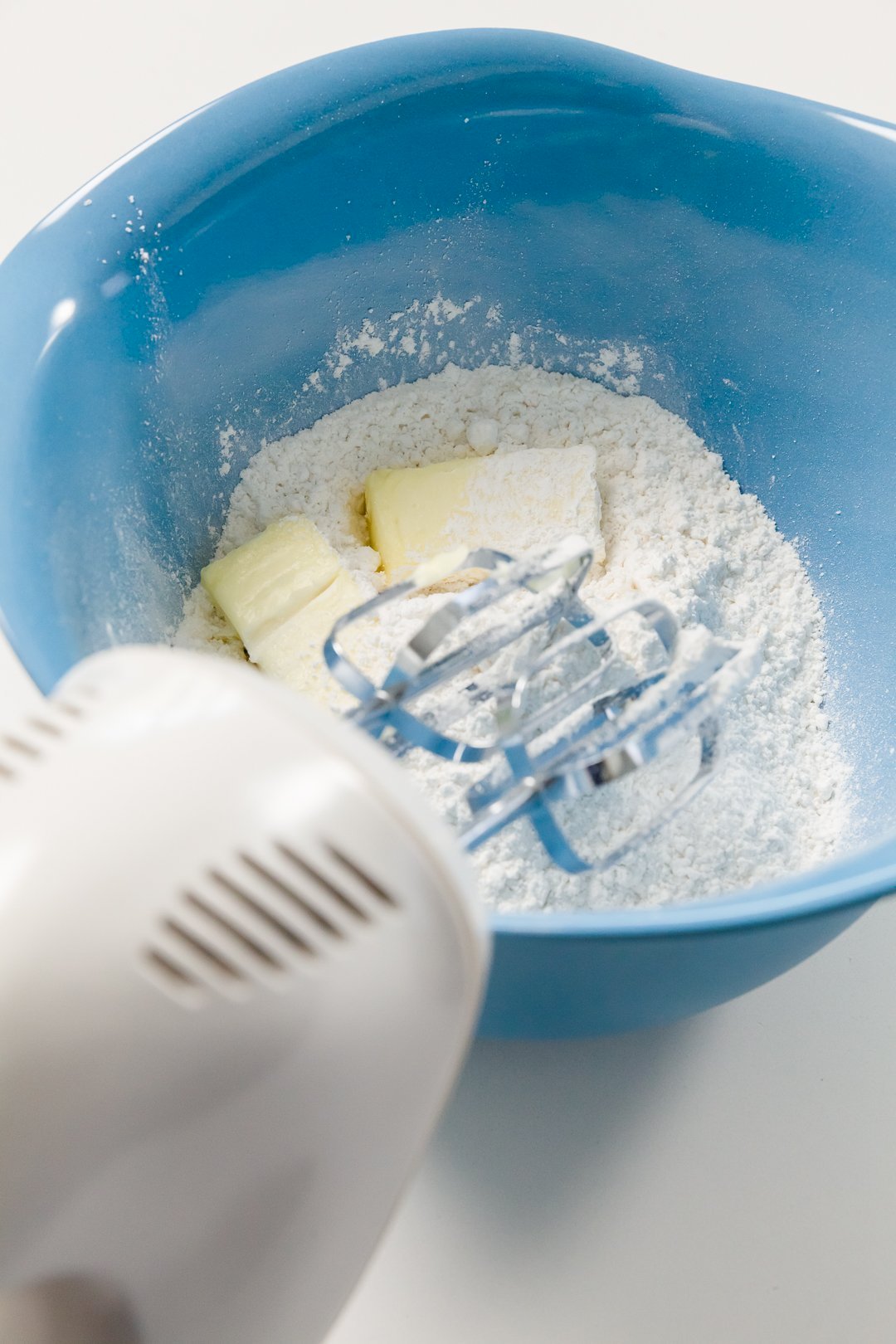 Unlike butter, Buttery Sticks can be added to recipes directly from the refrigerator. You don't have to let them soften first and you don't even have to break them into pieces. You just plop the cold Buttery Sticks right into the mixing bowl, start mixing, and you'll get a nice soft and creamy texture! Easy!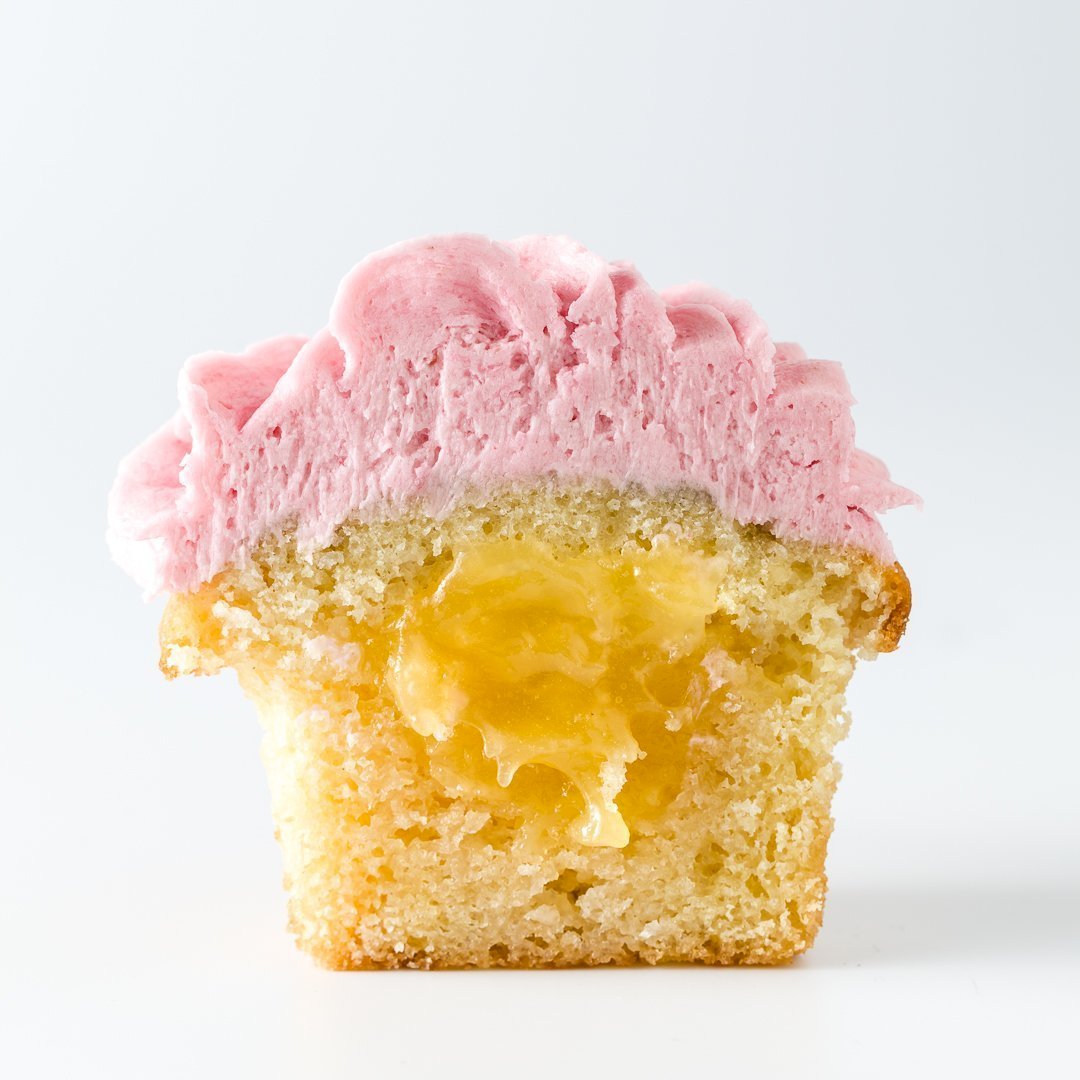 When I used the Buttery Sticks in my ricotta cupcakes, I was totally impressed by how well the cupcakes baked up and the nice light crumb they produced. The cupcakes taste fabulous – especially when you fill them with lemon curd! Plus, they have 45% less saturated fat1 than if I had used butter.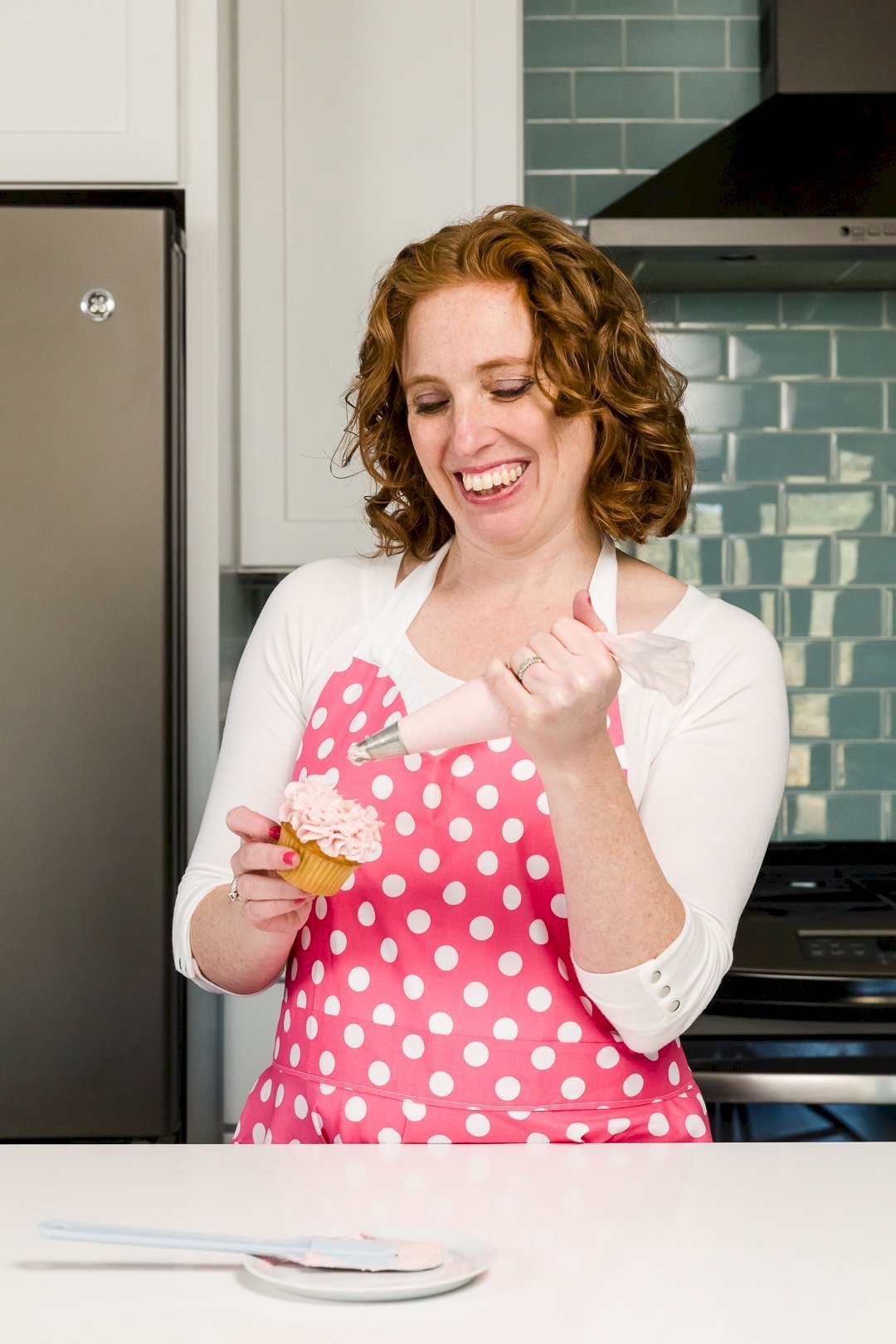 I topped my cupcakes with raspberry buttercream frosting. Buttercream frosting, to me, was the ultimate test of the Buttery Sticks, both in terms of texture and taste. The texture was perfect – just like using butter. The taste was totally buttery, but slightly different from traditional butter. In this raspberry frosting, using Buttery Sticks worked nicely with the addition of lemon extract. After testing a few recipes, I prefer the sticks better in frostings that have a more intense flavor profile like caramel and chocolate.
Fresh Ricotta and Lemon Curd Cupcakes with Raspberry Buttercream Recipe
If you've never made a filled cupcake before, cutting the holes to fill the cupcakes might be a bit unnerving. Here's a short video to show how to do it:
Fresh Ricotta and Lemon Curd Cupcakes with Raspberry Buttercream
These cupcakes made with fresh ricotta and filled with lemon curd are perfect for spring!
Ingredients
Cupcake Ingredients
1

cup

sugar

1 3/4

cups

cake flour

not self-rising

1/2

teaspoon

baking soda

1 1/2

teaspoons

baking powder

1/2

teaspoon

salt

1/2

cup

County Crock® Unsalted Buttery Sticks

1 stick

2

large

large eggs

1/2

cup

fresh ricotta cheese

1

tablespoon

pure vanilla extract

1/4

cup

whole milk

3/4

cup

lemon curd
Frosting Ingredients
1

cup

Country Crock® Unsalted Buttery Sticks

2 sticks

3

cups

powdered sugar

6

ounces

fresh raspberries

1/4

teaspoon

lemon extract
Instructions
Cupcake Instructions
Preheat oven to 350 F.

In a medium-sized mixing bowl or bowl of a stand mixer, mix together sugar, cake flour, baking soda, baking powder, and salt.

Add Buttery Sticks and mix on medium-low speed for three minutes.

In a small mixing bowl, whisk together eggs, ricotta, and vanilla extract until smooth.

Add the egg mixture to the flour mixture and beat on medium speed until just combined.

Slowly add milk and mix on low speed until just combined.

Fill cupcake liners 3/4 full.

Bake for 18 minutes and then test to see if they are done. They are done when a toothpick comes out without wet batter stuck to it. If they are not done, test again every two minutes.

When the cupcakes are done, remove them immediately from cupcake tins and leave them on a cooling rack (or just on your counter if you don't own a cooling rack) to cool.

Once cooled, cut a small circle around the middle of the top of each cupcake, going down 3/4 of the way into the cupcake creating small cylinders. Remove the cylinders and set aside.

Fill each cupcake with 1 tablespoon of lemon curd.

Remove the bottom half of each of the removed cake cylinders. Place the top halves back on top of the filled holes. Don't worry if they don't perfectly fit as you will be covering them with frosting.
Frosting Instructions
In a medium-sized mixing bowl, beat Buttery Sticks until light and fluffy.

Slowly mix in powdered sugar until fully combined.

Puree raspberries in a food processor or blender. Press through a fine sieve to remove seeds. Measure out 1/4 cup of raspberry puree and mix into the frosting.

Mix in lemon extract.

Spread or pipe on cooled cupcakes.
Notes
Double the frosting recipe if you prefer large frosting swirls.
Nutrition
Nutrition Facts
Fresh Ricotta and Lemon Curd Cupcakes with Raspberry Buttercream
Amount Per Serving
Calories 541
Calories from Fat 243
% Daily Value*
Fat 27g42%
Cholesterol 97mg32%
Sodium 212mg9%
Potassium 123mg4%
Carbohydrates 71g24%
Protein 5g10%
Vitamin A 815IU16%
Vitamin C 3.7mg4%
Calcium 66mg7%
Iron 0.5mg3%
* Percent Daily Values are based on a 2000 calorie diet.
I hope you enjoy these cupcakes as much as I did!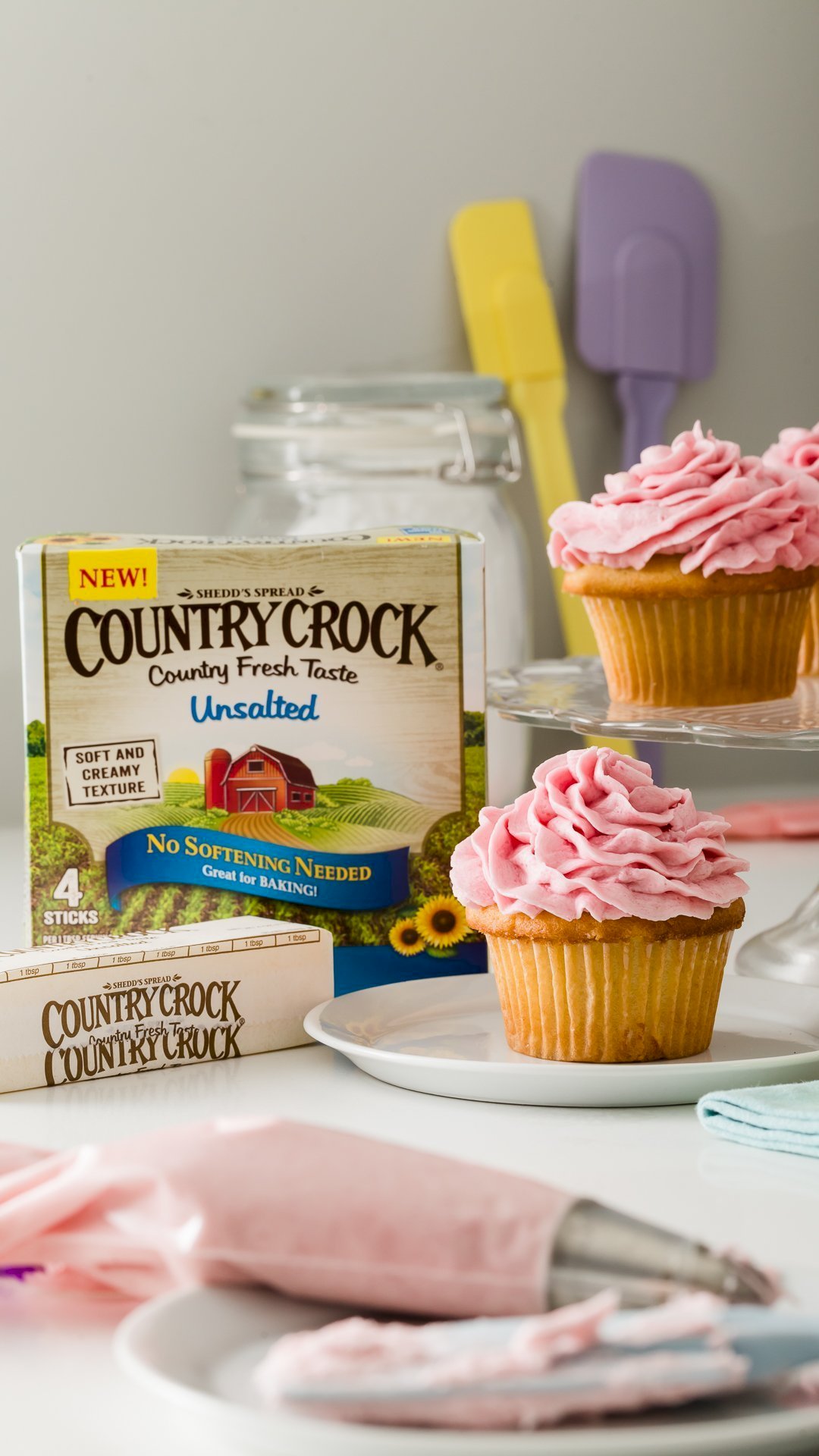 ¹ 1 serving of Country Crock Buttery Sticks contains 3.5g saturated fat. One serving (1 Tbsp.) of butter contains 7g saturated fat.