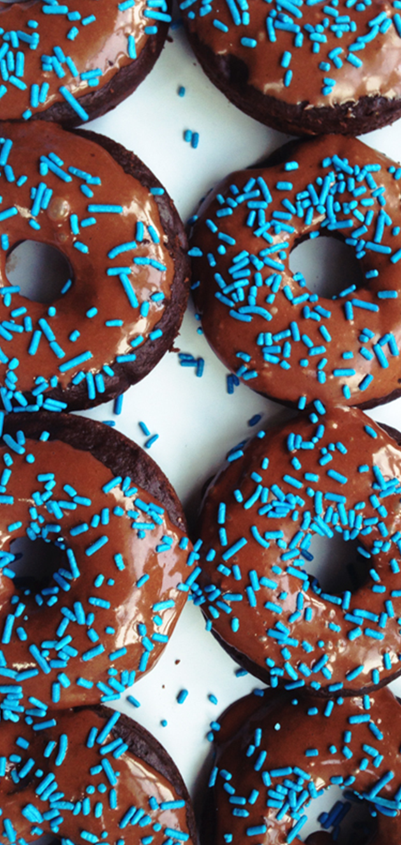 People keep saying that doughnuts are the new cupcakes.  Nothing is the new cupcake – that's all I have to say about that.  But, there is no denying that donuts are trendy right now.  On a Saturday night, the line at a local doughnut shop, Strange Donuts, wraps around the block.  People can't seem to get enough of the fried goodness.
Unlike cupcakes, very few people make donuts at home.  With the exception of my mom's sufganiyot (Chanukah donuts), I don't think I've ever been served homemade donuts.  This, my friends, is a problem that needs fixin'!
Craftsy, as always, is here to help.  They have a FREE 33 page eGuide entitled "Delicious Doughnut Recipes" to get you started down the doughnut-making road.  The guide is written by four talented bloggers who you may very well already know: Ashley McLaughlin of Edible Perspective, Ashley Rodriguez of Not Without Salt, Lyndsay Sung of Coco Cake Land, and Jessie Oleson Moore of Cakespy.  I reviewed Jessie's book back in 2001.  She has the cutest drawings of desserts ever!  Here's an illustration of hers from the doughnut eGuide:
The eGuide covers old fashioned homemade doughnuts, how to fill doughnuts, chocolate doughnuts, and decorating and glazing doughnuts.  Plus, there's a bonus recipe for homemade sprinkles!
Go forth, learn, and make doughnuts!
Also, leave a comment here letting me know if you've ever made or been served homemade doughnuts at a party.  I'm curious!
Disclaimer: This post was sponsored by Craftsy.