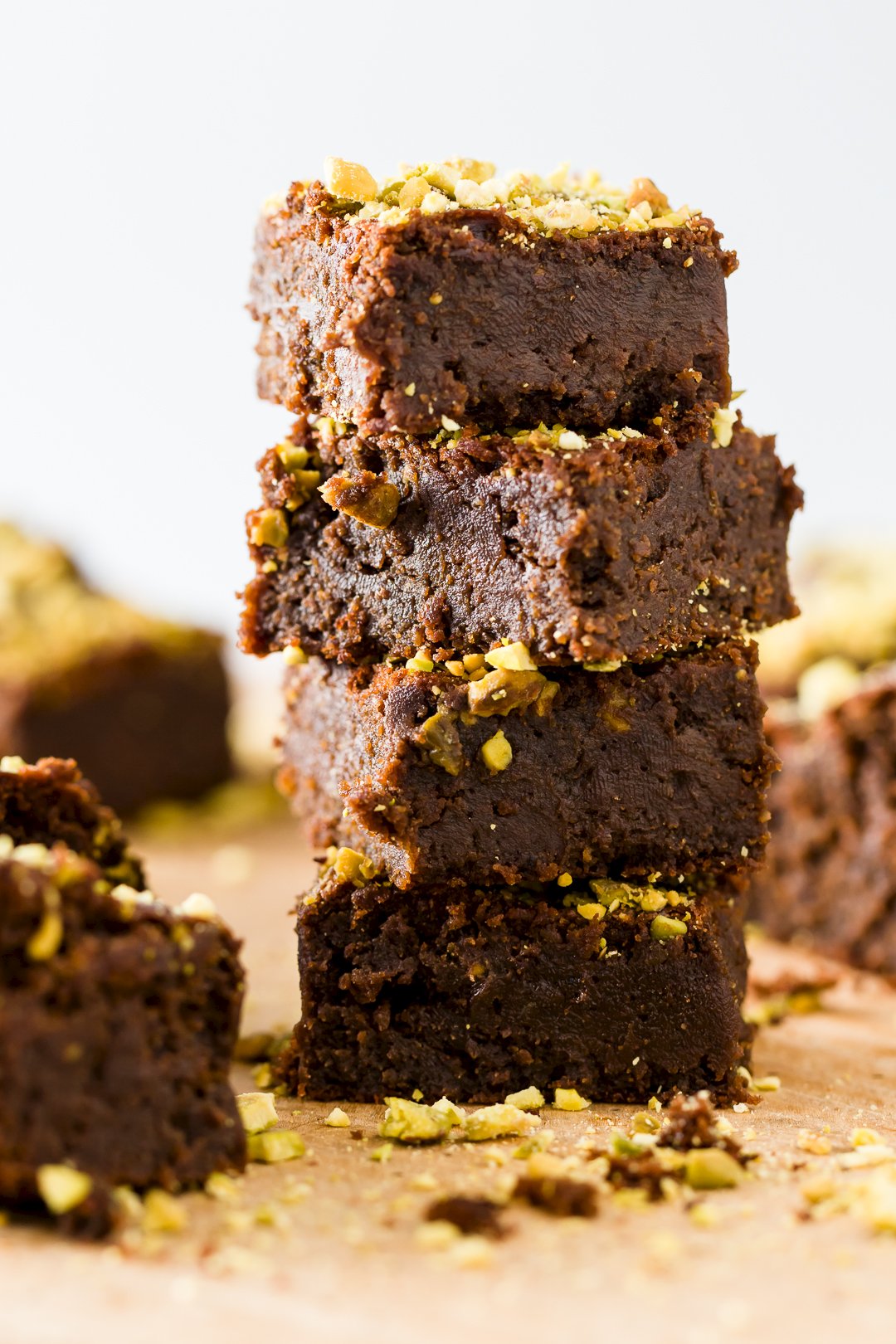 I met Virginie Wiggins at the neighborhood playground. For a while, I knew her only as Tristan's mom. But, soon she became a friend in her own right. She told me that she dabbles in food blogging and that she loves developing healthier, gluten-free, and paleo dessert recipes. While trying to overstep my new mom friend boundaries, I began to nudge her about writing a guest post for me. After some subtle and not so subtle prodding, she agreed to share her flourless pistachio brownies.
These brownies are fudgy, super moist, and have a great surprise flavor from the pistachios both in the brownies and scattered on top. But, let's let Virginie tell you about them.
---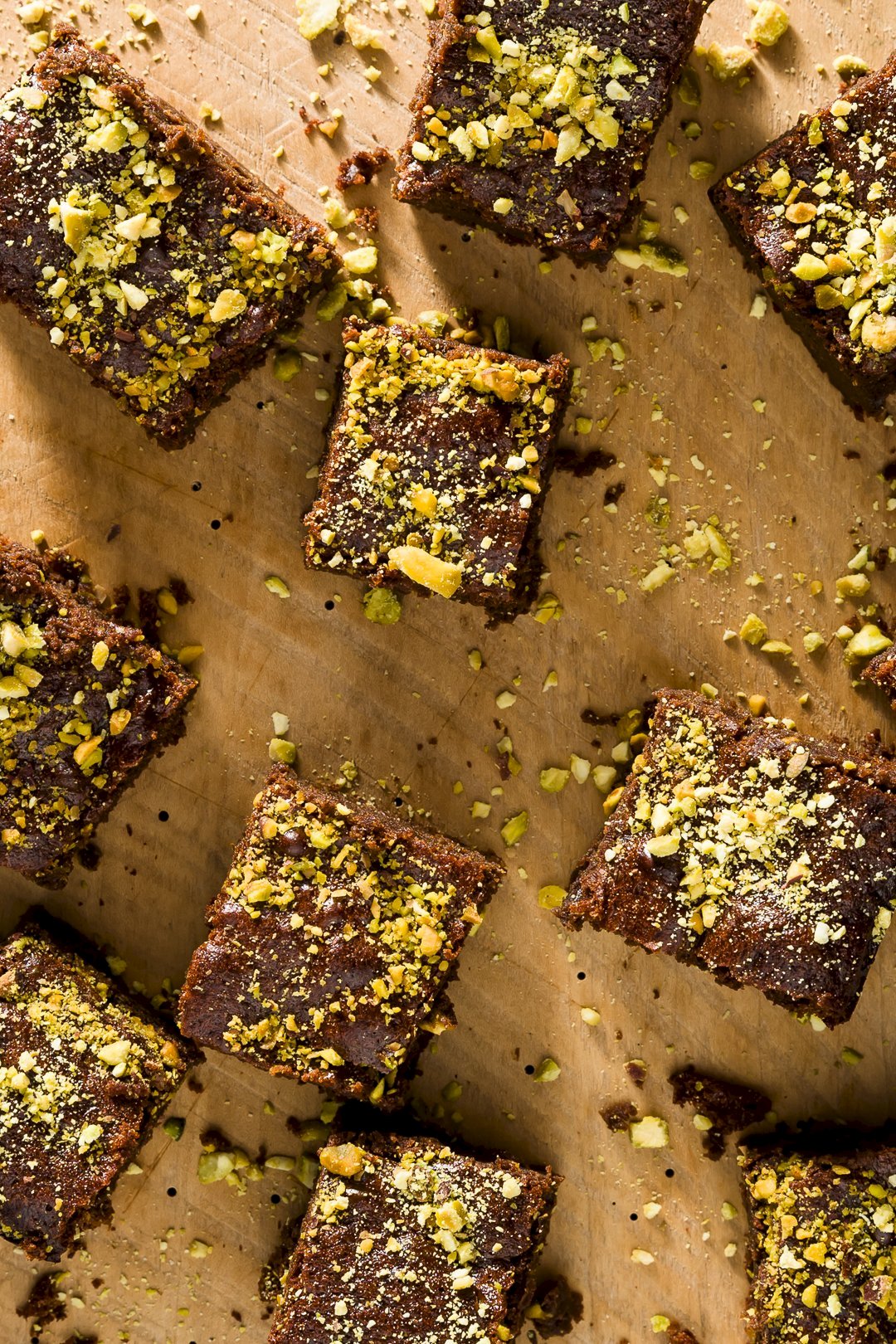 My first pet was named "Pistache". You guessed it, I am French, and I was strongly influenced by my love of everything pistachio at the bakery near my house. Pistachios were essential on the table as an appetizer or at any family gathering. It only made sense to name my kitten after this fun little nugget that meant party and warmth.
But pistachios are not just consumed roasted with a glass of "apéritif"! We French people also include them in "pâtés" (meatloaves), sauces, stuffing, and of course in cakes, tarts, custard and ice cream. We are nuts about pistachios.
Pistachios were introduced in France in the 17th century and, hailing from the Middle East, they were called "Persian almonds". Today, Iran is still the primary pistachio producer in the world.
The US, however, is encroaching on this title, representing about a third of the world's pistachio production. It appears that California's climate is particularly suited to the growth of pistachio trees. While the bulk of US production is exported, her consumption of pistachios rose through the 20th century. Americans do like their pistachio nuts too!
So, why not include them in one of the great American culinary staples, brownies?!
As you will discover, the pistachio flavor is particularly distinct when the brownie is eaten on the same day (i.e. straight out of the oven). This little nut softens and balances the deep, thirst-inducing chocolate taste of a brownie. This is more of a fudgy brownie. Yet, you won't die of thirst after the first bite.
If you need an additional argument to eat more pistachios, consider this: a 2014 study found that eating up to 20% of daily calories from pistachios does not contribute to weight gain or body fat changes, and may even potentially improve blood lipids and blood pressure. What is not to like?
Flourless Pistachio Brownies
Fudgy pistachio brownies with pistachios in the batter and on top!
Ingredients
1/2

cup

unsalted butter

1/2

cup

chocolate chips

1/2

cup

honey

1

teaspoon

vanilla extract

1/2

teaspoon

salt

2

cups

shelled pistachios

divided

4

large

large eggs

room temperature

1

teaspoon

baking powder
Instructions
Preheat your oven to 325 F.

In a small saucepan on low heat, melt the butter and chocolate chips.

Remove from the heat and stir in honey, vanilla and salt.

While the chocolate mixture cools, blend one cup of the pistachios in a powerful blender (Blendtec or Vitamix) until you have pistachio butter. Try to stop blending just when it turns into a paste and before too much oil is released.

If you do not have a powerful blender , you can use a food processor and process until you get a fine powder. The resulting brownie will not be fudgy, but more cakey, with pistachio morsels. Fret not, it will still be delicious!

Mix the eggs and baking powder into the cooled melted chocolate, then add in the pistachio butter.

Transfer this mixture to a buttered 8" square baking dish.

Bake for 30 minutes or until a toothpick inserted into the center of the brownies comes out clean.

Chop the remaining one cup of pistachios and sprinkle over the top of the brownies.

Cool to room temperature before cutting and serving.
Nutrition
Nutrition Facts
Flourless Pistachio Brownies
Amount Per Serving
Calories 287
Calories from Fat 180
% Daily Value*
Fat 20g31%
Cholesterol 76mg25%
Sodium 126mg5%
Potassium 276mg8%
Carbohydrates 23g8%
Protein 6g12%
Vitamin A 385IU8%
Vitamin C 0.7mg1%
Calcium 60mg6%
Iron 1.3mg7%
* Percent Daily Values are based on a 2000 calorie diet.
---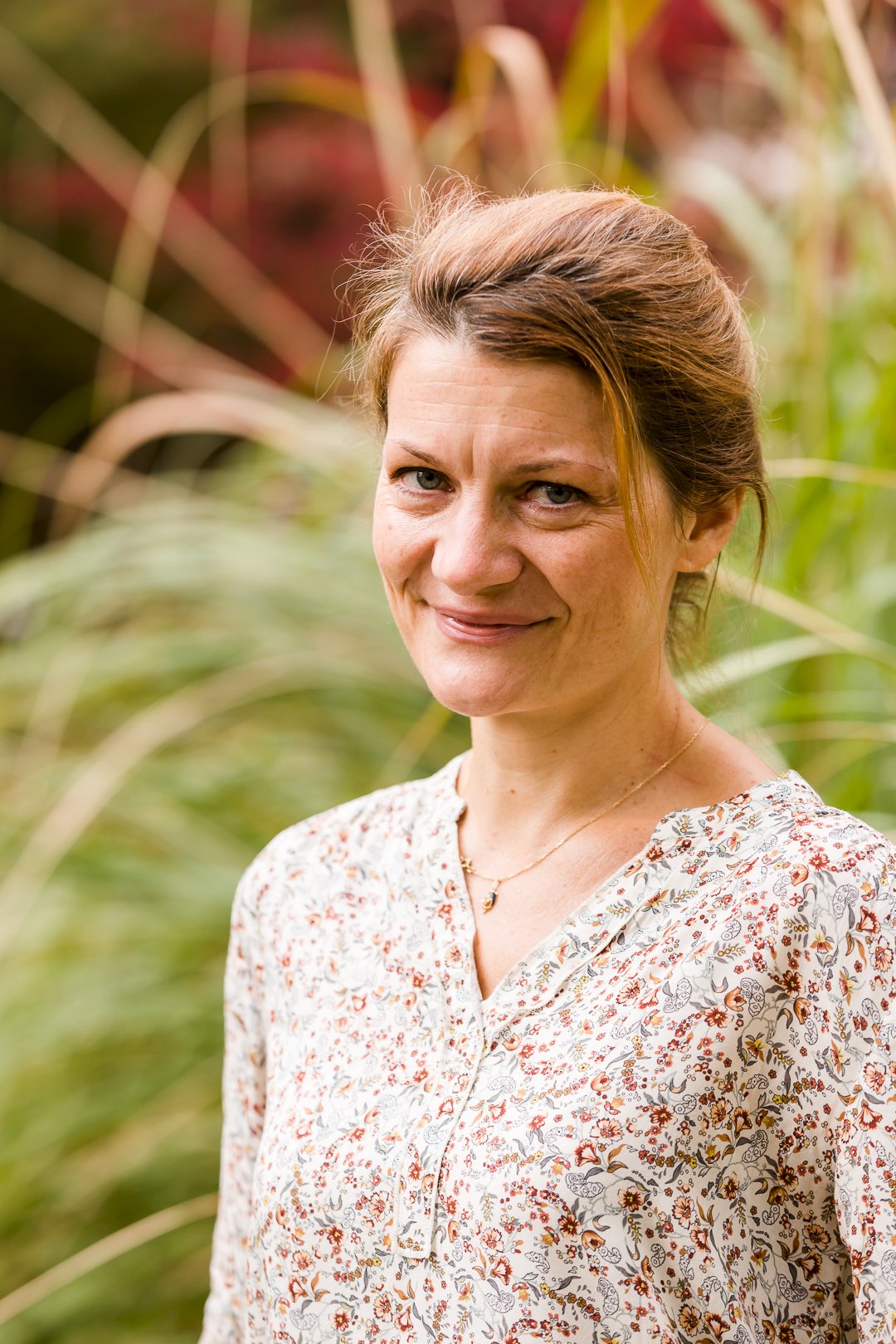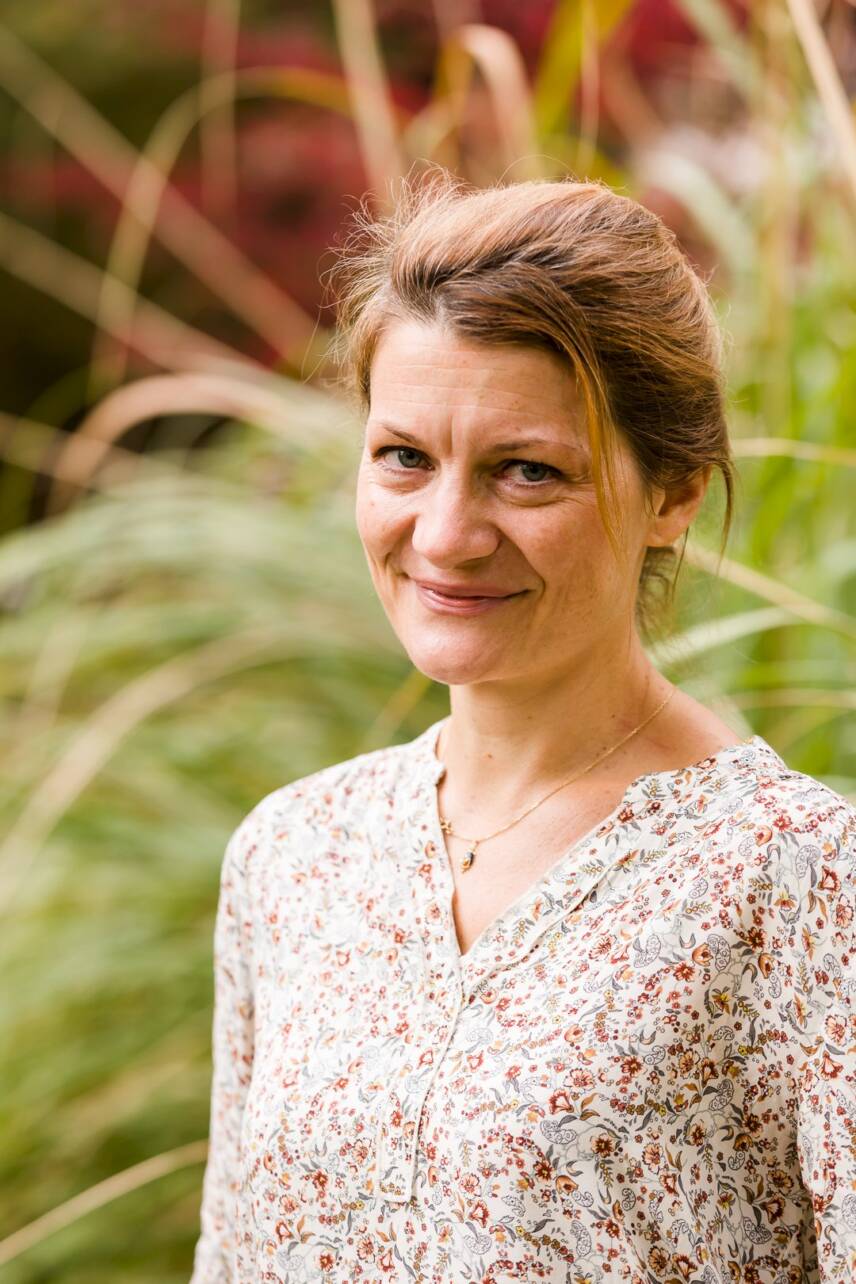 Virginie Wiggins is a St. Louis mother of two boys, French teacher, baker, and blogger. She sticks to her French roots by making classic recipes "paleo", and occasionally revisits American classics by giving them a French flair.