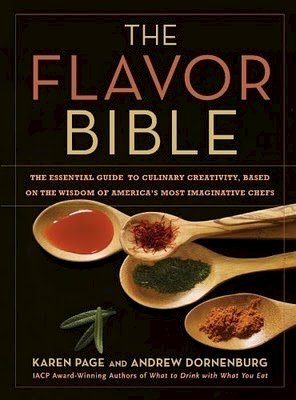 Update: This contest is now closed.  I'll be announcing the winners at the end of the month.
All bakers are supposed to have shelves and shelves of yellow, dog-eared cookbooks.  Well, I don't.  When seeking out new recipes or recipe inspiration, I seldom turn to printed material; rather, I typically look to my fellow food bloggers. I browse sites like Foodgawker and Tastespotting and use Food Blog Search.  I also rely heavily on Google and shared recipe sites like All Recipes.
My online searches, however, have never led me to anything even remotely like The Flavor Bible.  The Flavor Bible is not a traditional recipe-laden cookbook.  It is a guide to flavor combination that makes coming up with your own recipes so much easier! Since receiving a free copy of it, I've used it several times a week!   Remember my pistachio cupcakes with rosemary?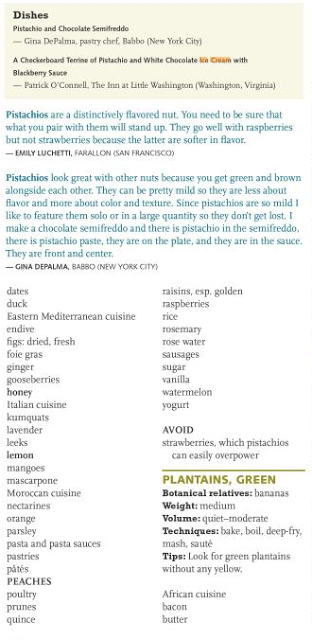 Check out this selection from page 268 of The Flavor Bible.  All of the items on the first list are things that go with pistachios.  I never would have thought to use rosemary in my pistachio cupcakes without this list!  I also love the "Avoid" section and the quotes from top chefs.
The Flavor Bible is organized alphabetically by ingredient. Wondering what to make with those peaches that are going bad on your counter?  Simply turn to the peach page and get inspired.  The Flavor Bible is so handy that I wish I had a Kindle
just so that I could easily take the e-book version with me to the market.
With all due respect to every published cupcake book
(and there are a lot), The Flavor Bible (without a single cupcake recipe) is my favorite cupcake book.  It encourages creativity in the kitchen – and to me, that's what makes baking fun.
Here's How You Can Win a Copy
I'm giving away two copies of The Flavor Bible.  Here's how you can win:
Leave a comment and tell me about a flavor combination that you love. Be sure to include your email address so I can contact you if you win.
I will randomly select one winner from everyone who comments.
The second winner will not be random.  It will be the person whose flavor combination I most want to turn into a cupcake.  So, be sure to sell me on why I should pick your idea.  As most of you know, I am not scared off by strange combinations.
Details:
All comments must be submitted by Tuesday, July 20 11:59PM CDT.
I will announce both winners and reveal the cupcake that I made with the second winner's suggestion by the end of the month.
Due to potential bias, family and friends (if your number is in my cellphone or if I've sent you personal emails, that's you) are not eligible for the non-random prize.
The books can only be shipped to a U.S. address.
Good luck!