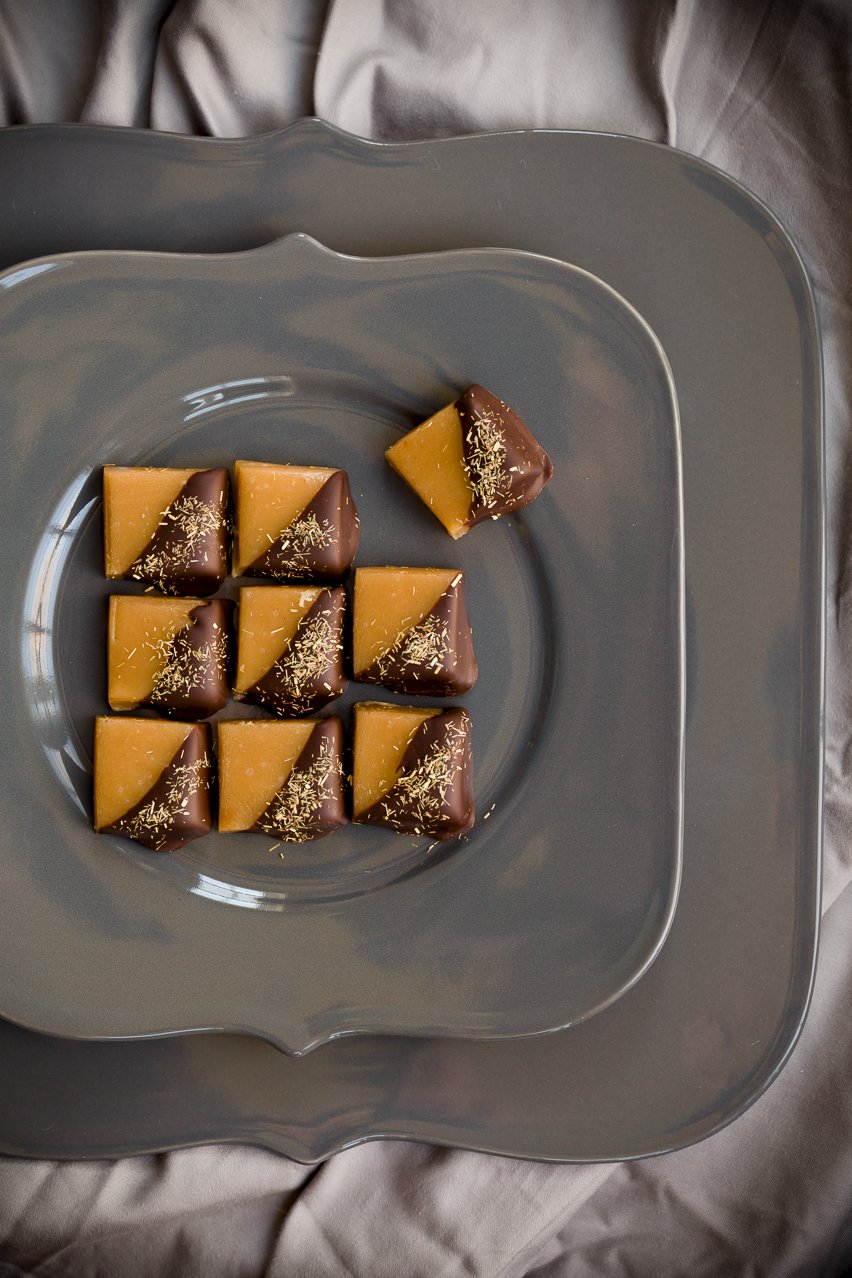 Portland, Oregon is known for its foodie culture. When Jonathan and I were there this summer for the International Food Blogger Conference, we had our pick of fabulous restaurants to choose from. So, guess what we had for lunch? Ice cream! The tasting menu at Salt & Straw was irresistible! Just look at their menu and you'll see what I mean. My favorite of all of the flavors that I tried was a collaboration between Salt & Straw and Boke Bowl – a fish sauce caramel ice cream with lemongrass and kaffir lime.

Fish sauce caramel is a flavor combination that I had never envisioned (although I wasn't too far off with my miso caramel). The salt and umami of the fish sauce creates an elevated version of salted caramel that blew my mind – big time. It is now March and I'm still thinking about that ice cream.
As part of my chocolatier for a day at Kakao Chocolate, I was encouraged to bring some ingredients and create my own product. Guess what I brought! You got it: fish sauce, kaffir lime leaves, and lemongrass.
Together with Jenny from Kakao, we developed these fish sauce kaffir lime caramels half dipped in dark chocolate and sprinkled with lemongrass. They taste like basic/always-enjoyable caramels at first, but as they sit in your mouth, the Thai flavor of the fish sauce kicks in. The kaffir lime and lemongrass flavors come last to complete the Thai ensemble. The caramels weren't quite as good as the ice cream (I'll be striving for that perfection for years), but they were pretty special and would be a fitting conclusion to a modern Thai dinner.
About the Key Ingredients
If you haven't done much Thai cooking, you probably have never purchased fish sauce, lemongrass, or kaffir lime leaves. You may be able to find fish sauce and lemongrass at your regular grocery store, but you'll likely have to head to an Asian market to find kaffir lime leaves. Once you have them, don't let the extra ingredients go to waste – try your hand at Thai cooking.
Although I don't usually give recipes in grams, that's how it's done at Kakao (and by pretty much all professionals), so that's how I've written this post. If you don't already own a kitchen scale, I highly recommend you buy one. They're inexpensive, and once you own a kitchen scale, you'll never know how you lived without one. You'll also need a candy thermometer. I've been telling you for ages how much I love my Maverick thermometer (it beeps when it reaches the temperature you set so you don't need to hover over it watching the temperature rise). I was excited to see that they use the same thermometer at Kakao!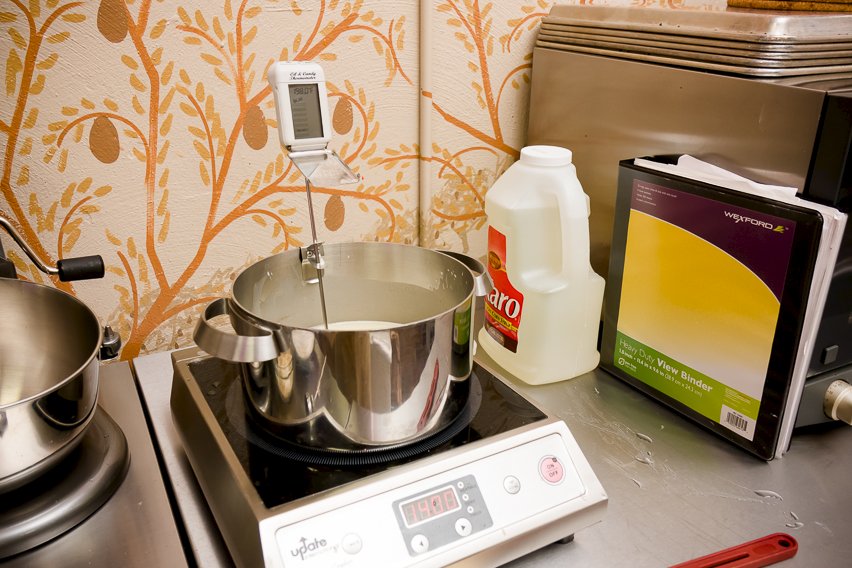 Fish Sauce Caramels with Kaffir Lime and Lemongrass
The salt and umami of the fish sauce creates an elevated version of salted caramel that blew my mind - big time. I had to turn that flavor into these caramels.
Ingredients
240

grams

coconut milk

240

grams

heavy whipping cream

6

kaffir lime leaves

340

grams

sugar

285

grams

light corn syrup

10

grams

fish sauce

I love the flavor so much that I wish I'd added more. If I made these again, I might double the amount.

20

grams

unsalted butter

tempered dark chocolate

to taste

dried lemongrass

to taste
Instructions
In a saucepan on medium heat, heat coconut milk, heavy whipping cream, and kaffir lime leaves until the liquid just begins to boil.

Remove from heat, cover, and let rest for twenty minutes.

Remove the kaffir lime leaves and discard.

Mix in the sugar and corn syrup and return to medium heat, stirring periodically.

When the temperature on a candy thermometer reads 218 F, add the fish sauce.

Continue heating and stirring periodically until it reaches 239 F.

Remove from heat and stir in butter until it is completely melted.

Pour into brownie pans lined with parchment paper or silicone pans.

Wait for caramels to cool (about thirty minutes) and then carefully cut into squares using a sharp knife (or if you have $250 to spare, you could use a caramel cutter).

Melt chocolate, being sure to keep it in temper (see my tutorial on how to temper chocolate).

Dip half of each square into melted chocolate and place on parchment paper or a Silpat to cool.

Sprinkle dried lemongrass over chocolate while the chocolate is still warm.
Nutrition
Nutrition Facts
Fish Sauce Caramels with Kaffir Lime and Lemongrass
Amount Per Serving
Calories 71
Calories from Fat 27
% Daily Value*
Fat 3g5%
Cholesterol 7mg2%
Sodium 21mg1%
Potassium 14mg0%
Carbohydrates 11g4%
Vitamin A 80IU2%
Vitamin C 0.1mg0%
Calcium 5mg1%
Iron 0.2mg1%
* Percent Daily Values are based on a 2000 calorie diet.
Coming Soon
If you like these, check out my intensely Thai cupcakes!