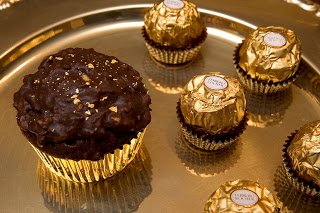 Kimberly of Kimberly C Baking emailed me about the idea of a Ferrero Rocher cupcake. After I wondered, "What the heck is a Ferrero Rocher?" I looked up Ferrero Rocher on Wikipedia and declared it a great idea.
We talked about her idea for a bit and Kimberly suggested that we both bake different styles of Ferrero Rocher cupcakes and blog about it; another great idea. I was on board still never having tasted the chocolate behind the gold foil.
I picked some up and and gave it a try. Damn. That's a good chocolate. It was no wonder people liked these things. Try some if you have never had them!
I was ready to create. I decided to make a chocolate hazelnut cupcake and give it a gooey ganache filling (like the gooey surprise in the chocolate) and top it with a chocolate ganache with hazelnuts bits in it (again, like the chocolate).
Where to Buy Hazelnut Extract
In order to make said cupcake, however, I needed hazelnut extract. Apparently, there is no demand for hazelnut extract in St. Louis, because nobody carries it. I do have to give special props to Straubs and Penzey's Spices who both went out of the their way to suggest other places I could possibly find it in town. The lady at Penzey's actually called 3 other places for me. Finally, I had to purchase it online here and wait… and wait.. and wait.. OK, it took just a week to arrive, but when I have my heart set on baking something, I am ready. I do not want to wait!
How to Pronounce

Ferrero

Rocher
While I was waiting, I had more time to plan. I was always hesitant to use the name "Ferrero Rocher" when telling people what I was making because I had/have no idea how to say it. It turns out though, that most people don't know how to say it. Only one person I asked seemed confident in his pronunciation. However, saying the chocolate in the gold foil seemed to be understood by everyone. The cupcake also needed to be easily recognizable. It needed gold.
Using Edible Gold on Cupcakes
For the gold on my cupcakes, I used actual edible gold. What else? I had no idea that gold was edible. Apparently you can eat gold, but it has no nutritional value. It just goes in and comes out. Hmm… I forgot to check for gold flakes in my poop. Good thing I still have some cupcakes left so I can try this experiment.
Finally, my extract came and I was ready to bake. Alas, Kimberly, my partner in crime, was sick. Then, she had to go and be nice and bake someone some chocolate cupcakes for Christmas. She hasn't gotten to bake her Ferrero Rochers yet. I was going to wait and post with her, but did I mention that I don't like waiting?
You are just going to have to promise to check Kimberly's blog and her cupcakes when she get them done. I'll also update this post with a link to her completed cupcakes.
Ferrero

Rocher

Cupcake Reviews
My husband: "Wow! These are just like the chocolate!"
My friend: "These are some of your best ones yet."
My Mother-In-Law: "These are good, but not as good as the caviar cheesecake ones." (She is alone in this line of thinking.)
My blogging friend: Said nothing at the time, but mentioned them on her blog.
Me: I thought they were perfect. They were a rich, moist chocolate with great hazelnut undertones – but not too sweet. The gooey surprise inside worked really well, as did the ganache. It all just came together.
Ferrero

Rocher

Cupcake Recipe
The cupcake recipe came from Laura of Sweets Made Here.
Ferrero Rocher Cupcakes
I decided to make a chocolate hazelnut cupcake and give it a gooey ganache filling (like the gooey surprise in the chocolate) and top it with a chocolate ganache with hazelnuts bits in it (again, like the chocolate).
Ingredients
Cupcake Ingredients
1/2

c

boiling water

6

T

unsweetened cocoa powder

1/4

c

milk

1/2

t

vanilla extract

1

T

hazelnut extract*

1/2

c

unsalted butter

softened

10

T

dark brown sugar

6

T

granulated sugar

2

large eggs

1

c

all-purpose flour

1/2

+ 1/8 t baking soda

1/4

t

salt
Gooey Chocolate Hazelnut Filling** Ingredients
1

c

heavy cream

1

c

semisweet chocolate chips

2

t

hazelnut extract
Chocolate Hazelnut Ganache*** Ingredients
1/2

c

heavy cream

8

oz

good semi-sweet chocolate chunks

2

T

light corn syrup

2

t

hazelnut extract
Instructions
Cupcake Instructions
In a bowl, whisk the boiling water into cocoa until smooth and whisk in milk, vanilla, and hazelnut extracts. In a large bowl, beat together butter and sugars until light and fluffy, about 2 to 3 minutes, and beat in eggs, 1 at a time, beating well after each addition. Into another bowl, sift together flour, baking soda, and salt and add to egg mixture in batches alternately with cocoa mixture, beginning and ending with flour mixture, and beating well after each addition. Fill each wrapper slightly more than 1/2 way. They will rise a lot. Bake in a preheated 350F oven for about 18 minutes. Cool on a wire rack.
Gooey Chocolate Hazelnut Filling Instructions
Bring heavy cream to a boil. Pour over chocolate chips to melt them. Add extract. Mix until fluffy. Let cool. Cut a cone in each cupcake and put a teaspoon or two of the ganache in. Replace the cone.
Chocolate Hazelnut Ganache Instructions
Heat the cream on the stove until it boils. Pour over the chocolate and stir to melt, adding the corn syrup and hazelnut extract.
Notes
*I have never used that much of an extract in a recipe before. I actually worried that it was a typo and she meant teaspoon. However, it definitely needed that much. In fact, I added another whole tablespoon (1/2 if you are only making 12).
**If you have some Nutella around, I think you could easily just fill this with Nutella. I did not have Nutella around and didn't want to go to the store.
***I used the ganache recipe from Sweets Made Here. The only change I made was that rather than putting hazelnuts on top as she did, I mixed 1 Cup of toasted, ground hazelnuts into the ganache before spreading. Also, while I doubled the cake recipe, I did not double the ganache recipe and I still had plenty.
Nutrition
Nutrition Facts
Ferrero Rocher Cupcakes
Amount Per Serving
Calories 496
Calories from Fat 297
% Daily Value*
Fat 33g51%
Cholesterol 90mg30%
Sodium 94mg4%
Potassium 296mg8%
Carbohydrates 47g16%
Protein 5g10%
Vitamin A 740IU15%
Vitamin C 0.1mg0%
Calcium 66mg7%
Iron 3.2mg18%
* Percent Daily Values are based on a 2000 calorie diet.